There's nothing like a good book at Christmas, and there's few better than a good book about sport for a festive read.
From rugby to football, wrestling to racing, there's plenty to choose from the class of 2020.
Better still, with book shops open again, you can actually go in and pick up a book, breathe in those pages and put a smile on the face of your local bookseller at the same time.
Let's start with some of the books that popped up at this year's Irish Book Awards.
1. Champagne Football
By Mark Tighe & Paul Rowan
This one earns the title of Ireland's Sports Book of the Year 2020 according to the An Post Irish Book Awards. For fifteen years, John Delaney ran the Football Association of Ireland as his own personal fiefdom. In Champagne Football, Mark Tighe and Paul Rowan dig deep into the story of Delaney's career and of the FAI's slide into ruin. It is a gripping, sometimes darkly hilarious and often enraging piece of reporting by the journalists who finally pulled back the curtain on the FAI's mismanagement.
2. True Colours
By Barry Geraghty with Niall Kelly
Barry Geraghty is one of the greatest jockeys of all time. From his first win in 1997, he went on to ride almost 2,000 winners, including Monty's Pass at 2003's English Grand National. He was the first jockey to win 'the big four' races at Cheltenham and the English Grand National and in 2020 he won five races at Cheltenham, announcing his retirement on a high.
But Barry is covered in scars. He has broken all his limbs, his shoulders, his ribs and his nose. And yet, he kept getting back on the horse. This book is about resilience; the mental power that enables the great to keep going despite the pain, despite the odds.
3. The Hill: My Autobiography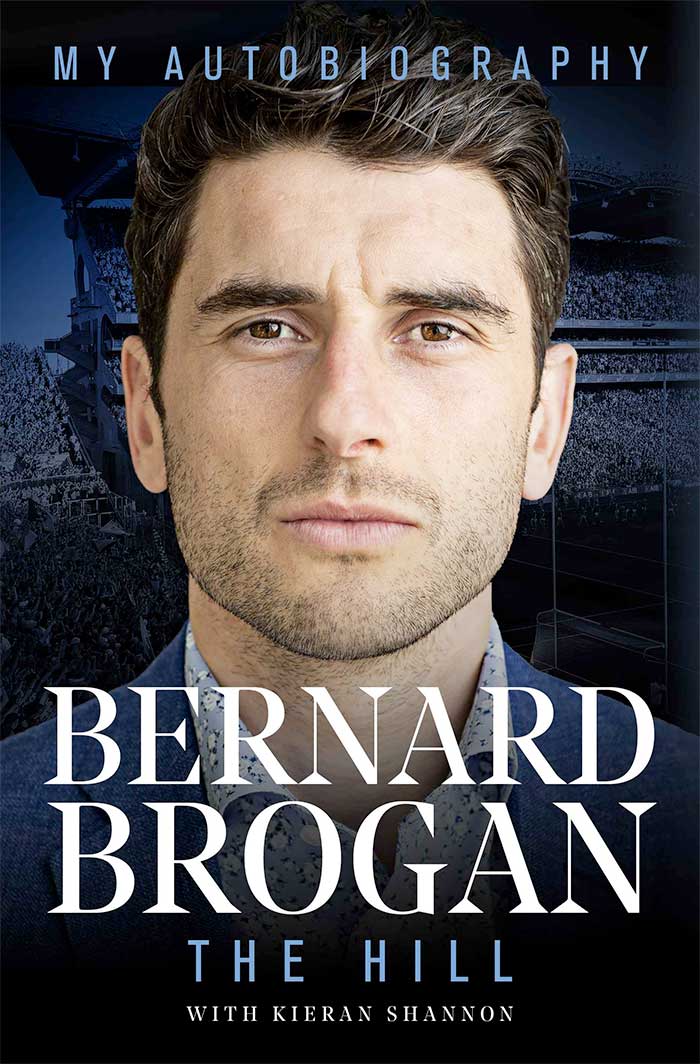 By Bernard Brogan with Kieran Shannon
Brogan's life story is one of the most keenly-anticipated Irish sports autobiographies in years. The Hill is an inside look into the seven-time All-Ireland senior winner's life in blue, with a heartfelt and honest insight into the remarkable ups and downs of the career of the Dublin legend.
Brogan details the effort and frustrations that came with trying to get back from that last cruciate injury to try to play for Dublin again, the historic "Drive for Five", and how he and Dublin became such a force in the first place.
4. The Russian Affair
By David Walsh
It was the story that shocked the world: Russian athletics was revealed to be corrupt from top to bottom, with institutionalised doping used to help the nation's athletes win medals they did not deserve. But the full story of the couple who blew the whistle has never been told – until now.
5. No Hiding: My Autobiography
By Rob Kearney with David Walsh
In No Hiding, the autobiography of Rob Kearney – the most decorated Irish rugby player in history – Kearney brings to life the players, the coaches, the matches and the moments that helped define his incredible career. He provides an unflinching, revealing account of life in a Leinster and Ireland shirt, the highs and lows of his profession and wonderfully details the hard work – and the fun – that took place behind the scenes in his decade-long pursuit of glory.
6. Fuel
By Seán O'Brien with Gerry Thornley
Seán O'Brien does not come from a traditional rugby background. He grew up on a farm in Tullow, far from the rugby hotbeds of Limerick and Cork or the fee-paying schools of Dublin. Now, 'The Tullow Tank' tells the remarkable story of his rise to the highest levels of world rugby, and of a decade of success with Leinster, Ireland and the British and Irish Lions.
7. Behind The Mask: My Autobiography
By Tyson Fury
Ok, so it was released late 2019 but it won the 2020 UK Sports Book of the Year\ and is officially the UK's best selling boxing book since records began. Tyson Fury is a flawed character. He suffers from mental health issues, OCD (Obsessive Compulsive Disorder) and he also happens to be the number one heavyweight in the world. In the time since his book came out he's added two more fights and two more knockouts to his unblemished record. Remember that fight against Klitschko? Or leaving the sport for two years? What about rising from the dead to fight to a draw with Deontay Wilder in their 2018 encounter?
Pound for pound, a super read.
8. My Life In Red & White: My Autobiography
By Arsène Wenger
In this definitive autobiography, the world-renowned revolutionary football manager discusses his life and career, sharing his leadership principles for success on and off the field and recalling vivid tales of guiding Arsenal to unprecedented success.
In My Life in Red and White, Wenger charts his extraordinary career, including his rise in France and Japan where he managed Nancy, Monaco and Nagoya Grampus Eight – clubs that also play in red-and-white – to his twenty-two years in north London at the helm of one of the world's biggest clubs. He reflects on Arsenal's astonishing domestic triumphs and bittersweet European campaigns; signing – and selling – some of the world's most talented players; moving the Gunners to their new home, the Emirates Stadium; and the unrest that led to his departure in 2018 and subsequent role as Chief of Global Football Development for FIFA.
9. The Greatest Games
By Jamie Carragher
Dubbed by Liverpool great Steven Gerrard as 'a fresh insight into classical games – essential reading for players, fans and coaches'. From Everton's 3-1 thrashing of Bayern Munich in the 80s to the Three Lions 4-1 win over Holland in the 90s, 'that' night in Istanbul to Man City and QPR and more besides, Jamie Carragher goes through some of the greatest games of the modern era of football.
10. We Promised You A Great Main Event
By Bill Hanstock
In We Promised You a Great Main Event, longtime sports journalist Bill Hanstock pulls back the curtain to give a smart fan's account of WWE and Vince McMahon's journey to the top. Untangling the truth behind the official WWE storyline, Hanstock does a deep dive into key moments of the company's history, from the behind-the-scenes drama at the Montreal Screwjob, to the company's handling of the Jimmy Snuka scandal, to the real story of the Monday Night Wars.
11. The Official Liverpool FC Annual 2021
While it might be a slight dig at some of my Manchester United colleagues, what better way to relive the glory of 2020 as a Liverpool fan than with a copy of this year's Christmas annual. In hardback, no less.
At 64 pages long, you'll get through it between dinner and dessert on Christmas day but for five or six quid you'll find plenty of photos, interviews, facts and figures.
Get Shopping
You won't find affiliate links or foreign store links in this article; what I would encourage you to do is get out and shop local. Call to your local book store, toy shop, newsagent, whoever's selling books in your neighbourhood this weather and support local.
If there's something you feel should be on the list, speak up!