Football and Championship Manager have for years added to the enjoyment of real football. Witnessing players that only you discovered, players your friends had no clue of, go onto be linked with various clubs around Europe was always a joy.
Unfortunately sometimes the managing simulation gets it wrong in their assumptions of who is going to be the next big thing, however that never mattered in the gaming world. Before we start our own Scoreline Journey in Football Manager 21 we thought we would have a look at some of the best wonderkids throughout the years.
Why not listen to the first episode of our podcast right here while you are reading?
Freddy Adu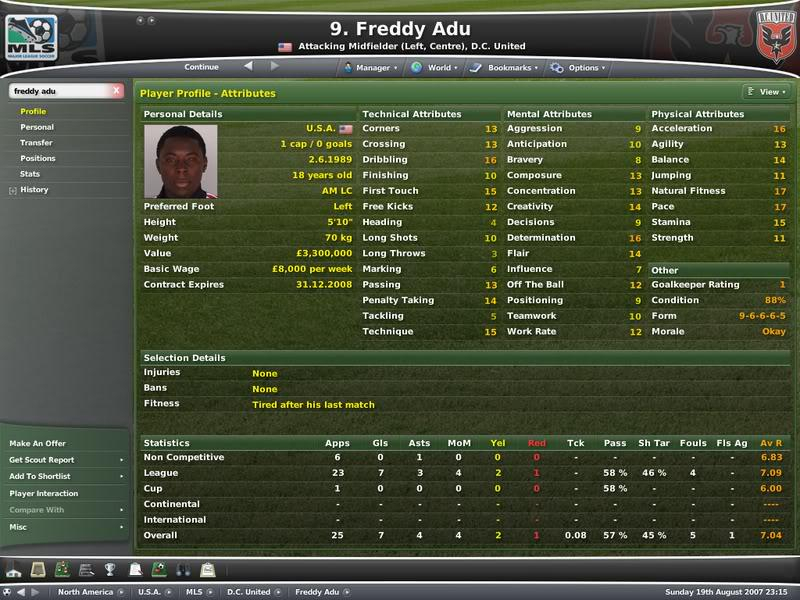 Freddy Adu is widely regarded as the greatest wonderkid to ever grace the game.
The American was granted stats that could hardly be believed after becoming the youngest player to sign a professional contract at just 14. More often then not in Football Manager 2005, Adu would go onto become the best player in the game, and to make it even better, he was available on a free.
Considering Messi cost five million and Adu would go onto being better than him, that was a bargain.
"I get a lot of tweets with people calling me a Football Manager legend and I'm like 'damn, I wish it was like that in real life'".
Those were the sentiments shared by Freddy Adu recently. Unfortunately for him, despite receiving a trial at Manchester United at 16, it just did not seem to work out for him. The virtual Balon D'or winner once dubbed the next Pele became a journeyman, playing for fifteen teams in nine countries: the United States, Portugal, Monaco, Greece, Turkey, Brazil, Serbia, Finland, and Sweden. He is currently at Swedish Division 1 club Österlen FF.
Cherno Samba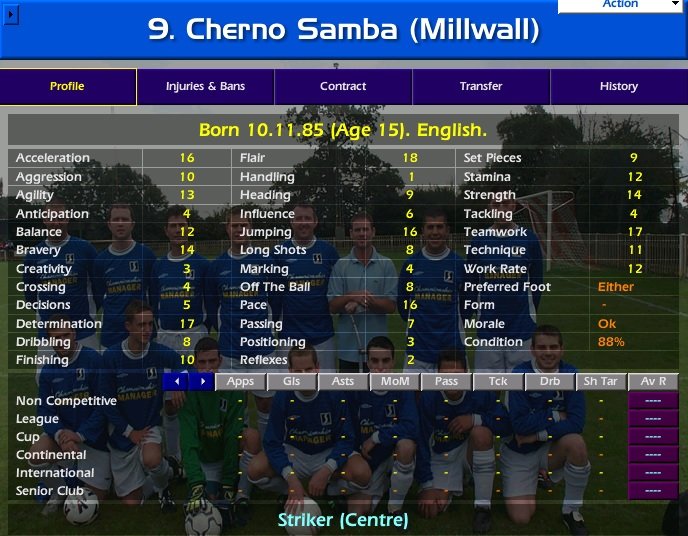 If Cherno Samba was not in your Championship Manager 01-02 team, you were not playing the game right. A must buy for any player with big aspirations, the striker would single-handedly fire your team to greatness. We are not joking, he would literally score 60+ goals a season.
Signed by Millwall at just 13, Samba was touted as a future England star. However, after a failed move to Liverpool in 2002, Samba never recovered. Acknowledging he never reached his potential, Samba has no regrets after a career which included stints in England, Spain, Greece, Finland and Norway. Norway would be the final stop for the player, as he retired in 2015 after being released from FK Tonsberg.
Mark Kerr
Another absolute "Beauty" from Championship Manager 01/02. Mark Kerr's journey began humbly at Falkirk but would end in absolute glory and a legendary career. He was genuinely a better purchase for any team then Zinedine Zidane. Even better, he could be picked up for next to nothing! Here are some of the stats attributed to the then 19-year-old Scotsman.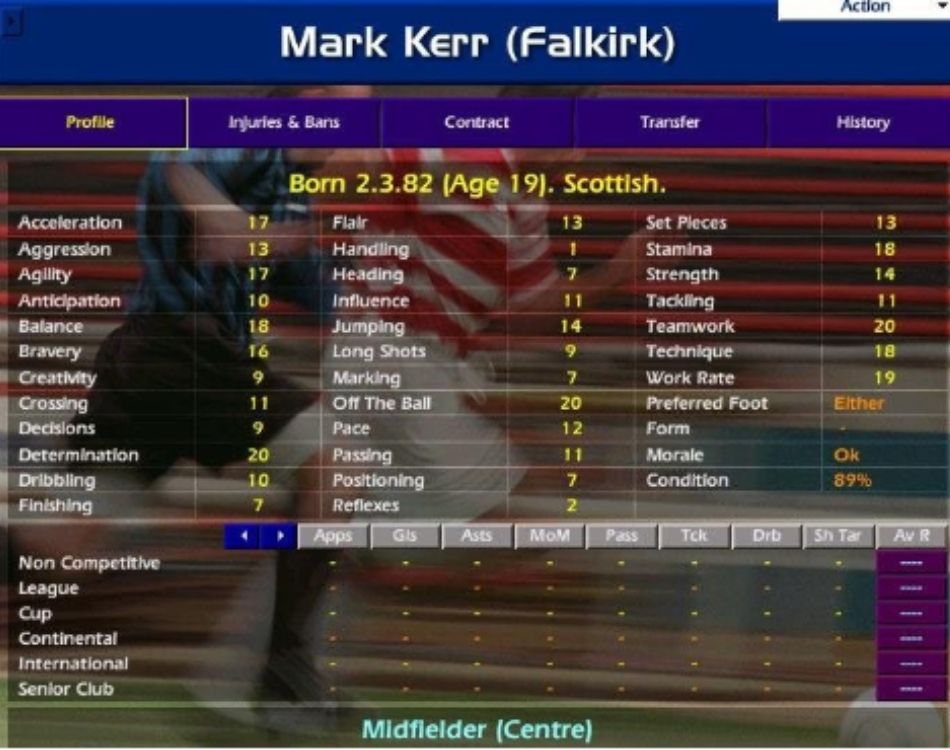 Off the ball – 20
Teamwork – 20
Work rate – 19
Technique – 18
Stamina – 18
In reality, Kerr was regarded as another journeyman managing to play for a total of nine clubs in a twenty-year career that ended in 2018.
Interestingly enough his game exploits did manage to bag him a transfer to Greece, where he made a few appearances for Asteras Tripolis F.C. Kerr is now manager of Ayr United Football Club who play in the Scottish Championship, so he is truly a Championship Manager.
Tonton Zola Moukoko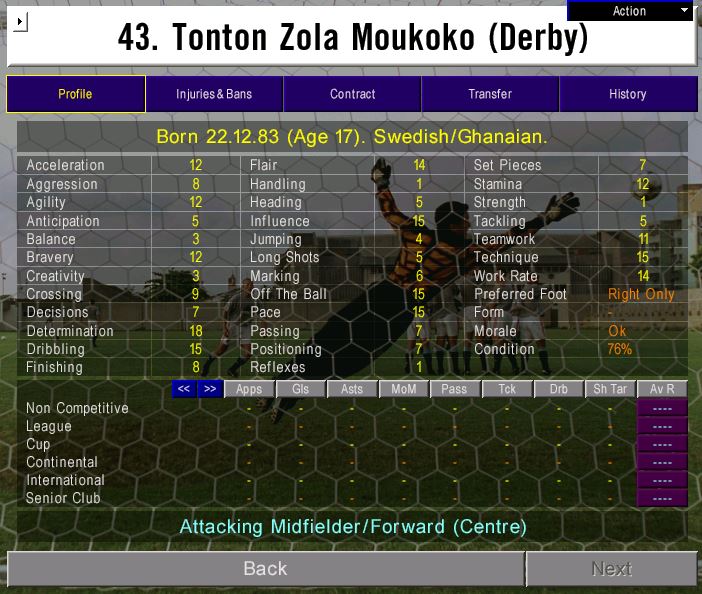 Championship Manager 01/02 almost felt like a massive glitch in the game if you could pick up specific wonderkids.
One of those being some of the names all ready mentioned, but one that needs his props is the great Tonton Zola Moukoko. The Congo born striker would almost guarantee at least 30 goals a season and could be picked up for a paltry £500,000 from Derby.
Personal tragedy never allowed the cult hero to achieve similar success to his virtual self. His parents tragically died young and Tonton was brought to Sweden to be with his brother, Fedo. After years of help and guidance, his brother also died and as a result, Tonton lost the passion for the game he loved.
After a two-year absence, Sven Goran Eriksson found him a club in the form of Swedish side Carlstad United before joining Atlantis FC in Finland. At the age of 28, the former fearsome attacker retired leaving a Football Manager legacy that can rarely be matched.
Igor Akinfeev
Regarded as arguably the greatest goalkeeping wonderkid ever in the game after the 2007 Football Manager.
The Russian would of only been 20 when this game was released and was all ready good enough to walk into any first team. His stats where based on his performance for CSKA Moscow since making his debut at the age of 16. Akinfeev was always a must buy, even after 2007 and would be a regular starter for any big European club
Just like Francesco Totti, Akinfeev in real life was a one-club man. Sticking with CSKA he managed to claim Six Russian Premier Leagues, six Russian Cups, six Super Cups and the UEFA Cup. He has also represented his Homeland Russia over 100 times and was instrumental when the Russians knocked out Spain in the Round of 16 of the 2018 World Cup.
Éder Álvarez Balanta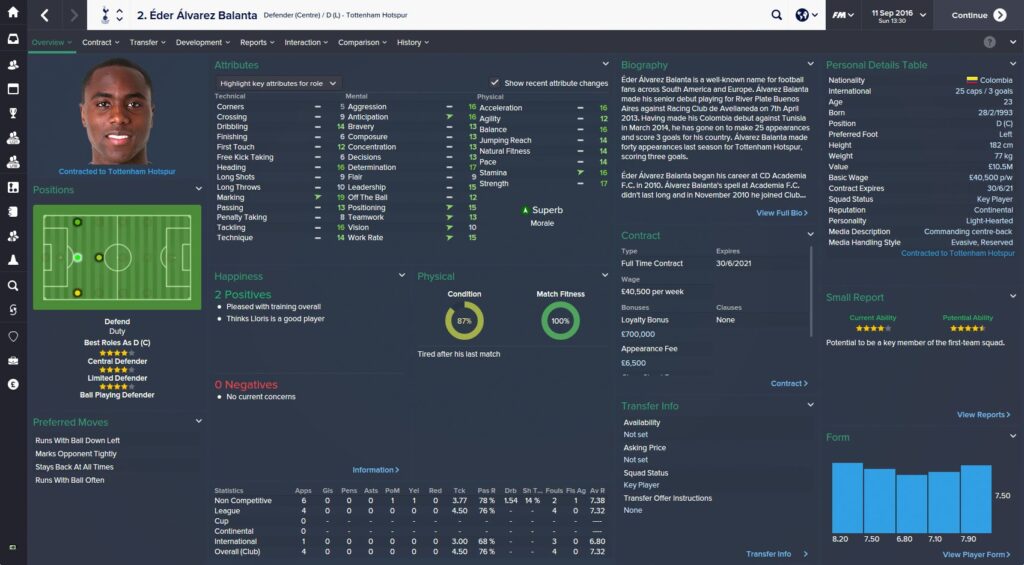 My centre back in Football Manager 15 lead my Manchester United team to glory from the first day he stepped foot into the team. F
M 14 was where the Colombian really came to fame, ranking among Paul Pogba and Marquinihos as the games players with the biggest potential. The absolute steal that could be made purchasing Balanta from River Plate always gave us immense joy.
Balanta currently is only 27 and plays as a defensive midfielder for Belgian side Club Brugge. His move from Argentina to Europe initially landed him in Switzerland , with FC Basel acquiring his services. International recognition has not followed after being part of the 2014 Columbian World Cup squad, Balanta only has eight caps to his name.
Fredy Guarin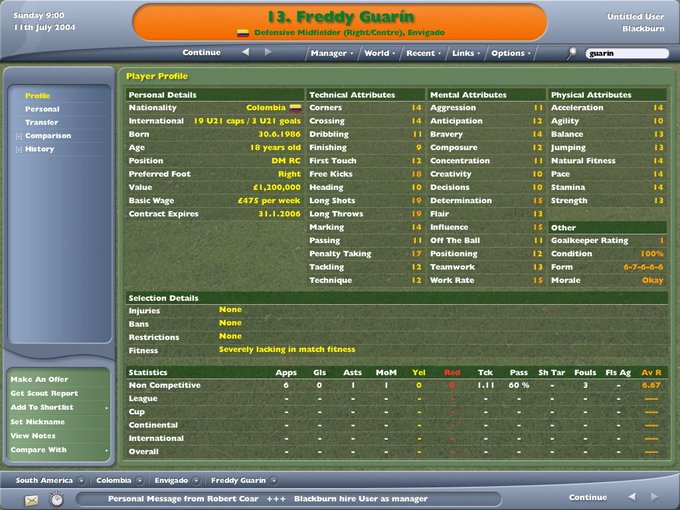 The first-ever Football Manager game was in 2005, and if you played it, you surely knew the name Freddy Guarin (with two Ds).
The Colombian with a penchant for long goals was a must buy in the first iteration of the series. Even better is if you could link up the two Freddy's, Adu and Guarin. Funnily enough, Guarin is also remembered as the defensive midfielder with his name spelled wrong, as Freddy should of only having one D.
In the real world, Guarin is well travelled and is currently still lining out for Millonarios Fútbol Club in Columbia at the age of 34. He switched to Europe in 2006 after leaving Boca Juniors and represented Saint-Étienne, Porto and Inter Milan.
Spells in both China and Brazil came after his European adventure before returning back home to his mainland.
Maxim Tsigalko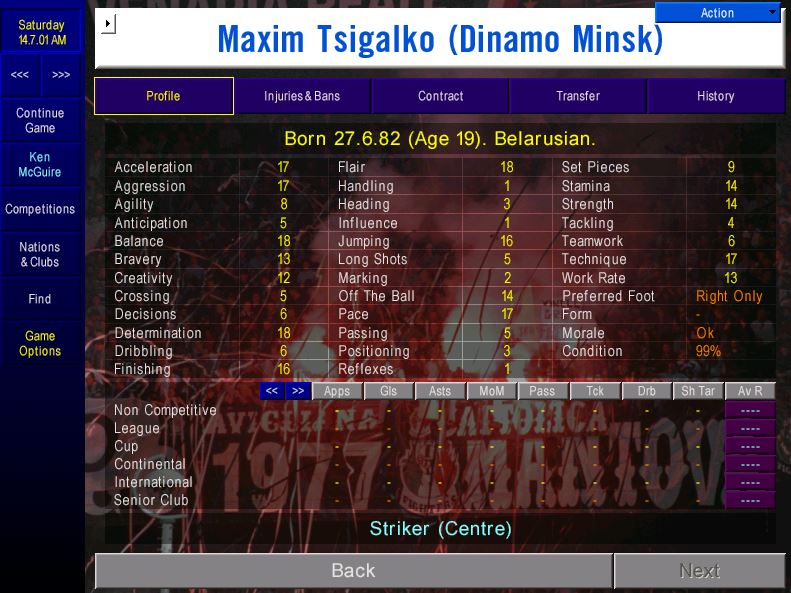 If you followed our weekend show during the lockdown, you know that we love all things Belarusian Premier League.
Dinamo Minsk is the team of choice and many people have always wondered why. Well, Maxim Tsigalko is the answer. In the classic 01/02 Championship Manager, Tsigalko was basically guaranteed to bag you over 50+ goals a season for under a million quid!
In real life Tsigalko's career started brightly, hence his high virtual rating, winning the Belarusian Premier League and Cup.
However, he never matched the dizzying heights set out in the game. In fact the Minsk born forward did not know about his cult hero status for quite some time due to the game not being available in his country.
After leaving Dinamo for fellow Belarussian team Naftan Novopolotsk, Tsigalko joined Kazak team Kaisar then Armenian Club Banants before returning and retiring at Belarusian side Savit Mogilev. Injuries forced him to retire in his twenties and he went onto work in construction. On December 25th 2020, Maxim passed away at the age of 37.
Anybody still unsure as to how great these series of games are, have a look at the documentary below and see if it is something up your alley!