It's a massive weekend of local rugby for our three local sides.
Carlow and Tullow get their Provincial Towns Cup campaigns underway on the J1 and J2 front while Kilkenny fight for their survival in Division 1A of the Leinster League.
Kilkenny
Kilkenny is out on Saturday 5 March at 3 pm where they take on Ashbourne at home in Foulkstown in their final normal league game of the season.
They got a bye in the Towns Cup draw however this game couldn't be any bigger for them.
The Foulkstown men have found themselves at the basement of Division 1A this season having come into it all guns blazing, however, a lot of things have conspired against them, including major upheaval with the schedule due to games going by the wayside due to covid-19 outbreaks and so on.
They just about made it through last weekend against Dundalk when they drew 17-17 thanks to a last-minute penalty from Hugh Corkery.
Ashbourne sits in fifth place on the table and had a big win over Seapoint last weekend too, they also got the better of Kilkenny only a few weeks ago 21-15.
Depending on the result, Kilkenny either go down or get a playoff to keep their 1A status for next season, we wish them all the best at the weekend.
Provinical Towns Cup
The Provincial Towns Cup action takes place on Sunday afternoon and you can't beat cup rugby, whatever you thought of a team's form in the league goes out the window in this one, this is cup rugby, it's a different beast.
Carlow
Carlow has a home game at 3 pm against a tricky Longford side in Oakpark.
The black and amber men come into this game after a 45-20 win over Clondalkin last week to get them prepped for this one. They also had a bruising encounter and a loss to Tullow the previous game, which will stand to them in terms of physicality going into this one.
President Tom Crotty has said many times on The Knock On podcast that Carlow is building a great side, but they have misfired on occasion this season, cup rugby though sharpens the mind though as it's knock out, so we could see a tougher side in this encounter.
Carlow got the better of Longford in the league on January 29-5 at home but lost to them up in Longford before Christmas.
Longford is coming into this game on the back of a win in the league over Cill Dara, they'll be well up for it.
Carlow takes on Birr on Saturday in the second's towns cup.
The local lads have a proud tradition in this competition, is it time to turn back the clock? #carlowrising
Tullow
Tullow is away in FBD Park on Sunday at 3 pm where they face New Ross in their opening game.
They come into this game on the back of a 24-8 loss to Boyne in the league, however, they beat Carlow the previous week in a big physical encounter and will be fired up for this one.
They have looked strong when they've hit their straps this season but like a lot of teams, were missing key players early on in the season due to other commitments and injuries.
Tullow is a force to be reckoned with in this competition and finally got the monkey off their backs in 2017 winning their first title (see below), and was beaten finalists in 2018, going down to Enniscorthy.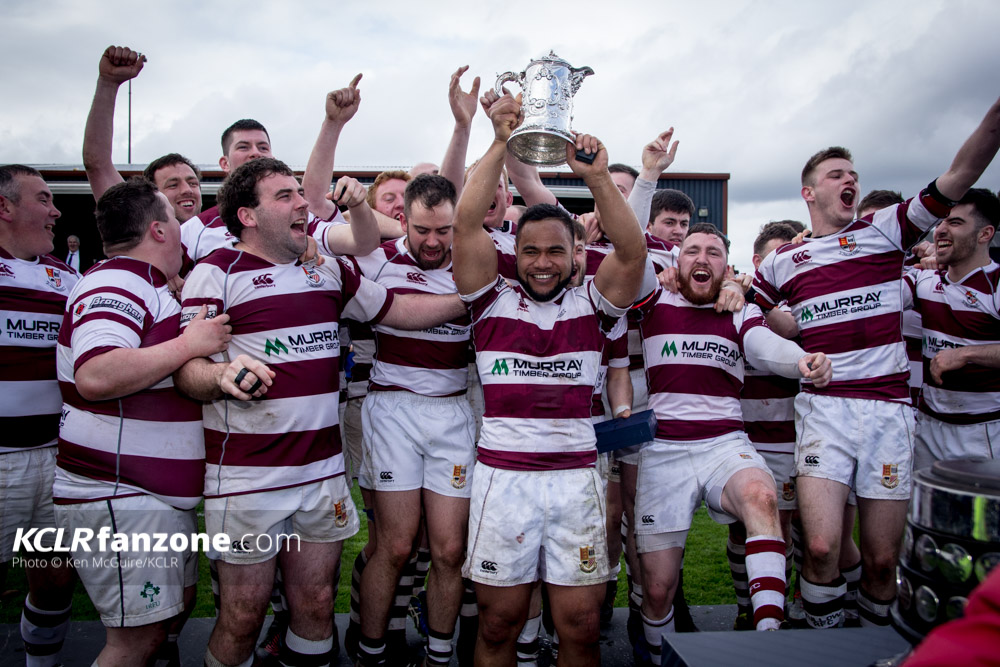 New Ross is down in Division 2B of the Leinster League and is coming into this one with a friendly win over Enniscorthy and a league loss before that to Birr.
However, none of that matters as they are the Division 2B champions and will be buoyed by that title and will give them confidence going into this one.
Tullow plays North Kildare on Saturday at 3 pm in the second's towns cup.
We have a weekly local rugby podcast discussing Kilkenny, Carlow, Tullow as well as provincial and national rugby called The Knock On, the latest episode is below.