Since its inception, Kilkenny along with Tipperary have the same amount of league titles, both sitting on top with 19 each.
Albeit over half of these titles for the Cats have come with Brian Cody at the helm, with the legendary manager guiding Kilkenny to 10 Dr. Croke Cups with the first occurring in 2002. His last came in 2021 when the title was shared with Galway as no Division 1 League Final had been scheduled, so if the teams meet in the Championship, that would double as a League Final. They never met, so the spoils were shared.
See also: Ranking Brian Cody's greatest victories as Kilkenny manager
The first time the title came back to The Marble City was in the 1932/33 campaign, where Kilkenny won all four of their league matches before dispatching Limerick in the final on a scoreline of 3-08 to 1-03. Moocoins Eddie Doyle became the first man to captain Kilkenny to a successful league campaign succeeding Carrickshocks 1932 All-Ireland-winning captain Jimmy Walsh. Doyle would himself go on to captain Kilkenny to a successful All-Ireland campaign in the same year the league was won, by besting Limerick once again in another final.
It would be 29 years before a Kilkenny man managed to lift the trophy over his head again. This time Alfie Hickey had the honor of captaining the side, under the tutelage of manager Monsignor Thomas Maher. On 6 May 1962, Kilkenny won the title after a 1–16 to 1–8 win over Cork in the final and winning all four of their group games. The legendary Gowran man guided Kilkenny to three league titles in total, along with 14 Leinster titles and seven All Irelands. His second title came on the 18th of September 1966, when Kilkenny had a 10-15 to 2-15 aggregate win over New York in the final with future Kilkenny league-winning manager Pat Henderson, picking up his first National Hurling League medal.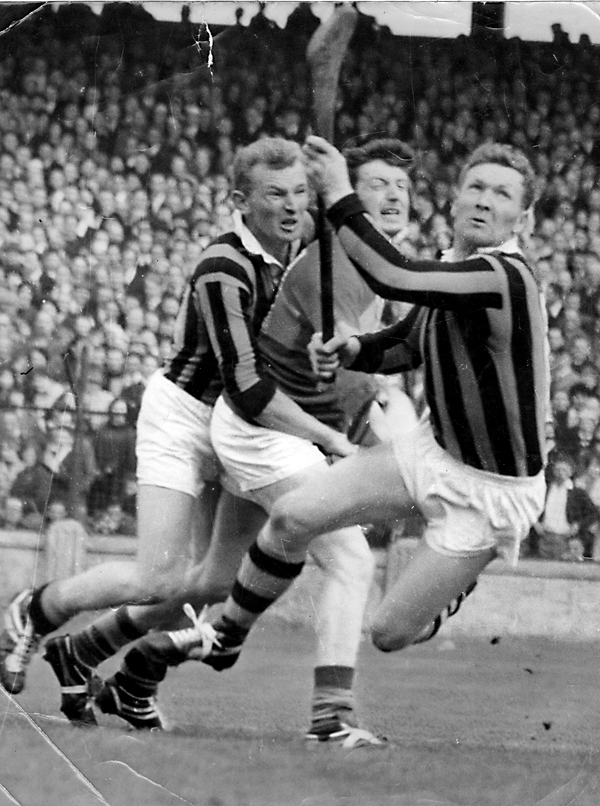 Fr. Mahers last league campaign ended with another future Kilkenny manager, Eddie Keher, scoring a staggering 11-58 and ending the season as the league's top scorer. Kilkenny won the title after a 6-14 to 1-14 win over Clare in the final where Phil "Fan" Larkin lifted the cup this time as captain, with he a few years out from managing the intercounty team himself. Fr. Mahers last Liam McCarthy Cup was the year before and ironically the 1975 All-Ireland marked the appearance of Brian Cody in his first final as a player.
See also: Ranking every team to win the All-Ireland Senior Hurling Championship from 2011 – 2020
Immediately following Monsignor Maher, who after 21 years left his position as Kilkenny manager in 1978, was the duo of Pat Henderson and Eddie Keher. The double act brought with them provincial and All Ireland success in their single term in charge before being succeeded by Phil "Fan" Larkin took over for the 1980/81 campaign. Neither management team though captured the league title. That would require Pat Henderson to do so managing on his own to help Kilkenny, captained by Brian Cody, to their 5th league title overall and their first since 1975-76, beating Wexford 2-14 to 1-11 in the final. For the first time, Kilkenny managed to successfully defend their crown in the restructured Division 1 league. Billy Fitzpatrick was the Division 1 top scorer with 4-33 when all was said and done after Kilkenny won the title after a 2-14 to 2-12 win over Limerick in the final. Hendersons' final league title was in the 1985-86 season, where Kilkenny actually finished 3rd in the group stage, following a draw with soon-to-be-relegated Dublin and two losses, one at the hands of Diarmuid Healy lead Offaly. Kilkenny needed to guide themselves through Westmeath in the quarter-finals, and Cork in the semi-final before dispatching of Galway in the final.
The aforementioned Diarmuid Healy was the next manager to guide Kilkenny to league success, replacing Eddie Keher after bringing Offaly to All-Ireland glory twice. With DJ Carey ending the campaign as the top scorer (1-52), The Cats once again met New York in the decider. No goals were scored on the day, with Kilkenny doubling the American's tally, finishing 18 points to 9.
See also: Eddie Keher, Kilkenny hurling legend and Six time All Ireland Winner
It would be another five years before another league title came to the Medieval City, however, there were three Leinsters and two back-to-back All-Ireland in between. Ollie Walsh was the man in charge after taking over from Healy's three-year reign. The 9th League title was at the expense of a Ger Loughnane lead Clare, with The Cats avenging their Round 1 loss to Clare by getting the better of them in Semple Stadium 2-09 to 9 points.
The 71st League campaign was Brian Cody's first time to claim a league title by literally getting one over Cork in the final with that game ending 2-16 to 2-15. They also literally got one over Tipperary in 2003 with that final ending 5-14 to 5-15. Clare and Limerick fell in 2005 and 2006 respectively with the last league of the decade finishing out with an extra time 4-17 to 2-26 extra-time win over Tipperary.
See also: "A few incidents with the referee cost us dearly" All Ireland winner Andy Comerford looks back at Brian Cody's last game in charge
The next Decade saw Kilkenny move within one title with Tipperary last adding to their cabinet in 2008. Not that the Premier County was not close. After the 2012 victory over Cork, Kilkenny, and Tip meet twice in league finals with the Cats coming out on top in both 2013 & 2014. The 2014 final was an after-extra-time win with TJ Reid getting the winning point in the last minute of extra-time in Semple Stadium. In 2018 Kilkenny were once again winners, defeating Tipperary in the final on 8th April by 2–23 to 2-17 to confirm an 18th League title and 9th for Brian Cody.
Kilkenny finished runners-up a total of 11 times, while their opponents on Sunday, Limerick, have a total of 13 League titles. Two of those have come under the management of John Kiely, who guided the treaty to their first league title since 1997 when he won it in 2019.
Easter Sunday brings with it a repeat of last year's senior All-Ireland final as Derek Lyng brings his Kilkenny side to Páirc Uí Chaoimh for the Division 1 decider against Limerick on April 9th with that game beginning at 2 pm.
KCLR is the only place where you can hear all of Kilkenny's Allianz National Hurling League, Leinster championship and All-Ireland series games in 2023.