Carlow
Carlow 41 Boyne 34
In one of the most amazing and breathtaking games seen for years in Oakpark on Sunday Carlow took a major scalp when they overcame Leinster League Division 1B League Leaders Boyne by 41 points to 34.
At one stage in this free-scoring game, Carlow trailed by 17 points at 29 – 12. Boyne's early tries were helped by a fortuitous bounce from a kick ahead and an intercept but they all count.
Yet within 30 minutes, in which Carlow delivered a four-try Blitz, the home side jumped into a 12 point lead at 41 – 29.
Speaking after the game coach Corey Carty put the transformation down to the great heart that is in this Carlow team.
"Following the near misses of the last two Leinster League games we sat down last week after training and decided we had to stop being so nice and gentlemanly on the field. We needed to front up and be more dogged especially if a game was getting away from us."
"The result here today, after falling behind to the league leaders, showed that this side has great character. A weaker team falling so far behind would not have come back the way we did. However, I do admit that my heart was thumping hard in those final 10 minutes when Boyne was parked in our 22 looking for an equalising try."
Nothing personified Carlow's grit and determination more than the try scored by scrumhalf Jeff McDermott just before halftime. Despite his slight figure he seemed to plough through half the Boyne team to reach the try-line.
The second half started in a similar vein. The home team laid siege to the Co Louth line and two of the Oakpark heavy hitters James Nolan and Ross Byrne forced their way over for tries.
The skilful Carlow backline also made an impact during this period with a try by elusive winger Calum Murphy and a second by centre Sam Cullen who had also scored Carlow's first try of the game. This burst of scoring catapulted Carlow into a 12 point lead. With about 15 minutes remaining the Drogheda based visitors needed to score twice to win or draw.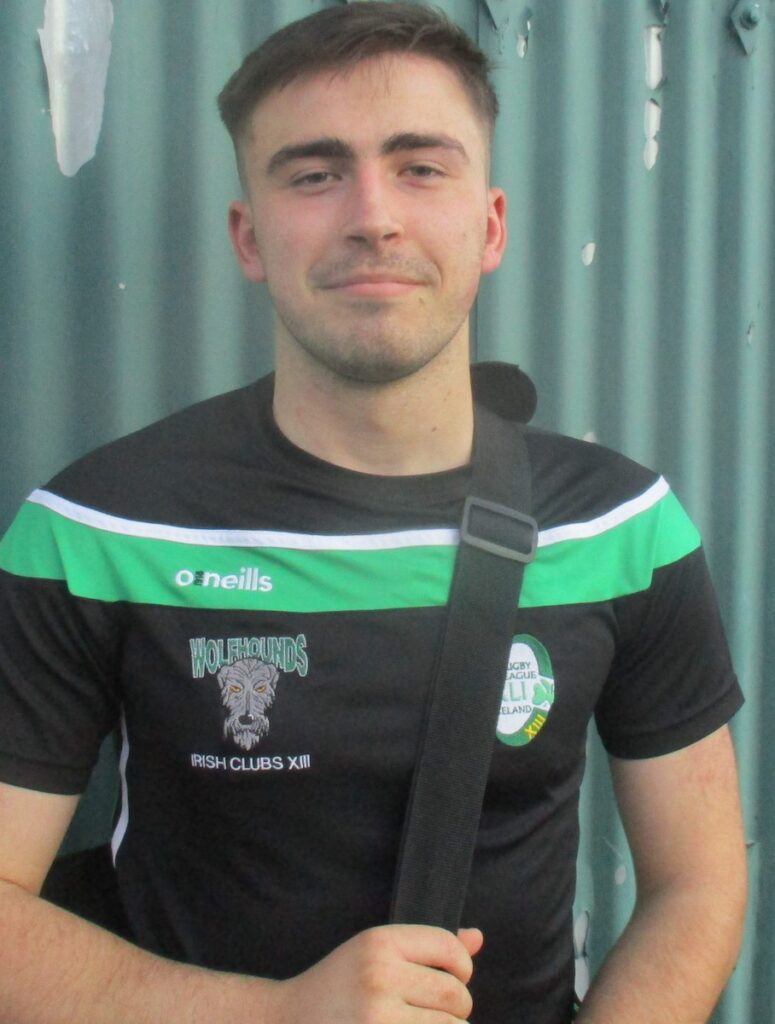 It was now their turn to apply the pressure. Their scrumhalf Mick Smyth scored a try out wide to narrow the gap to seven points. Needing 7 points for a draw Boyne came in waves at the Carlow line. Deep into stoppage time,
Carlow continued to concede penalties near their line. Sam Cullen was yellow-carded for a highish tackle. But the 14 men held out for a famous victory that has given the club a major confidence boost coming up to a league game against local rivals Tullow in 2 weeks time. Of great help to the Carlow senior side, this season is the fact that the 2nds have so many good players able and ready to move up to the 1sts.
In all Carlow 1st side scored six tries on Sunday against the four for the visiting league leader. In addition, Carlow fullback Richard White goaled four of the tries and converted a penalty.
The touch judges at Sunday's game in Oakpark were Jenny Ardill from Carlow and Katie Roche from Enniscorthy who are being trained as future rugby referees.
Carlow J1
Richard Whyte, Johnny Crossley, Caomhan Brennan, Sam Cullen, Calum Murphy, John Whyte, Jeff McDermott, Larry McGrath, Evan Gordon, Ross Byrne, Owen Edgehill, Wes Shirley capt, Paddy Mackey, Conor Moore, Conor Treacy.
Subs: Johnny Murphy, James Nolan, John Lyons, Cormac Murphy, David McDermott (all played)
Second's Game
Carlow 33 Boyne 10
Carlow's J2 side continued their run of good form at Oakpark on Sunday with a 33 – 10 point win against visitors Boyne. This fifth straight win puts Carlow at the top of the Leinster League Division 1 B J2 table, three points ahead of second-placed Mullingar.
Sundays match followed a similar pattern of the opposition being quite competitive in the first half but Carlow's power and speed coming good later in the game. At the interval, on Sunday the home side held a 13 – 10 lead. A converted try and two penalties versus a converted try plus penalty for the visitors from County Louth.
Again this week Carlow number 10 Liam Slater had a major impact on the game pinning the opposition back with accurate kicking. From the tee, he converted three penalties and two conversions.
Slater also brought the lively Carlow backline into play which resulted in two long-distance tries by fullback Sam Dunne and centre Fionnan Burke.
Carlow's back row was also dominant with tries coming from Scott Neale and Daragh Brennan. Jack Hickey, the third member of this back row, stole three opposition lineouts and tackled low and hard right across the park.
This season the Carlow J2 team has always had a good bench to call upon. On Sunday Stephen Hogan, Tom Bolger and player-coach Ed Keating came from the bench and made an important contribution to keeping the visitors scoreless in the second half.
Carlow J2
Sam Dunne, Padraig O Connor, Fionann Burke, Bobby Cope, Chris Curnow, Liam Slater, Cormac Murray, Cian Clarke, Matt Keogh, Alan Byrne, Dave Keppel, Anthony Mannion capt, Darragh Brennan, Jack Hickey, Scott Neale.
Subs: Williams Ganley, Rhys Roberts, Stephen Hogan, Tom Bolger, Ed Keating, Alan Owens
Tullow
The Tullow lads travelled to Longford on Sunday however the game was called off in the second half by the referee, we expect the game to be re-fixed.
Kilkenny
Kilkenny was due to travel to Energia Park on Saturday to play Bective however the game did not go ahead and a re-fixture is expected there.