The Carlow Senior Cross Country Championships took place in Tinryland on January 9th.
St Laurence O'Toole's took the team titles as Emma Furey and James McAssey crosses the line for the Individual honours.
The event took place just three months after last year's event in Ballon which had been rescheduled due to the ongoing Covid-19 pandemic.
Individuals
In both main events, there were two hugely impressive winners with James McAssey of St Laurence O'Toole A C retaining his title which was his 5th in total while his clubmate Emma Furey won her first title having previously been a runner up in this event.
In the opening event of the day, the Senior Women's 5km, a breakaway group emerged after the opening 1.6km lap consisting of defending Bronwen McDonald of St Laurence O'Toole A C and her teammates Furey and Melissa Broderick with a further group being led by ex Irish International Geraldine Hendricken.
During the second lap, the first three athletes formed a breakaway group which led to an exciting final 1500m where Furey made her decisive move to win her maiden title in a time of 20 mins 14, 24 seconds ahead of McDonald with Broderick taking an excellent bronze medal.
Great credit must go to multiple former winner Hendricken who was making a welcome return to action in 4th position with club mate Leah Lawlor taking 5th ahead of last year's bronze medallist Sinead Tangney. Also running well were Aoife May 7th, Catherine Doyle 8th, the ever consistent Brid Long 9th, and Sheila Doyle 10th.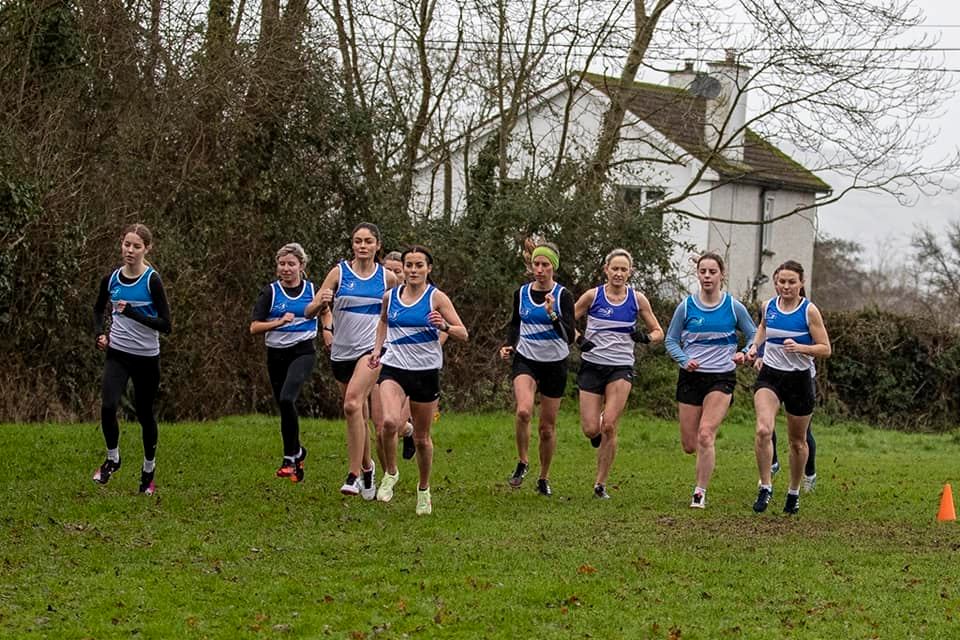 Team Title
St Laurence O'Toole A C once again took the team title for the Lambert Cup and was the only club in the county represented on the day.
While the race on Sunday was a keenly contested one and entertained the large crowd, there is potential for this event to grow further with both Ballon and Tinryland having fielded teams in recent years.
In the Men's 10km event, the defending four-time champion James McAssey was the pre-race favourite with main contenders for individual medals on the day being his teammates Trevor Corcoran and Eamonn Murphy, Tom Nolan of Tinryland along with former winners Brian Kirwan and Tommy Payne.
From the starting gun, McAssey set out his intentions and by the 1km mark had established a sizeable lead over the rest of the 20 strong field which he managed to extend to over 100m by the middle of the second 1.6km lap with the following group consisting of Corcoran, Murphy, newcomer and duathlon specialist Eoin Bailey of St Laurence O'Toole A C who was making his debut in this event, Nolan, Kirwan, and 13-time winner Tommy Payne.
As the following two laps progressed as far as the midway point, the outcome of the individual medal positions became clearer as McAssey continued to extend his winning margin with the impressive Corcoran advancing further to break away from the rest of the chasing pack in 2nd place with Eamonn Murphy clear in 3rd position.
The destination of the Odlum Cup was also never in doubt before the end with the strong St Laurence O'Toole A C squad occupying the first four places while hosts Tinryland fielded a depleted team with many regulars out with illness on Sunday last.
As the individual event neared its conclusion, it was already long clear that the front runner McAssey had timed his pre-race preparation to perfection and was a very decisive winner in a time of 34 min 06, just over 2 minutes and 30 seconds ahead of Trevor Corcoran who won his second consecutive silver medal with Eamonn Murphy taking the bronze medal in 37 min's 23.
There was a welcome return to form from six-time winner Brian Kirwan in 4th with the legendary Tommy Payne leading Tinryland home in 5th ahead of the impressive Bailey in 6th with last year's bronze medallist Tom Nolan in 7th position.
There was also a fine performance from Tommy Payne Jr who finished strongly in 8th ahead of Nick Hyland in 9th who as St Laurence O'Toole A C final scorer ensured that the team title went in the direction of the Carlow town club for the 27th time.
The team winners St Laurence O'Toole A C on 25 pts were well clear of second-placed Tinryland in the team section on 60 pts whose other scorers were Larry Murphy 10th, John Dillon 13th and Arnaud Bonvarlet 17th.
Despite the large winning team margin, Tinryland was missing the likes of Colin Payne and Padraig Webb on the day and hopes are high next year's event which is set to take place at the same venue will be a much closer affair.
Special mention must also go to the winner James McAssey whose intensive training for this event paid off with one of the most dominant performances in many years.
After the event, the Odlum and Lambert Cups were presented to the two winning teams from St Laurence O'Toole A C along with the individual winner's medals.
Great credit is due to all the officials who ensured the course was in pristine condition and that all events on the timetable went off smoothly with Eamonn Byrne once again doing a fine job as MC with Joe Smithers providing audio equipment on the day.
Results
Senior Ladies:
1st- Emma Furey (O'Tooles) 20.14
2nd- Bronwen McDonald (O'Tooles) 20.43
3rd- Melissa Broderick (O'Tooles) 21.05
4th- Geraldine Hendricken (O'Tooles) 21.39
5th- Leah Lawlor (O'Tooles) 22.03
6th- Sinead Tangney (O'Tooles) 22.18
7th- Aoife May (O'Tooles) 22.37
8th- Catherine Doyle (O'Tooles) 22.55
9th- Brid Long (O'Tooles) 23.13
10th- Sheila Doyle (O'Tooles) 23.25
Winning Team:
1st- (O'Tooles) (1, 2, 3, 4) – 10 pts
Senior Men;
1st- James McAssey (O'Tooles) 34.06
2nd- Trevor Corcoran (O'Tooles) 36.43
3rd- Eamonn Murphy (O'Tooles) 37.23
4th- Brian Kirwan (O'Tooles) 38.28
5th- Tommy Payne (Tinryland) 38.48
6th- Eoin Bailey (O'Tooles) 38.51
7th- Tom Nolan (Tinryland) 39.00
8th- Tommy Payne Jnr (Tinryland) 40.54
9th- Nick Hyland (O'Tooles) 41.03
10th- Larry Murphy (Tinryland) 41.41
11th- Keith Pollard (O'Tooles) 41.52
12th- Pat Kenny (O'Tooles) 42.42
13th- John Dillon (Tinryland) 43.17
14th- Richard Ryan (O'Tooles) 43.18
15th- David Ashmore (Bagenalstown) 43.30
16th- Billy Murphy (O'Tooles) 44.40
17th- Arnaud Bonvarlet (Tinryland) 44.53
18th- Rock Pender (O'Tooles) 45.26
Team Result:
1st- (O'Tooles) (1, 2, 3, 4, 6, 9) – 25 pts
2nd- Tinryland (5, 7, 8, 10, 13, 17) – 60 pts