Kilkenny comfortably beat Dublin in round two of the Glen Dimplex Senior Camogie Championship at Parnell Park on Saturday last
It was the third meeting of the sides this year with Kilkenny coming out on top in the previous two. The last meeting was the Leinster Final where Dublin frustrated the Kittens for long periods of the game. Dowling's team was also looking for a response to the drawn game with Wexford the previous round knowing that anything but a win against the team from the capital would hamper their progression to All-Ireland knockouts.
Before the game, both teams staged a protest in relation to the development of a player charter that would establish minimum standards for the player's welfare, a minutes of applause rang out around Parnell Park in support of both teams who lined up arms in arms in support of all the intercounty female players around the Country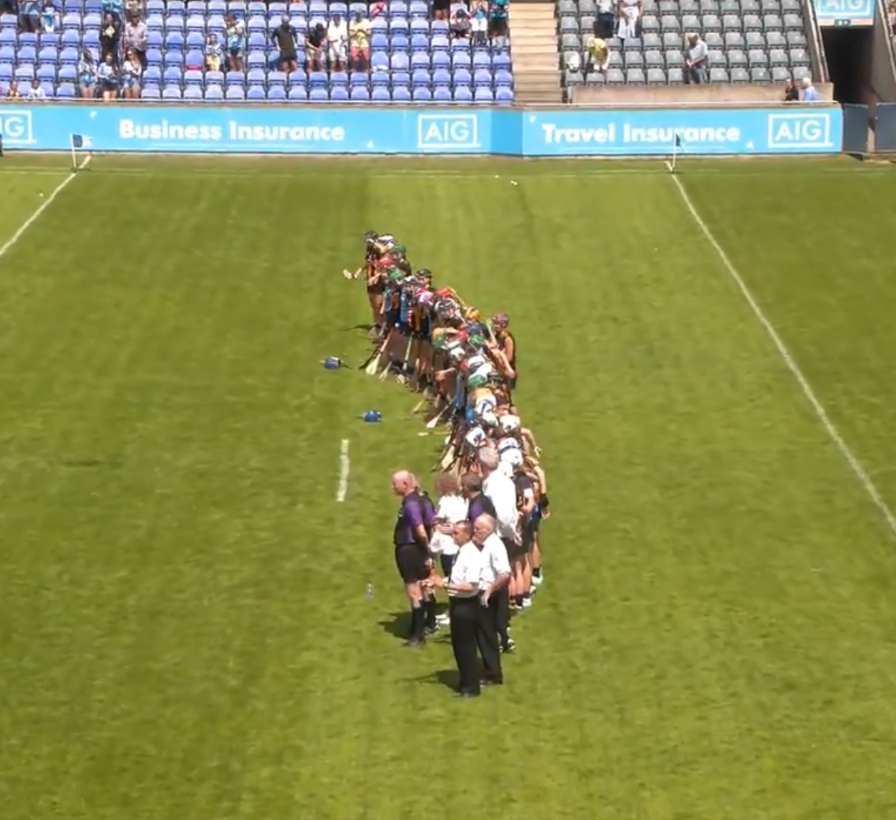 When the action did get underway the exchanges were tight and by the 8th minute, the teams were level at 0-4 each. Kilkenny started to pull away and was rewarded in the 15th minute when a long ball into the full forward line saw Aoife Prendergast latch onto it and dispatch it to the net. Things got even better for the visitors when the lively Katie Nolan hit a bullet from 20m out to give Dublin goalie no hope. By half-time they led by nine points 2-10 to 0-7.
Just after the restart Denise Gaule had raised a green flag and got Kilkenny's third goal, the Windgao player was fouled on the 20m line she put the ball down and drilled it into the top corner of the net. Kilkenny were now well on their way to victory. Dublin did have a small rally and rattled off three unanswered points but really Kilkenny was on top from the word go. Kilkenny added further points to their tally to end up winning the game by twelve points (3-14 to 0-11). The result means victory over Tipperary at the weekend will see Kilkenny top the group and join Tipperary in the knockout stages of the Championship.
Kilkenny manager Brian Dowling was very pleased with his side after the game "We're delighted with the victory, we came up here today to get the points, we knew the position we were in if we didn't get them we were out of the championship simple as that, we had a job to do and we got it done so we move on now to next week"
"Look were extremely focused we knew we had to win today, any slip up we're out of the championship, the girls are very focused, we were very positive after the Wexford game, and we knew ourselves for the last 20 minutes we didn't perform, looking back on the match [Wexford] I thought we got some great scores we were ten points up and we let it slip, we've had to use this as a learning curve, we had to look at our mistakes and looked at the positives and said we had to build on it for this week, second half again wasn't brilliant I would have liked to push on a bit more and get more scores but it is what it is and we just have move on and rectify it for Saturday night"
"We said that after the Wexford game, we didn't lose and I said that it's still in their own hands, win the next two games and top the group, and that's the position we're still in we have one game left and we always said that the Tipp game would be a big one and that's the way it is. It wasn't hard to get our girls motivated everyone was frustrated after giving away a ten-point lead, we had to wait two weeks to get back out here today we had a couple of brilliant training sessions, loads of hurling done and they were really positive, I think we showed intent, we got a couple of goal chances in the first half and we went for them, Denise looked over at me before the free and I said to go for it, she was hitting them the other night in training and she was taking the net out of the top corner when you play like that I think you have to go for them and it was a big score cause it pushed it out to a twelve point lead which was great"

Not getting the credit that they deserve
"Ah look we'll use that kind of stuff and we're used to teams writing us off over the last number of years, we look at ourselves and we set high standards for this group and we were very disappointed with what happened two weeks ago in any game you can't be loosing a ten point lead, fair play to Wexford they stayed at it, we looked back at it and it was our own errors, simple mistakes not winning the rucks and things like that, we left in three goals, you can't let in three goals at this level, we really sent out a message today that we weren't going to let in a goal and in fairness, to Aoife Norris and the backs they kept a clean sheet today when is brilliant. We scored 3-14 today, we want to get a few more scores than that points wise, there is a lot to work on we won't get carried away today like we didn't get carried away drawing with Wexford, we'll get the heads down now and try to get ready for Tipp"
"We'll train Tuesday and Thursday, the way this year has been very strange we seem to be traveling the whole time I'd say the girls are probably sick of us, training has been going really well we feel that we haven't had enough matches getting int oa flow, I'm delighted that its week on week I think it suited us last year, we bounced one game into the other I think we improved every week and we know we have to improve hugely for the Tipp game from today, especially in the second half Tipp are flying as Munster champions, they hammered Dublin the last day as well they have some brilliant players all over the pitch and we just have to get ourselves right and focus on that job"
Listen back to the full interview below