Tampa Bay Buccaneers have finally gotten their Super Bowl rings. For some players, it's their first. For Tom Brady, he's running out of fingers.
A word of warning – they come with a serious amount of sparkle.
Having made history by becoming the first NFL side to win a Super Bowl title in their home stadium, the Bucs received their customary Super Bowl LV rings in a private ceremony on Thursday night.
The NFC champions saw of AFC champs and defending Super Bowl champions Kansas City Chiefs 31-9 in February of this year at the Raymond James Stadium in Tampa, Florida.
"This is by far the most incredible ring that's ever been made." –@TomBrady pic.twitter.com/pvsaDET8w1

— Tampa Bay Buccaneers (@Buccaneers) July 23, 2021
It's all in the details
Let's break down the finer details.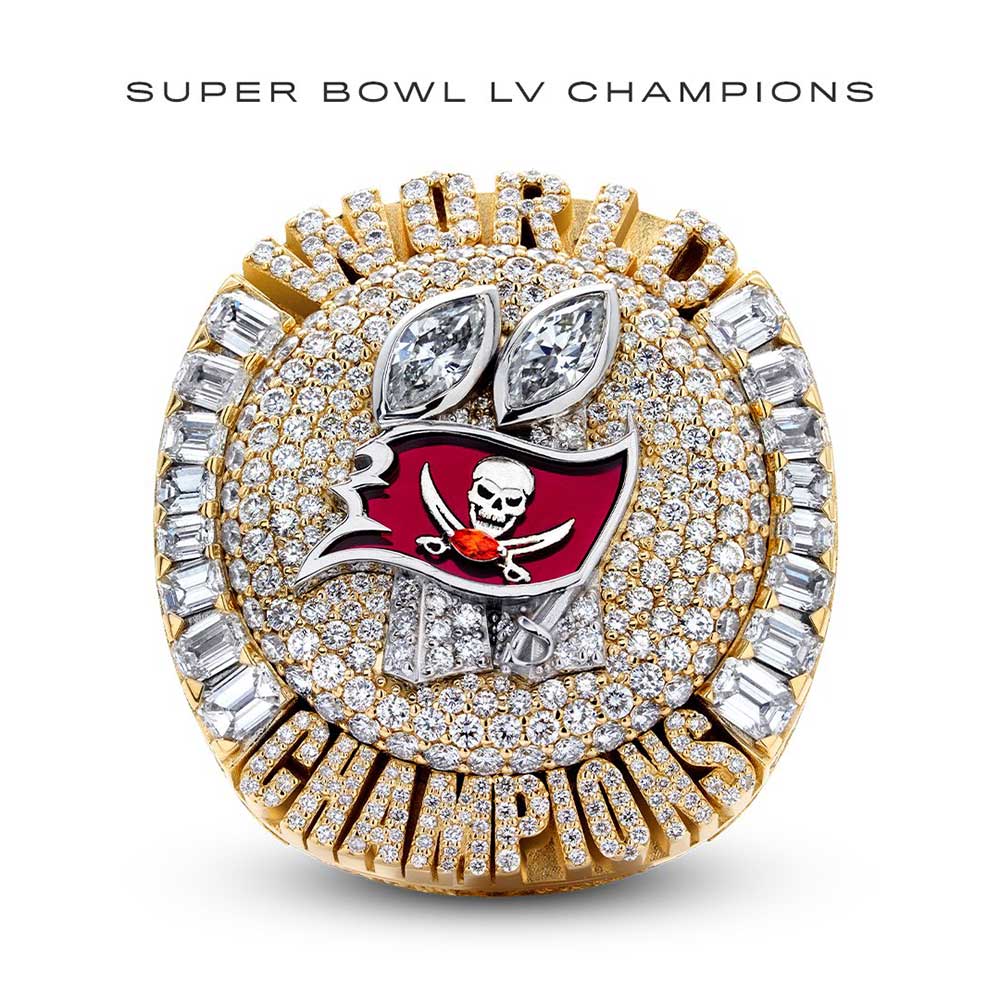 First off, the ring is a collaboration between the Bucs and the jeweller Jason of Beverly Hills who have quite a history of producing championship rings, including last year's LA Lakers rings.
The left trophy is encrusted with nine diamonds, representing the nine points allowed in Super Bowl LV, one of the fewest in NFL history.
There are eight emerald-cut diamonds on each side to represent eight straight wins, the longest in franchise history, that led to the Super Bowl LV win.
On the exterior top, you've got 319 diamonds to represent the 31-9 Super Bowl LV final score.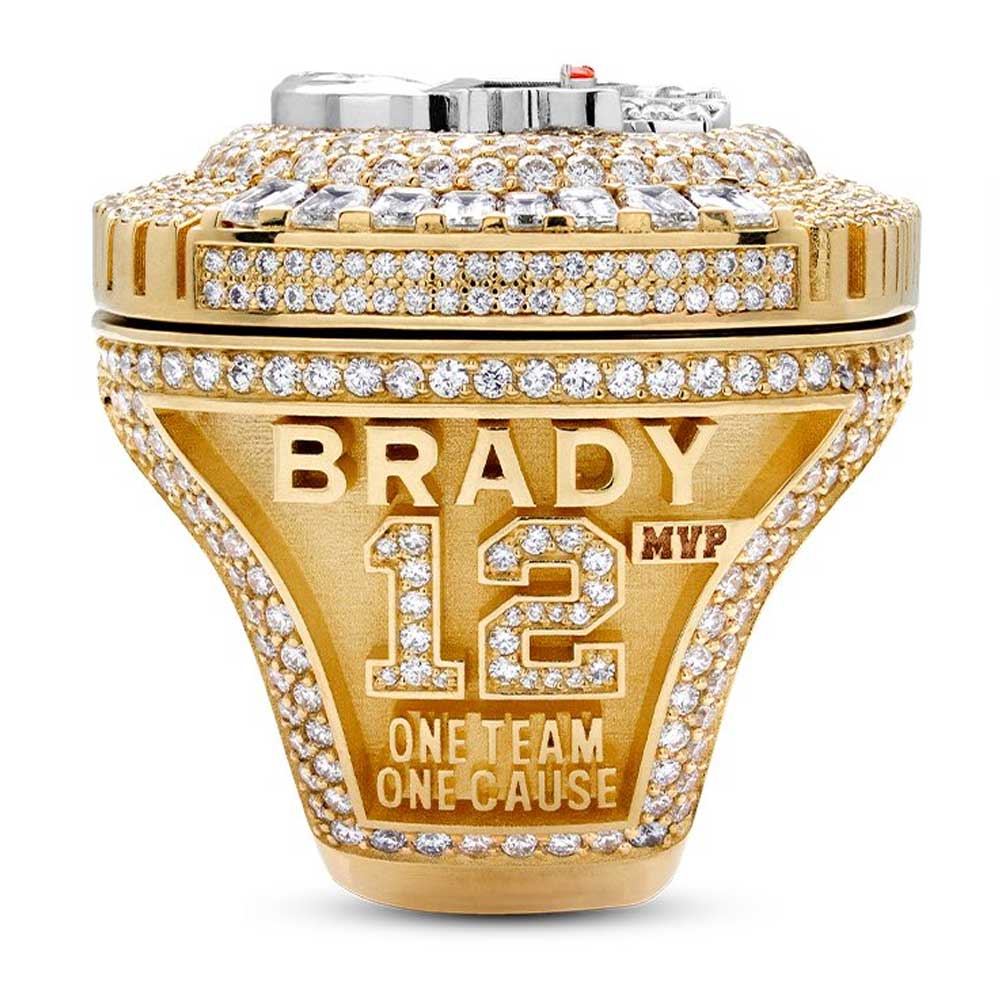 Each ring has been personalised with the player's number and name. Tom Brady's gets an extra bit of work to mark his MVP appearance. On the other side, four diamonds on the Super Bowl LB logo represent the number of division winners defeated.
For the first time in NFL history, the championship ring has a removable top. The word 'historic' commemorates the achievement of the Bucs in winning the Super Bowl at home.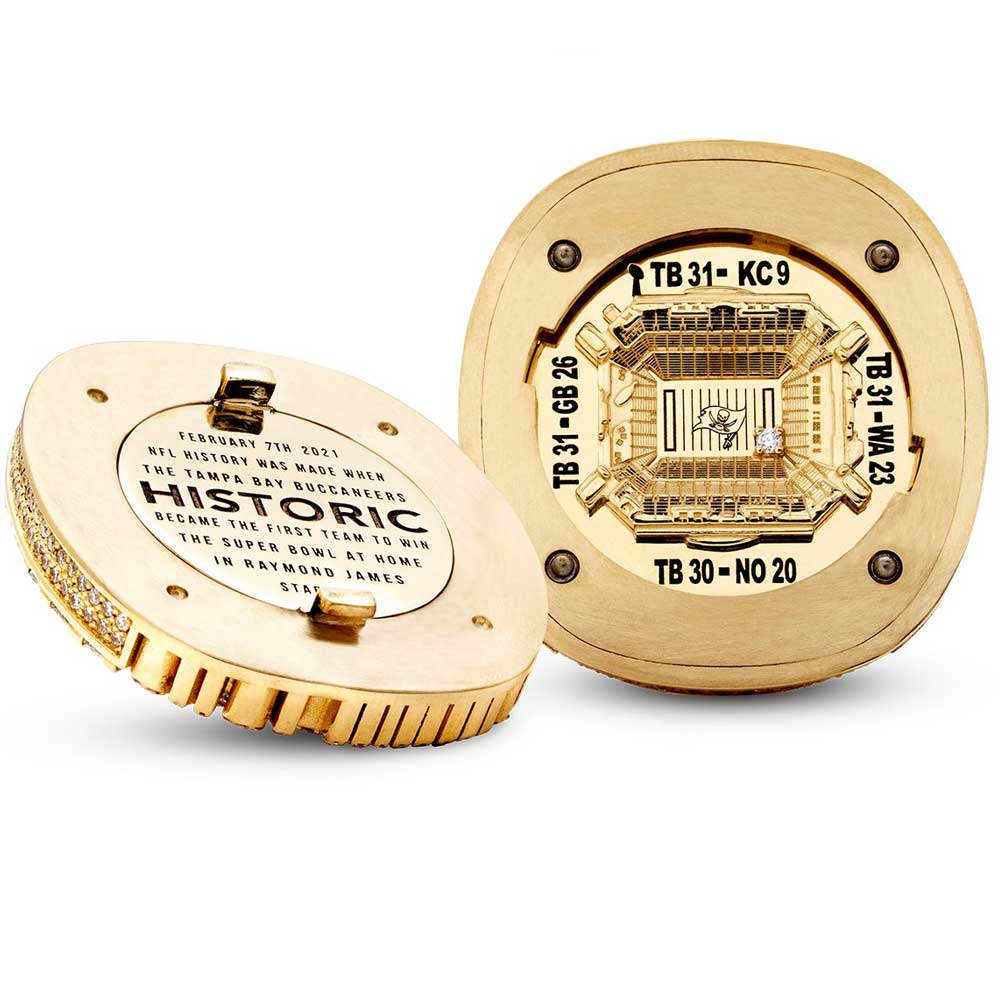 Removing the top reveals a hand-engraved stadium surrounded by the scores of the team's four playoff victories. The stadium celebrates the fact that the 2020 Buccaneers were the first team in NFL history to win the Super Bowl on their own field.
The single diamond on the stadium field is placed on the spot where the Bucs ran out of the tunnel pre-game.
Here's Devin White's ring.
🤠🙏🏾 pic.twitter.com/PkqZBEIODY

— DEVIN WHITE (@DevinWhite__40) July 23, 2021
And here's the moment the GOAT himself, Tom Brady, opened his.
Yeah, we feel the same way @TomBrady. pic.twitter.com/mMKEzWyzyh

— Tampa Bay Buccaneers (@Buccaneers) July 23, 2021