Ciara O'Keeffe & Tiffany Fitzgerald's impression in their debut year with Kilkenny's Intermediate camogie side is reward for their consistency and progression not just this year, but over the last few years where they made a very positive impression at under-age.
The duo were joint captains of the Kilkenny minor team for 2020, but unfortunately, there was no All-Ireland Championship due to the pandemic restrictions.
However, they have bounced back from their disappointment and, having been regular starters throughout the league & championship, they now have an All-Ireland Final to look forward to on Sunday against Antrim in Croke Park.
Coming through the ranks
Ciara and Tiffany have come through the under-age ranks together enjoying All-Ireland success with Loreto Kilkenny, while also part of the Young Irelands team that won consecutive county minor titles in 2018 & 2019.
They were also on the team that reached last year's county minor Final, but unfortunately again, that was never played due to the pandemic restrictions that were in place last Autumn.
Ciara is the daughter of Billy O'Keeffe who gave tremendous service to the Thomastown hurlers, while her sister Marie was full-back on the U16 inter-county team that lost to Cork in the All-Ireland Final in July.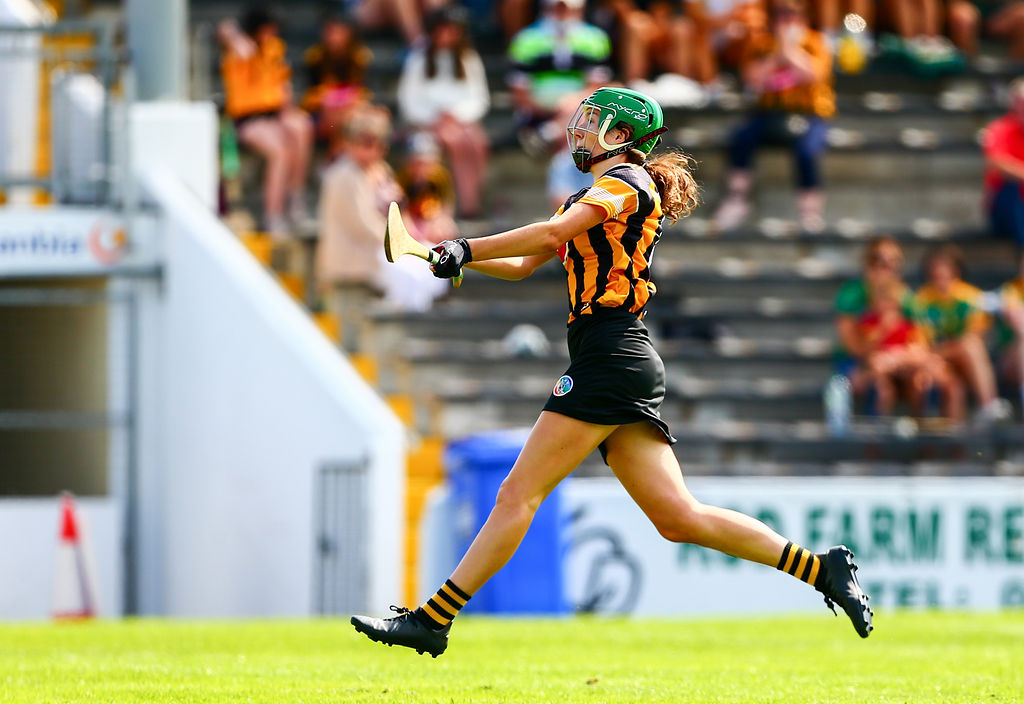 Billy is managing the U16 Young Ireland's camogie team in which Marie plays and they host John Lockes of Callan on Sunday week, 19 September in a county quarter-final, while Marie will be also involved with the club minor team who also have a county quarter-final to look forward to next Wednesday evening at 6.15 pm at home to Piltown.
Tiffany is the daughter of twice county senior medal-winner with Young Irelands, Cathal Fitzgerald, while her sister Steffi is part of the senior inter-county panel that won the league title during the summer, but unfortunately lost out by a point to Cork in the All-Ireland Semi-Final.
Tiffany & Steffi's Grandmother Beatrice Treacy was one of the great loyal servants to Young Irelands & Kilkenny Camogie for several years and indeed such a wonderful servant to Young Irelands GAA Club in general.
Young Ireland's Camogie Club has made great strides in recent years as evident to their success including junior and intermediate county titles along with a Leinster intermediate final appearance in 2018.
Ciara and Tiffany have certainly been a major part of the Club's success & they will have a prominent role to play in continuing the progression going forward.
The fact also that a number of Young Irelands are involved or have been with inter-county panels over the past few years – including minor All-Ireland winning joint captain Sarah O'Donnell – emphasises the trojan work that has happened in the Club.
The Kilkenny intermediates have improved as the year has progressed particularly after their last gasp league quarter-final defeat to Meath and their opening-round Championship loss in the group stages in Antrim.
In the build-up to Sunday's final, Kilkenny intermediate manager John Scott said in a radio interview that despite the loss away to Antrim there was optimism and positivity on the bus journey home and that translated onto the playing field with improved performances and results.
Ciara starred against Kildare in a must-win game scoring 1-6 from play and in another must-win game, they defeated Cork to top their Group & qualify directly into a Semi-Final.
In their semi-final game against Meath in Nowlan Park, Kilkenny reversed the result of their league quarter-final clash with a 0-13 to 0-9 victory where Tiffany was one of the leading performers doing an excellent marking job on one of Meath leading forwards.
Young Irelands are also represented in the backroom team with Pat O'Neill & Nessa Farrell involved.
Pat was a selector with the inter-county seniors again this year, while Nessa has been a superb servant to Young Ireland's Camogie both as a player & helping out with the various Teams within the Club.
Having improved as the year has progressed, hopes are high that the Intermediates can add to the Minors success & bring further All-Ireland glory back to Kilkenny.