Billed as the 'combat sport of the future' and with a roster of over 100 of the world's top karate fighters, Karate Combat is making waves.
Said waves have reached local shores as well with the news confirmed on Wednesday that IT Carlow graduate and Team Ryano Kilkenny prospect Eoghan Chelmiah will be making an appearance on season 3 of Karate Combat.
Currently undergoing an engineering PhD at IT Carlow, Chelmiah is a multiple-time European and world karate champion and has boxed for IT Carlow at university level.
The Ballickmoyler man is also an MMA athlete having fought at amateur level under the Cage Legacy, Cage Ring Championship and Cage Warriors Academy banners while training out of Team Ryano Kilkenny under Myles Price and Mick Brennan.
In 2018 and 2019 he was part of the Irish team competing at the IMMAF (International Mixed Martial Arts Federation) world and European championships.
"Blessed with the opportunity to fight for a contract in the upcoming Season 3 of the world's biggest full-contact professional Karate stage" , said Chelmiah via social media.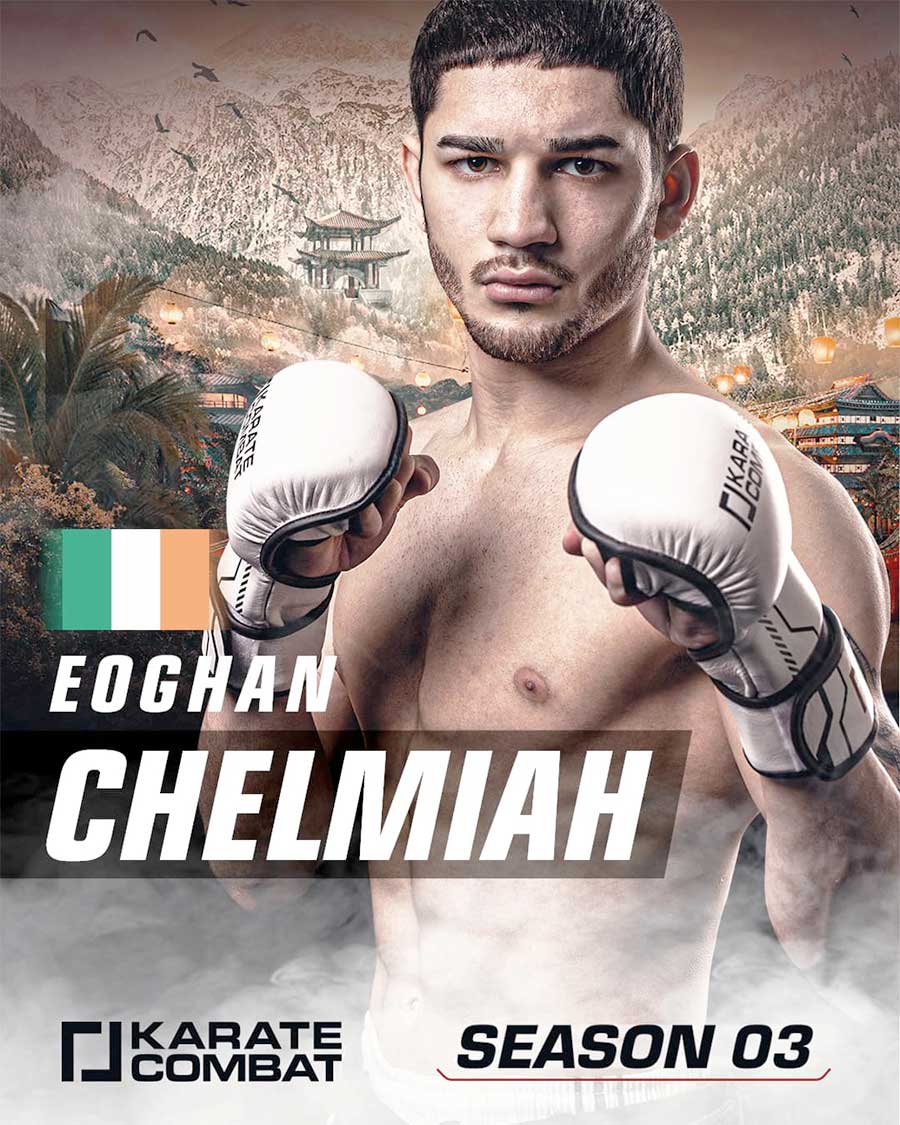 What is Karate Combat?
As the name suggests, it's a martial arts combat sport, based on the principles of traditional karate combat application including aggressive strike along with the use of throws, sweeps, takedowns and limited ground fighting.
"Effective karate combat fighting" is defined as aggressively attacking with legal strikes and takedowns that result in an effective impact on the opponent.
It's high paced, high octane and takes place in "the pit" and has a captive worldwide audience.
Where it differs from the likes of MMA, you won't see knees, elbows or forearms coming into play. Kicks between the hip and upper part of the knee are deemed fouls. Any grabbing or holding of the head is also ruled out, along with single and double leg takedowns.
When fighters are 'downed', attacks are allowed to continue for a maximum of a five-count before fighters are returned to their feet.
Fights are three, three-minute rounds with one minute rest between. If the judges deem a fight a draw, there's a 'sudden victory' round.
Using the 10-point-must system, points are awarded per round based on Effective Aggressiveness, Number of Effective Kicking Techniques, Effective Striking, Dominance, Damage and Control – in that order.
Here's fellow Irishman Craig Ryan competing on season 2 last October.
Production values
Martial arts icon and UFC legend Georges St-Pierre is joining the Karate Combat fold for the upcoming season in a 'season sensei' role.
From a production point of view, things get quite interesting. Karate Combat stages real fights in unreal worlds, using the Epic Games Unreal Engine (Fortnite) and state-of-the-art technology to build incredible virtual environments for fighters to compete in. Season 3's environments will begin with Feudal Japan and showcase the evolution of karate from inception to the modern day.
Production started earlier this spring with broadcast dates yet to be announced. From an Irish point of view we should be able to see Chelmiah in action via the official YouTube channel.
Watch: Craig Ryan v Rida Boutadout, Karate Combat Season 2