The Premier League is back, stadiums are packed around England and Europe and we've still got the bones of a fortnight left in the summer transfer window.
Already this season we've seen some big moves with Romelu Lukaku returning to Chelsea for a fee in the region of €115m while Lionel Messi has departed life-long club Barcelona for pastures new in Paris.
While Chelsea are hoping their Belgian all-star will be the key to unlocking the Premier League title, Paris look like they'll be laughing all the way to the Ligue 1 title and potentially the Champions League having added Donnarumma, Sergio Ramos, Gini Wijnaldum, Danilo Pereira and Achraf Hakimi to their ranks this summer, most of them for free.
Our FM podcast – The Football Manager Football Show – kicked off season four this past week having departed the Premier League to head for life in La Liga but while we're a few seasons ahead of the real world, we've been asking ourselves where will the trophies be going at the end of the 2021/22 season.
Robbie's made his predictions for the Premier League already, very much tipping Chelsea to the top with Liverpool nipping at their heels. He also reckons Benitez gets the sack at Goodison Park while Patrick Viera will lead Crystal Palace straight to the Championship.
With Messi reportedly set to earn €25m a year for two years, plus a €25 signing-on bonus, can the Argentine winger help Paris to Europe's biggest trophy, a trophy they've never won in the history of the club (as European Cup or UEFA Champions League)?
They did come close, once, finishing runners-up to Bayern Munich in the 2019/20 campaign though their club grounds in Paris have seen more finals action than the team has.
So what do we do in this instance? We load up the latest database updates for Football Manager 2021, we click continue and journey furiously towards the end of the 2021/22 season.
Note: This league was simulated using the latest available database (17 August) via sortitoutsi.net.
The Big Transfers
First off, lets have a look at where some of the other big transfers could have happened and we'll see below if they had any serious impact.
The Premier League & English Competitions
In the real world, we saw Brentford get off to a flyer this past week with 2-0 win over Arsenal to kick off life in the Premier League, while Jack Grealish had is Manchester City league debut spoiled by a feisty Spurs side, keen to make a point before the potential loss of Harry Kane.
Norwich and Watford also had points to prove on their return to the Premier League, but could they hang on for the full season?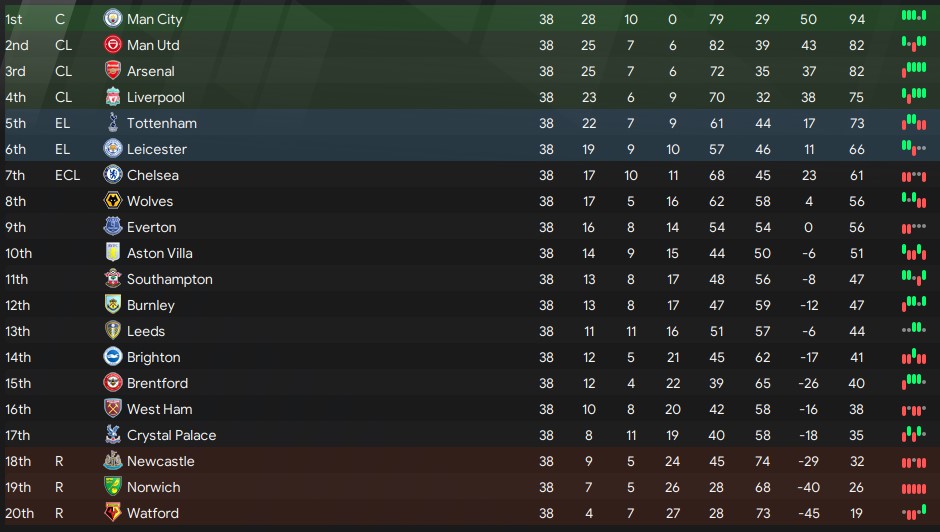 In the windup, the top of the table looked not exactly like we had planned or proposed.
Such was Chelsea's poor performance – 33 points off overall winners Manchester City – they missed out on Champions League and Europa League qualification and ultimately sacked Thomas Tuchel by the end of the season for poor results.
Take a look closer – City going the entire season unbeaten. Yes, we know Spurs beat them in real life at the weekend, but City still had a dozen points to spare at the end of the season.
Hell, even Arsenal stuck with Arteta this time out (he was sacked early on in our current FMFShow save) and he managed to drag the Gunners kicking and screaming into third, level on points but trailing on goal difference with Man United.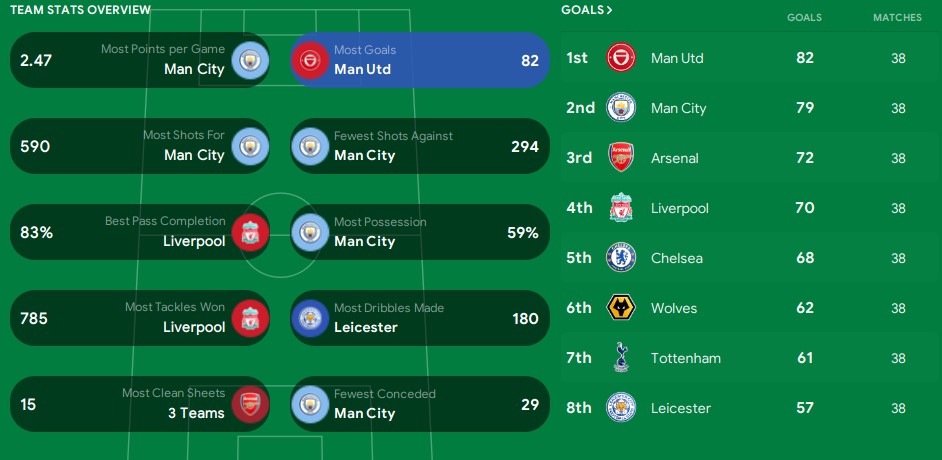 Lukaku did do his fair share though, bagging 28 goals in 54 games across all competitions but he was still shy in the league. City's Gabriel Jesus notched up 21 goals in 35 games, tying first place for the Golden Boot with Harry Kane who stuck around at Spurs for another season. Everton's Dominic Calvert-Lewin put his name on 19 of the Toffees goals en route to a 9th place finish in the league.
Leicester and Wolves, subjects of two seasons of The Football Manager Football Show finished 6th and 8th respectively, although Bruno Lage got his marching orders the same week as Tuchel.
Newcastle's early-season woes persisted, resulting in Steve Bruce parting ways with the club in the new year, along with David Moyes leaving West Ham.
And yes, Robbie was right, by the time the last ball was kicked in the 2021/22 Premier League season, Rafa Benitez was relieved of his duties at Everton.
The Emirates FA Cup went to the Etihad as well, City beating Liverpool 4-3 on penalties as Diogo Jota missed Liverpool's last kick of the game while Chelsea's season wasn't without silverware, seeing off London rivals Arsenal 2-1 in the Carbao Cup final.
City, United, Arsenal and Liverpool head to the Champions League while Spurs and Leicester make for the Europa League. Manager-less Chelsea (with Andre Villas-Boas tipped to return) will make way for the Europa Conference League instead.
As for big spending? Outside of those we've already seen in the bag like Lukaku to Chelsea, Grealish to City (who would only make six league starts), Konaté to Liverpool, Danny Ings to Villa (who bagged 21 goals in the process), spending was relatively curtailed by the big clubs. Here's some of the key transfesr this season.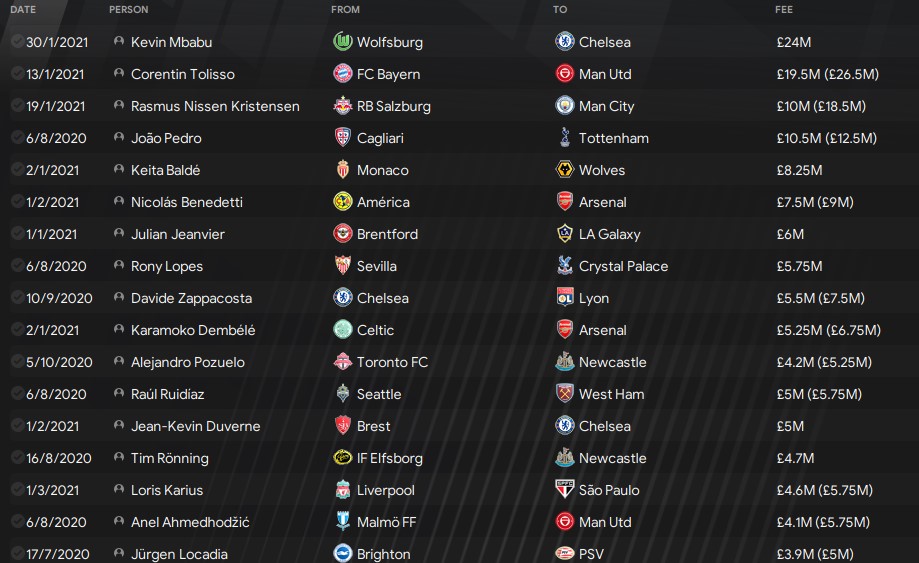 Ligue 1 and French Competitions
PSG are a bit like Kilkenny when it comes to hurling, or at least Kilkenny in the early noughties. Of the ten last available French league titles, they've scooped up seven of them. In the three seasons where they didn't win the league, they finished runners up to Montpellier (2011/12), Monaco (2016/17) and Lille (last season). Before that though, you're going back to the 90s for a league win, long before the cash started flowing through the French capital.
Now with a team of Galacticos (apologies, Real Madrid), here's how the French league turned out.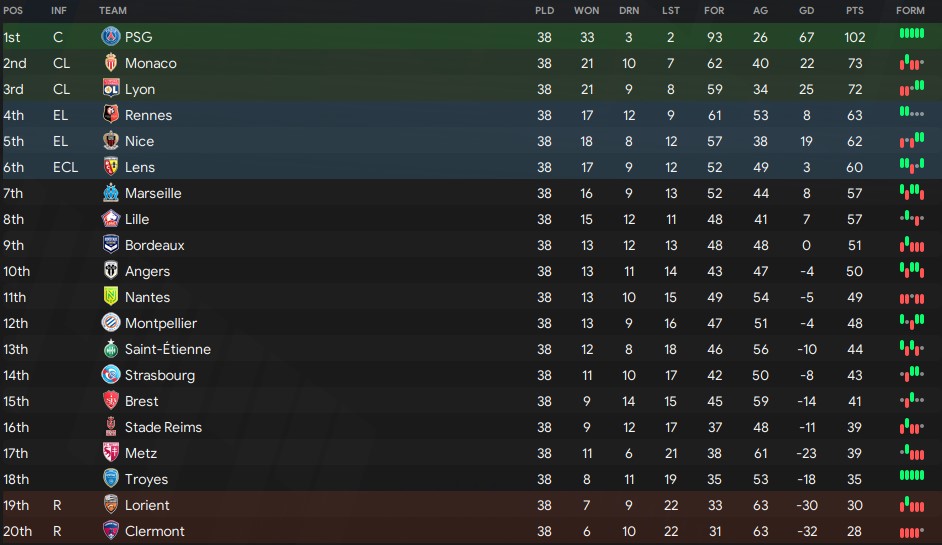 No surprises here, barring the fact they had almost 30 points to spare at the end over Monaco, but PSG swept the board, taking a whopping 33 wins from 38 games.
Last season's league champions Lille, under some financial pressure, buckled and ended up 8th and managerless by the end of the season.

In a team packed full of stars (and with more on the bench), Messi managed to bag himself 23 goals and 17 assists in all competitions – 18 of those goals coming in the league where he also finished top of the assists charts and with most Player of the Match awards.
Ramos too managed over 40 games in the season with Gini clocking up 55 appearances and a further 11 goals for his new club. With Mbappé and Neymar chipping in over 20 goals each and creating chances, PSG are looking like the team that everyone will want in FM22, FIFA 22 and beyond.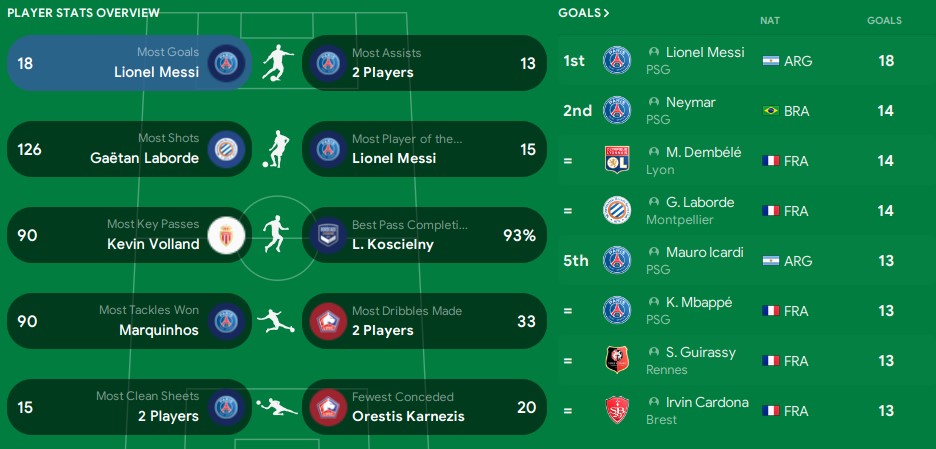 As for the overall team stats at the end of the season, there's no denying the utter dominance of PSG.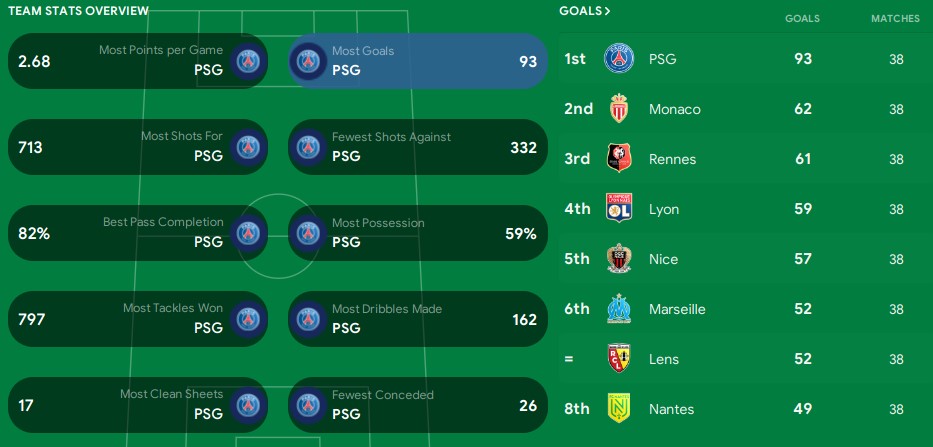 PSG also added the Trophée des Champions in January with a 3-0 drubbing of Lille and completed the domestic treble by tacking on the Coupe de France with a 2-1 victory over Nantes.
La Liga
How would Barcelona cope without Lionel Messi? Did Mbappé eventually make his way to Real Madrid? Or were we about to see a surprise at the top table of Spanish football?
La Liga is an interesting one, as that's where we kick off season 4 of The Football Manager Football Show – Shane as Atlético and Ken as Real Madrid.
If our season ahead is to follow this simulation, it's going to be Shane cheering from the rooftops of Casa O'Keeffe, but it'll be a tight finish as goal difference keeps the sides apart while Barcelona nick the league by a single Messi-less point.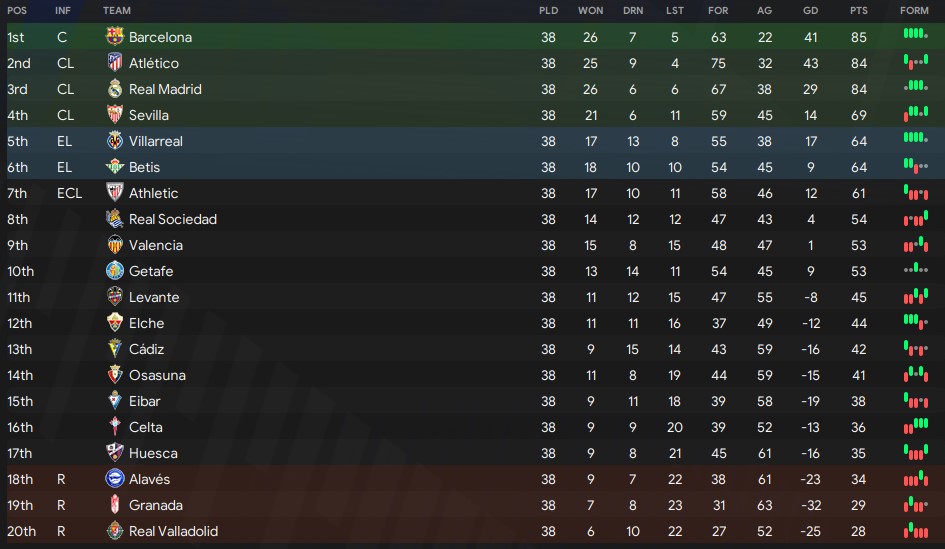 The season would go all the way to the wire at both ends of the table but Barcelona would emerge victoriously.
With a hefty financial hole to fill, they finish ahead of Atlético by a single point, having already won the Copa Del Rey beating Madrid in the final.
Madrid would take the Supercopa de Espana on penalties from Real Sociedad, Barcelona dropping off in the semi-finals.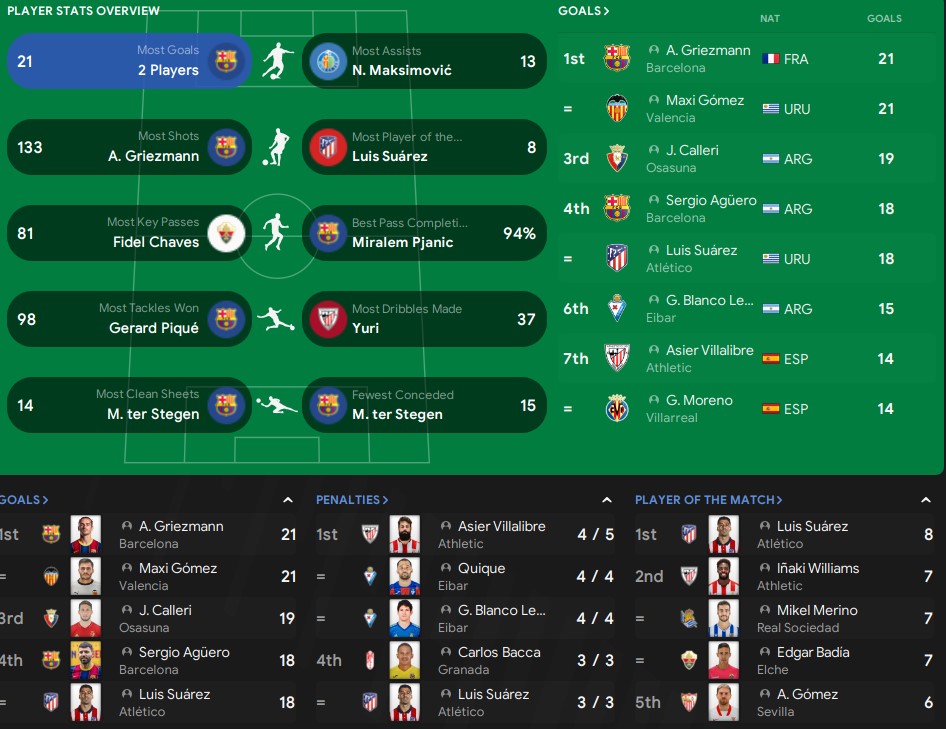 In a Messi-less La Liga, Antoine Griezmann and Sergio Aguero stepped up to the plate for Barcelona, clocking up 40 league goals between them.
Luis Suárez had another solid season with Atlético (he's long gone from Atléti in our current save) while Maxi Gomez also put in a solid shift up front for Valencia.
UEFA Champions League
Cristiano Ronaldo netted ten goals in the Champions League, leading from the likes of Luka Jovic (7), Thomas Muller (7), Sergio Aguero (6) and Kylian Mbappé (6), but it would be the latter's goals that would help PSG make it four titles from four this season as they overcame Bayern in the semi-final to set up a Champions League showdown against Juventus.
Yes, Ronaldo scored. Yes, Mbappé scored.
So too did Lionel Messi as the Argentine wizard helped PSG to their first-ever Champions League trophy.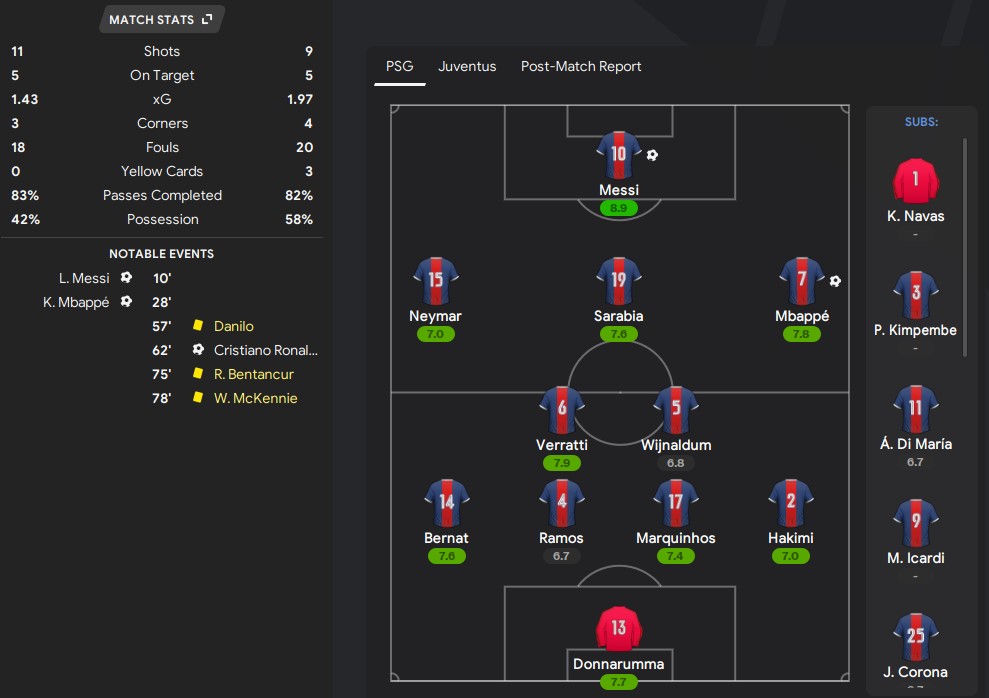 Europa League
The Europa League trophy would be heading to Naples as Napoli pipped Spurs 3-2 on aggregate in their semi-final to set up a date with Hoffenheim in late May.
With the game looking like it was heading to extra time, Hirving Lozano popped up in the 88th minute to give the Italian's their first cup win since 1989 – that year beating German opposition too in Stuttgart.
Elsewhere in Europe
In Italy, Zlatan Ibrahimovic hung around AC Milan and netted 18 goals in Serie A to help the red side of Milan to another league crown while a Lukaku-less Inter spiralled all the way to 7th place, leaving Lazio, Juventus, Roman, Atalanta and Napoli between them.
Juve had been tipped to finish top and indeed Inter to finish ahead of Milan, but it wasn't to be the case.
Bayern continued to dominate proceedings in Germany and make it 11 titles in a row as they held off Borussia Dortmund (who also held on to Erling Haaland).
At the time of writing, Shamrock Rovers currently lead St. Pats and Sligo Rovers in the SSE Airtricity Premier Division with Waterford and Longford heading for the drop. In-game, with just one less played we've got a scenario where Dundalk are leading Shamrock Rovers by a point, with Sligo and Finn Harps struggling at the bottom of the Premier Division.
Meanwhile, in the First Division, it's Bray and Shels battling it out at the top with 16 games played, while Cabinteely are rooted to the foot of the table. Treaty are also performing like their real-life counterparts and knocking on the door of cementing that fourth place in the table.