It's been a long wait since the end of the 2021 inter-county campaign but on Friday night at the Osprey Hotel in Naas, the 2021 Soaring Star and Camogie All-Star awards were finally announced.
While Galway dominated the senior selection with eight, there were four places on the All-Star team for Kilkenny with Áine Fahey's predictions fairly on the money earlier this week.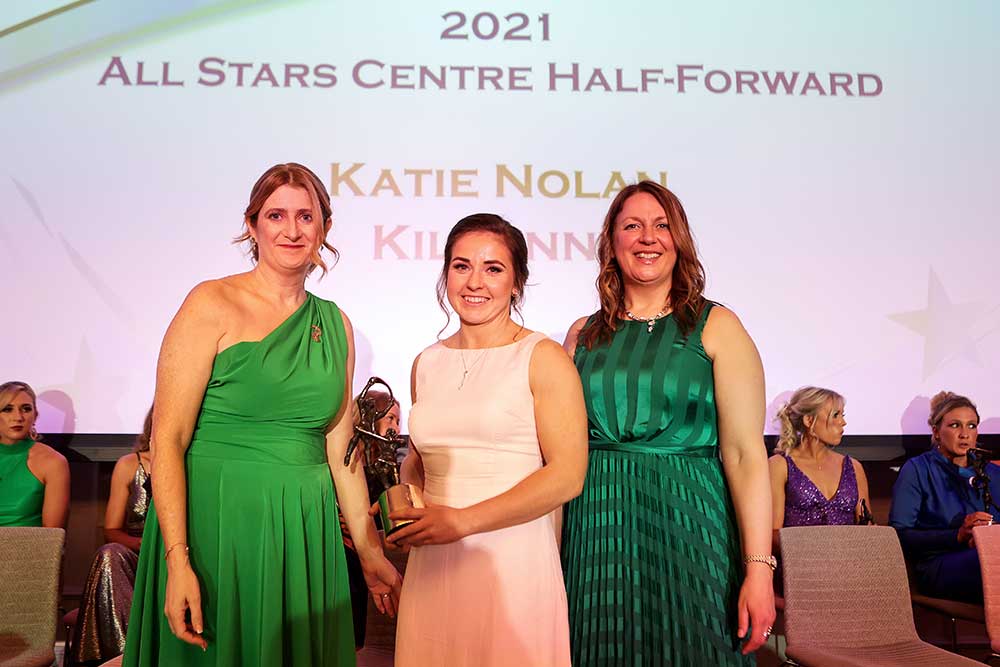 The remaining All-Stars Awards went to Cork with the Rebels earning three All-Stars Awards.
The champions are represented through goalkeeper Sarah Healy, defenders Shauna Healy and Sarah Dervan, midfielder Niamh Kilkenny and forwards Aoife Donohue, Siobhan McGrath, Orlaith McGrath and Ailish O'Reilly.
Championship semi-finalists and National League winners Kilkenny are represented in defence through Davina Tobin and Meghan Farrell while Denise Gaule and Katie Nolan feature in the forwards.
Championship runners-up Cork are represented through Laura Hayes and Laura Treacy in defence and Hannah Looney claiming a midfield accolade.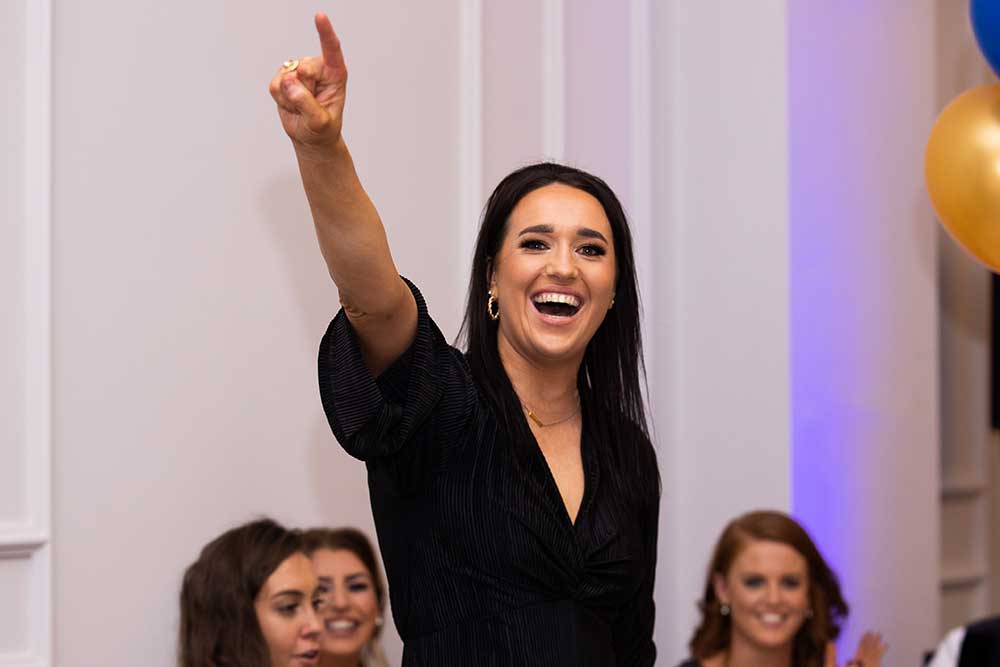 2021 Camogie All-Stars
Goalkeeper: Sarah Healy (Galway)
Corner-Back: Shauna Healy (Galway)
Full-Back: Sarah Dervan (Galway)
Corner-Back: Davina Tobin (Kilkenny)
Half-Back: Megan Farrell (Kilkenny)
Centre-Back: Laura Treacy (Cork)
Half-Back: Laura Hayes (Cork)
Midfield: Niamh Kilkenny (Galway)
Midfield: Hannah Looney (Cork)
Half-Forward: Aoife Donohoe (Galway)
Centre-Forward: Katie Nolan (Kilkenny)
Half-Forward: Denise Gaule (Kilkenny)
Corner-Forward: Siobhan McGrath (Galway)
Full-Forward: Orlaith McGrath (Galway)
Corner-Forward: Ailish O' Reilly (Galway)
Intermediate champions Antrim feature six players on the 2021 Soaring Stars team, with runners-up Kilkenny earning four Soaring Stars awards.
All-Ireland Junior champions Wexford have claimed three Soaring Stars Awards, with Galway and Armagh completing the list of winners with one accolade each.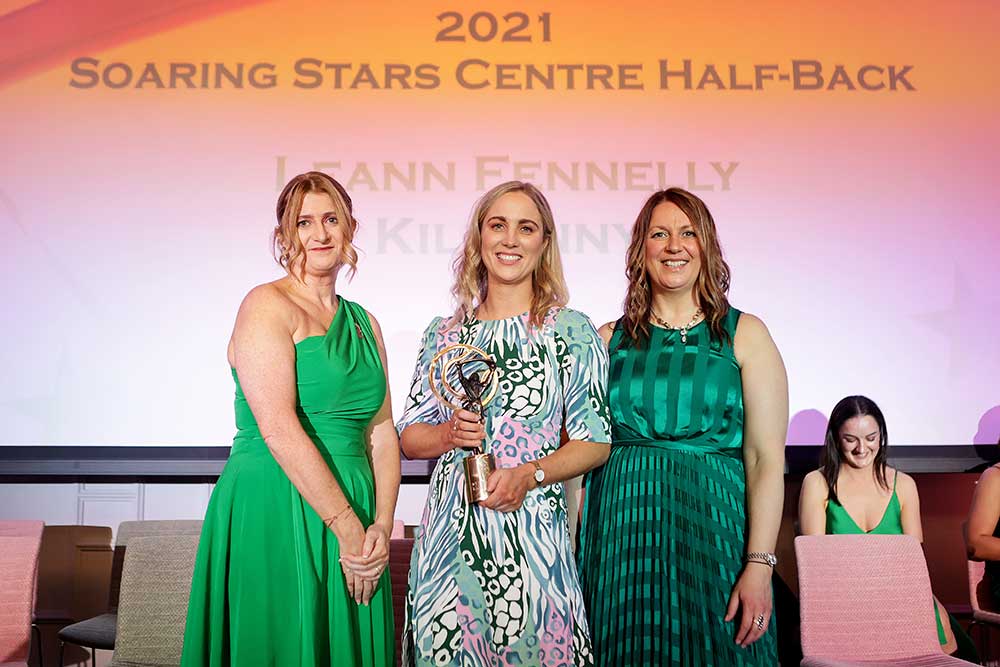 The Intermediate champions are featured through goalkeeper Catriona Graham, defender Chloe Drain, midfielder Nicole O'Neill and forwards Maeve Kelly, Roisin McCormick and Catrine Dobbin.
Kilkenny are represented through defenders Niamh Leahy, Roisin Phelan, Sarah Crowley and Leanne Fennelly. Semi-finalists Galway are featured through forward Ava Lynskey.
The Junior champions see defender Aideen Brennan, midfielder Chloe Cashe and forward Ciara Banville claim Soaring Stars awards, while Armagh's Ciara Donnelly claims an award for the All-Ireland Junior championship finalists.
2021 Soaring Stars Team
Goalkeeper: Catriona Graham (Antrim)
Corner-Back: Chloe Drain (Antrim)
Full-Back: Roisin Phelan (Kilkenny)
Corner-Back: Niamh Leahy (Kilkenny)
Half-Back: Sarah Crowley (Kilkenny)
Centre-Back: Leanne Fennelly (Kilkenny)
Half-Back: Aideen Brennan (Wexford)
Midfield: Chloe Cashe (Wexford)
Midfield: Nicole O' Neill (Antrim)
Half-Forward: Maeve Kelly (Antrim)
Centre-Half Forward: Ciara Banville (Wexford)
Half-Forward: Ava Lynskey (Galway)
Corner-Forward: Roisin McCormack (Antrim)
Full-Forward: Ciara Donnelly (Armagh)
Corner-Forward: Catrine Dobbin (Antrim)
For the overall awards, Galway's Aoife Donohue claimed the Senior Players' Player of the Year award with the intermediate award going to Antrim's Maeve Kelly while Chole Cashe claimed the junior prize.
Galway's Cathal Murray collected the 2021 Manager of the Year award.