There are certain figureheads in Kilkenny hurling that are the embodiment of the sport in the county. TJ Reid, Henry Shefflin, and DJ Carey spring to mind. The great Eddie Keher is another.
It is brilliant to hear the reactions of the players he managed, but getting insight into someone who shared the field with him and managed him is very rare indeed.
See also: "What can I say? What a man" Eoin Larkin reflects on the lasting impact of Brian Cody
Brian Cody came on the senior intercounty scene in 1973 and was in the starting fifteen at left wing-back of that year's All Ireland final against Limerick. Eddie couldn't play that day due to a broken collar bone. Although The Cats won an All-Ireland in 1974, it would be the following year when Cody would claim his first All-Ireland medal on the field of play. That was no doubt helped by an incredible display by Eddie Keher on the day, with his huge tally of 2–7 keeping Galway at bay giving Kilkenny a 2–22 to 2–10 victory.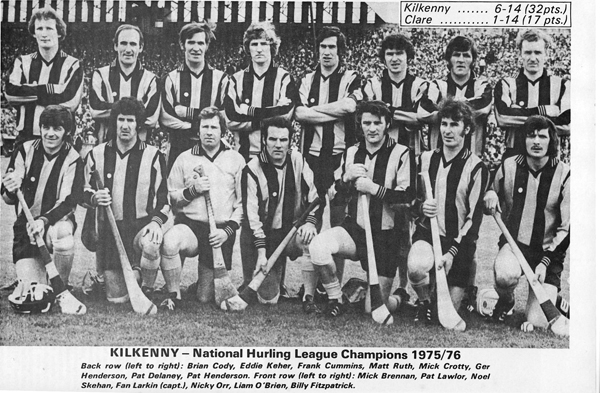 See also: Ranking Brian Cody's greatest victories as Kilkenny manager
A new Kilkenny team emerged in 1979, however, Cody lost his place on the starting fifteen. Who was one of the men in charge? None other than Eddie Keher who teamed up with Pat Henderson to take charge of the Kilkenny senior hurling team in 1979. Must have been hard for Brian as he himself would say he was a much better player than he was a manager. Cody returned to captain in 1982 and claim another All Ireland victory in a team managed exclusively by Pat Henderson.
Eddie actually jumped back into the managerial chair of the senior team in 1987, where Kilkenny exited the provincial championship at an early stage. Cody himself was retired by this stage after hanging up his boots in 1985 after a 1–30 to 1-10 Leinster quarter-final defeat by Westmeath. Brian Cody was ratified in 1998 for the following campaign as the new manager and Eddie watched on with huge admiration as his former teammate and player achieved unprecedented success for the following 24 years.
See also: The Clash Act #31 Eddie Keher, Kilkenny hurling legend and Six time All Ireland Winner
Speaking to Scoreline after Brians's shocking announcement that he will be stepping away from the position, Eddie Keher spoke with glowing praise of Brian Cody the manager, and indeed of Brian Cody the man;
"I'm very devastated at the news. It is an end of an era for us. I do not think you can say enough about him. l know all his records and everything has been stated and complimented on. But the one thing I always felt with Brian, was a word he always used, honesty. I have to say that in all the time since 1999 that Brian has been in charge of the team, his players have played with honesty."
"We had four teams during his period, all great and wonderful teams. It is often said he had great players, he had very good players that I always contend Brian made great. If you look back at the All Irelands, Leinster Finals, Semi Finals we won, an awful lot of those went to the wire. Only for Brians's fighting spirit, I do not think we would have won those games. We have a lot to be grateful for, for hurling in general but for Kilkenny in particular."
"He was what we all wanted. He was the boss. We're very, very proud of what he has done. But a really nice guy and you would know from speaking to him as I have done so many times over the years. Hurling is his passion and that's what he lived for. "
Listen to the full interview as well as the thoughts of the likes of Eddie Brennan, Eoin Larkin & more on Scoreline Extra below: