Iconic images of Kilkenny Hurling and Camogie players are currently on display in a photographic exhibition in the Pembroke Hotel Kilkenny celebrating important moments in Kilkenny's sporting history.
The exhibition featuring images by Inpho sports photographers will be launched at a special event on Thursday 8th December in the Pembroke Hotel. Cathaoirleach of Kilkenny County Council Cllr. Pat Fitzpatrick has extended an invitation to all sporting fans to come along to look back at some iconic Kilkenny sporting moments as collected by the Inpho team since the late 80s.
Guests of honour, former Kilkenny senior hurlers Eddie Keher, holder of five All-Stars and six All-Ireland medals, along with Noel Skehan, himself holder of nine All-Ireland senior hurling medals.
Back in time
Take a look back at some of the most iconic Kilkenny sporting moments in this special exhibition highlighting Kilkenny Hurling and Camogie stars and legendary moments. This exhibition features incredible images by top Inpho sports photographers, who captured memorable moments in time. Founded by Billy Stickland in 1988, Inpho Sports Photography has grown to become the largest and most successful sports photography agency in the country with numerous national and international awards.
Inpho have built a reputation for capturing the decisive moments in Irish sporting life for over 30 years. Sport is drama personified; re-live the nail-biting, exhilarating and heart-breaking moments we have shared together as a county and sporting community.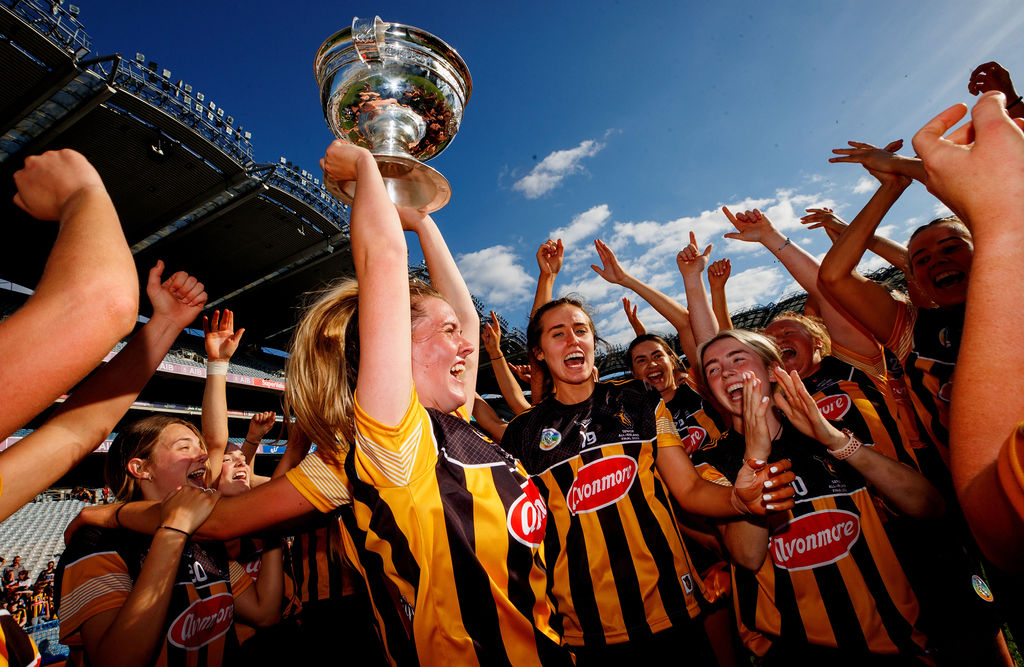 Images include shots of current camogie All-Ireland Senior champions Claire Phelan and Katie Power; iconic shots of Kilkenny hurling captains lifting the Liam MacCarthy Cup; past and present players; and crowd celebrations and All-Ireland homecomings. These beautifully framed images are available to purchase with all proceeds donated to the Kilkenny Lions Club Christmas Appeal.
Securing an image
The framed photographs would make a very special gift for a sporting fan and would be a great addition to any pub or restaurant. Images will be available to purchase from 5.30pm on Thursday 8th December – come along to the Pembroke to meet some celebrated Kilkenny Hurling and Camogie personalities.
To secure your favourite images get in touch on [email protected] or call Cathy on 087 954 2336. Framed images cost €290 with all proceeds donated directly to Kilkenny Lions Club Christmas Appeal. Support this great cause and pick up a piece of
sporting history.
The full list of images on show are
Brian Cody
Liam Fennelly
DJ Carey
Kilkenny's Martin Comerford with Gary Maguire of Dublin
TJ Reid
Michelle Teehan, Meighan Farrell and Anna Farrell celebrate 2020
Michelle Teehan, Meighan Farrell and Anna Farrell 2020
Pupils from Bunscoil McAuley Rice Quadruplets Nicola, Amanda, Samantha and Michael Morris
Kilkenny team salute fans at Hill 16, 2000
Claire Phelan and Katie Power celebrate 2022
The Kilkenny team 2012
Kilkenny's Tommy Walsh and Niall Healy of Galway, 2005
Michael Fennelly lifts the Liam MacCarthy Cup, 2011
The Kilkenny team celebrate with the Liam MacCarthy Cup, 2015
A fan wearing a giant Henry Shefflin head runs alongside the team bus during the parade, 2014
Michael Fennelly lifts the Liam MacCarthy Cup, 2009
Noel Skehan, 1984
Rackard Cody with the Liam MacCarthy Cup, 2007
Kilkenny's Richie Hogan tackled by Limerick's Richie English, 2019
Jackie Tyrrell lifts the Liam MacCarthy Cup, 2014
Tracey Millea, 1999
Michael Kavanagh and Brian Hogan, 2009
Kilkenny fans, 2003
Richie Hogan and Paul Murphy, 2019
Kilkenny's Leann Fennelly and Cork's Anna Geary, 2014
Eddie Brennan, 2003
Katie Power, 2015
Kilkenny's John Power and John McInerney of Galway, 1993
Brian Hogan lifts the Liam MacCarthy Cup, 2011
Kilkenny players celebrate at Hill 16, 2000
Kilkenny camogie team, 1985
Kilkenny's Derek Lyng and James O'Brien of Limerick, 2007
The Kilkenny team, 2019
Henry Shefflin and Eoin Lark, 2012
Tommy Walsh, 2003
DJ Carey celebrating after scoring a goal, 2000
Paul Murphy, 2019
Martin Comerford, 2008
DJ Carey, 1998
The Kilkenny team, 2012
Nickey Brennan, 1997
Eddie Keher, Kilkenny v London, 1969
GAA President Nickey Brennan turns on the floodlights at Semple Stadium, 2009
Eoin Larkin, 2008
Fan and Philly Larkin, 2002
All-Ireland senior hurling championship final, 2016
Aoife Prendergast, 2022
JJ Delaney, 2014
Kilkenny's Brian Cody tackles Jimmy Barry Murphy of Cork, 1983
Brian Cody and Rackard Cody, 2015
Jackie Tyrrell, 2014
Brian Dowling, 2022
Henry Shefflin, 2009
The Kilkenny team in Croke Park, 1992
The Kilkenny team celebrate, 2014
Brian Cody celebrates with Henry Shefflin, 2014
Henry Shefflin and Joey Holden with RTÉ's Evanne Ní Chuillinn, 2014
Martin Comerford celebrates with fans after the final whistle, 2007
Kilkenny supporters at the homecoming, 2007
Kilkenny's Charlie Carter and Seán Flood of Wexford, 2001
The Inpho Hurling & Camogie Photographic Exhibition is part of the Yulefest Kilkenny programme of events. Yulefest 'Christmas in Kilkenny' brings the festive spirit to Ireland's Marble City and County from Friday 25th November to Friday 23rd December.
Kilkenny's Medieval City is transformed into a Christmas Wonderland of festive cheer for all the family. After the success of last year's festival, this year Yulefest has grown – with a larger Christmas Market on The Parade and an extended Christmas week programme. Events are on throughout the county with a variety of festive markets taking place this weekend – check out yulefestkilkenny.ie for details.