We were back to cup action in Kilkenny this weekend, with Carlow finishing up their group stages of the KCLR Carlow Sheild.
KCLR Carlow Sheild
The shield group stage came to an end and it proved to be huge success over the last five weeks.There will be now eight qualifiers who will go into an open draw for the quarter finals which will be played on the 4th October. The only rule is you can't draw the team from your own group.
12/09 Ardattin Athletic FC 16 0 Fortbarrington FC
12/09 Castle Rangers 0 7 New Oak Boys
12/09 Ballymurphy Celtic 2 2 Baltinglass Town
12/09 Killeshin FC 2 1 Burrin Celtic
12/09 Round Tower Rovers 1 9 St. Patricks Boys
12/09 Slaney Rovers 1 2 Kilree Celtic
12/09 Vale Wanderers 1 1 Nurney Villa
12/09 Bagenalstown AFC 3 4 Dolmen Celtic
Final League table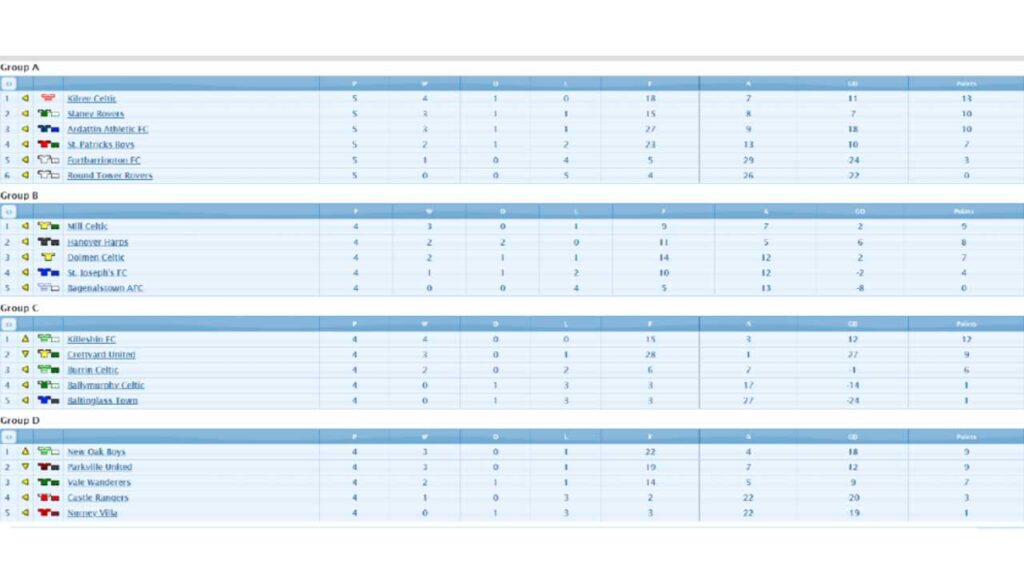 Kilkenny results
Some cracking games in Kilkennys Pat Maher sheild today, with division 2 sides putting premier division sides to the test. St. Canices defeated Newpark in a great contest while Lions can hold their head high after the result against Freebooters. Highview took the victory over Evergreen A on penalties with River Rangers losing to Thomastown.

Quarter-Final

12/09/21 River Rangers 0-6 Thomastown United
12/09/21 Highview Athletic* 3 3 Evergreen FC *Highview Athletic win 7-6 after pens
12/09/21 Lions AFC 4 5 Freebooters A
12/09/21 Newpark AFC 0 1 St Canices
Semi-Final
Freebooters A v St Canices
Highview Athletic v Thomastown
Tune into Scoreline next weekend as we will be doing the live draw for the KCLR Carlow Shield.