Carlow 2-12
Wexford 2-11
Two late points from John Murphy and Darragh Foley saw Carlow secure their second victory of The Allianz National Football League Division 4 South on Saturday afternoon at Netwatch Cullen Park.
Carlow started the brighter of the two sides with a well taken Jordan Morrissey goal sandwiched between well taken points from Chris Blake and Paul Broderick. Carlow sustained their dominance until the first half water break with another Broderick point, this time from a '45 moving them six clear as the referee signalled for the break in play, 1-03 – 0-00.
That stoppage in play sparked the away side into life as they scored four consecutive points from the boots of Tom Byrne (2), Sean Nolan and Martin O'Connor reducing the lead to two points. Carlow goalscorer Morrissey received a black card for a cynical foul before half time as Wexford added on a further two points from frees as Mark Rossiter got on the scoresheet. A Darragh Foley free left one between the teams at the half time interval, 1-04 – 0-06 in favour of the home side.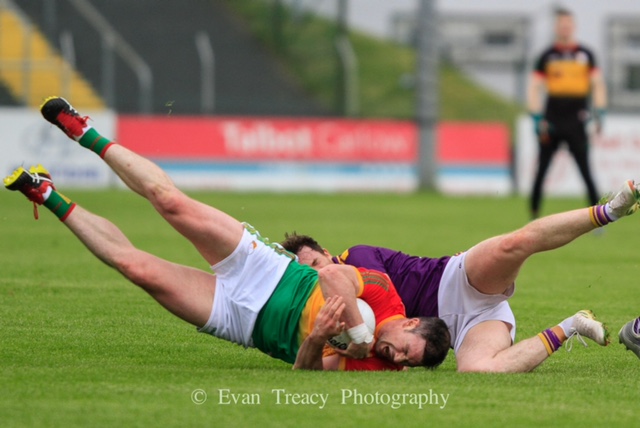 There were scores for Stephen Roche's side from John Turbitt and Kevin O'Grady in between a Jordan Morrissey score from play. Wexford took the lead for the first time in the game early in the second half as Sean Nolan found the back of the net following a mazy run at the Carlow back-line.
Carlow responded with a Darragh Foley free, but Nolan ripped through the Carlow defence once again to set up Liam Nolan for another Wexford goal as the Yellowbellies moved 1-06 – 2-08 ahead. The game was seemingly going in only one direction.
Carlow refused to lay down however and stemmed the flow of the tie just on time. Two frees each from Paul Broderick and the magnificent Darragh Foley kept Carlow within touching distance. UL student Nolan added a point for Wexford as they moved 2-10 – 1-10 ahead.
Seán Gannon equalised for Niall Carew's team with a well taken goal late on. With the encounter on a knife-edge Sean Ryan struck for Wexford as they looked like they were on course for an invaluable victory. However, Carlow held their nerve as Wexford buckled with late points from John Murphy and Darragh Foley sealing a memorable win and confirms them as winners of their group.
The win also sees Carlow qualify for the promotion play-offs.
Listen back to the match on BIG GAME LIVE.
The photos are provided with thanks to Evan Treacy Photography. Check out his website more great shots like this and more.