Miriam Walsh has had one hell of a year on the pitch and on Saturday night capped it all off by scooping the PwC GPA Camogie Player of the Year, and deservedly so.
Even before the Leinster championships were done and dusted it was easy to tell that this was going to be Walsh's year. Adding another provincial title to her collection with Kilkenny, the Tullaroan native was instrumental in Kilkenny going unbeaten through the league, Leinster championship and, ultimately, all the way to the All-Ireland senior camogie final in August.
"I'm over the moon. I know it's an individual award but I wouldn't have accepted the award but for my teammates and the great management team, the supply of ball I was getting in, it made my game easier. They're just a brilliant group of girls to play with and I wouldn't be accepting this award if it wasn't for them", Walsh can be heard telling this week's Camán Caint podcast.
Alongside the Tullroan clubwoman, Kilkenny's Aoife Norris (1st), Grace Walsh (3rd), Laura Murphy (1st), Claire Phelan (3rd), Denise Gaule (6th), Julieanne Malone (2nd), Katie Nolan (2nd) also collected All-Star awards on Saturday night.
Having helped secure the O'Duffy Cup for the 15th time in August, Walsh went from a relentless inter-county season into the club championships in Kilkenny, to her own wedding in the past fortnight. So how did she find it all?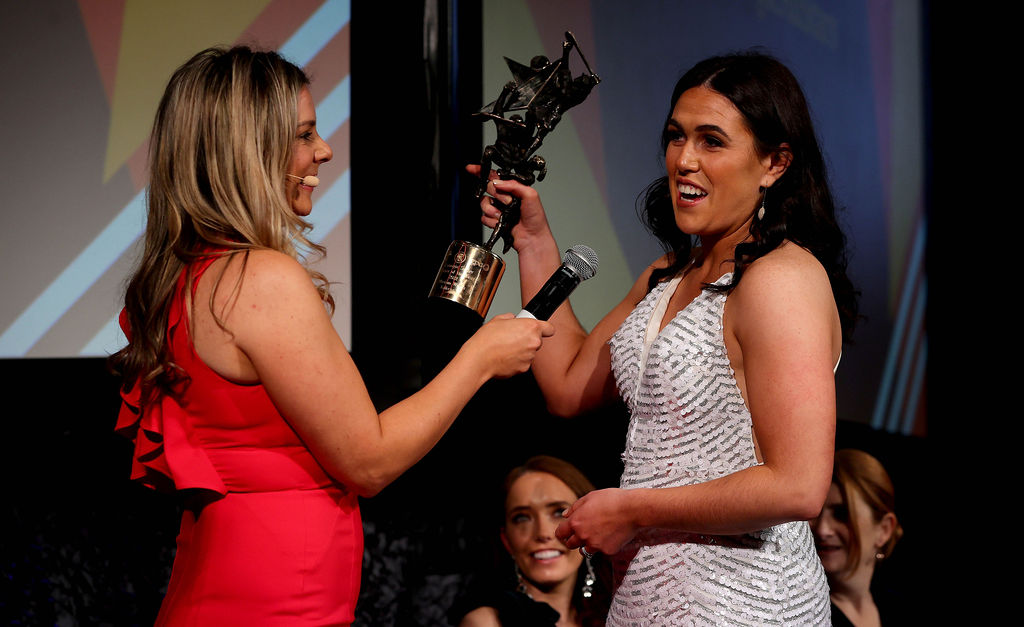 "It was very hectic. I was so lucky in the sense with work, [my company] are so phenomenal working around me, giving me the time off I needed to focus on the camogie. The wedding was brilliant, over in flash of an eye. It was a quick day but an enjoyable day and it was great to have the Kilkenny camogie girls share my special day with me and that's what sport is about I suppose."
"It's been absolutely brilliant", Walsh continues in relation to the run of the year, culminating in Kilkenny picking up eight All-Star awards at the weekend with manager Brian Dowling also scooping manager of the year for the second time in his fourth year with the county.
"In 2020 your parents and family members were watching it from home. This year, our All-Ireland was just brilliant to have a full stadium back again and to be at an All-Star's awards, I can't really remember the last time – even 2017 – I was at an All-Star's awards. It's brilliant to be mingling again and we're just happy to have Covid behind us a small bit and be back again.
"He's very, very proud," says the now three-time All-Star of her father, Dick. "He said to me today, Miriam, if you don't get the Player of the Year award, I'll still be proud of you so that was good enough for me. It didn't put any pressure on me but I'm absolutely thrilled and delighted that the hard work paid off."
As for her wedding to Freshford hurler Noel McGree, Walsh was quick to shoot down any talk of a possible transfer to the neighbouring parish.
"Ah stop, no it's not [true]", despite being given a Freshford jersey at her wedding. As soon as they gave me a Freshford jersey, Dick was giving Noel a Tullaroan jersey, he was quick off the mark. I'll stay loyal to Tullaroan or the Walsh household won't be happy. I'm living in Freshford at the moment but I'll stick to playing with Tullaroan for now."