Kilkenny Senior manager Brian Dowling has made one change to his team for tomorrow's All-Ireland Senior Camogie Championship round 2 clash with Dublin (Live on KCLR).
Aoife Prendergast replaces Aoife Doyle in the half-forward line as the The Kittens go in search of their first victory in this years Glen Dimplex Championship in Parnell Park.
Kilkenny had a dramatic draw with Wexford in the last round having been leading by ten points early in the second half.
Commentary of the encounter starts at 1.50pm with award winning duo Martin Quilty and Áine Farrell calling all the action.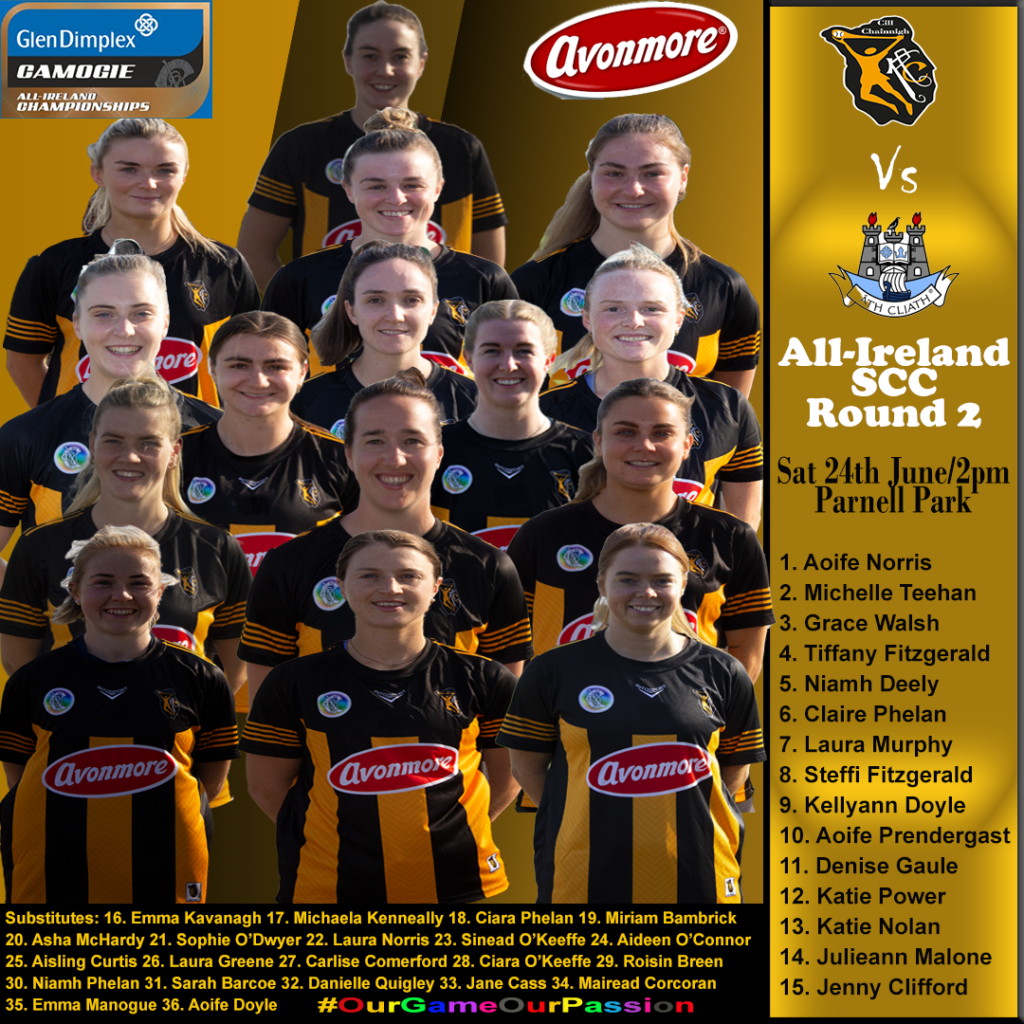 Kilkenny team to face Dublin:
1. Aoife Norris – Piltown
2. Michelle Teehan – James Stephens
3. Grace Walsh – Tullaroan
4. Tiffany Fitzgerald – Young Irelands
5. Niamh Deely – James Stephens
6. Claire Phelan – Lisdowney
7. Laura Murphy – O Loughlin Gaels
8. Steffi Fitzgerald – Young Irelands
9. Kellyann Doyle – Piltown
10. Aoife Prendergast – Dicksboro
11. Denise Gaule – Windgap
12. Katie Power – Piltown
13. Katie Nolan – St Martins
14. Julianne Malone – Mullinavat
15. Jenny Clifford – Dicksboro
16. Emma Kavanagh – Rower Inistioge
17. Michaela Kenneally – Windgap
18. Ciara Phelan – Dicksboro
19. Miriam Bambrick – Barrow Rangers
20. Asha Mchardy – Dicksboro
21. Sophie O' Dwyer – James Stephens
22. Laura Norris – Piltown
23. Sinead O'Keeffe – Thomastown – Captain
24. Aideen O'Connor – Barrow Rangers
25. Aisling Curtis – Clara
26. Laura Greene – O Loughlin Gaels
27. Carlise Comerford – St Martins
28. Ciara O Keeffe – Young Irelands
29. Roisin Breen – Barrow Rangers
30. Niamh Phelan – Dicksboro
31. Sarah Barcoe – Thomastown
32. Danielle Quigley – O Loughlin Gaels
33. Jane Cass – Dicksboro
34. Mairead Corcoran – Mooncoin
35. Emma Manogue – James Stephens
36. Aoife Doyle – Piltown