Carlow Camogie announced over the weekend that Peter 'Chap' Cleere has stepped down as Carlow Intermediate Camogie manager with immediate effect.
The former Kilkenny hurler was with the county for one year. He guided the Carlow ladies to the Very Camogie League Division 3A title, and contested the Leinster Intermediate final against Kilkenny but failed to make it out of the knockout stages of the Glen Dimplex championship.
"On behalf of Carlow Camogie we extend sincere gratitude to Chap for his contribution to our county during 2023. He brought with him commitment and passion and he work tirelessly over his short time with us for the betterment of Carlow Camogie", said a statement released by Carlow Camogie.
"Since December of 2022 the management team led by Chap and County Board worked seamlessly together for the betterment of our Adult team. We also wish to acknowledge and thank the players for their commitment over the past year and in their achievements of winning the Very Ireland National League Div 3A, reaching the Leinster Intermediate Championship Final and retaining our Intermediate Championship status for 2023".
"We wish Chap all the best for the future and express our thanks to his wife and young family for their understanding over the course of the year".
The process of appointing a new team manager will commence in due course.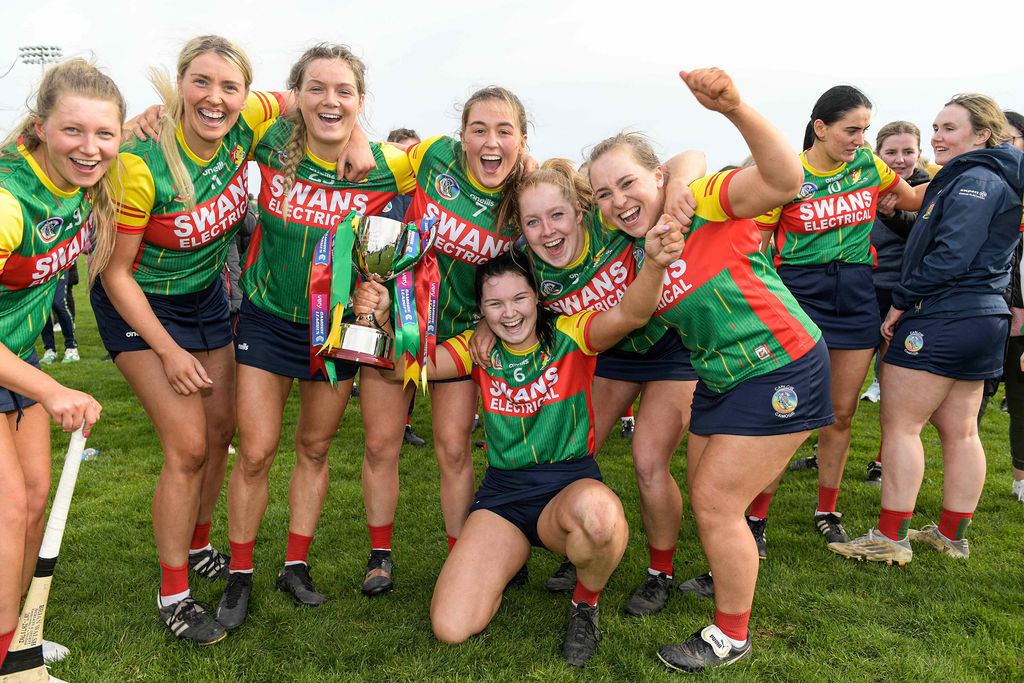 Peter Cleere statement
Chap Cleere also released a statement of his own, "After careful consideration and with a heavy heart, I have decided to step down from the role of Manager / Coach of the Carlow Adult Camogie team".
"I would like to thank the Carlow Camogie Board, in particular Linda Kenny and Margaret Condell, who have been professional, courteous and a huge support to me at all times and have provided this group with everything that was required throughout the year. Where some management teams encounter issues and road blocks with certain County Boards, the Carlow Camogie Board have been the complete opposite, and have been an absolute pleasure and joy to work with throughout the year".
"The Support from the backroom team has been tremendous and I would like to thank them all unreservedly. Liam Doyle, Tracy McNally, Edel Ryan and Orla Curry have been fantastic to work with throughout the season, and have gone above and beyond in their drive to see Carlow Camogie go from strength to strength. I acknowledge and thank Craig Coffey, Dessie Ward and Shane Murray for their contributions".
"I would like to thank everyone that contributed to the Carlow Camogie set up and made this a most enjoyable journey. The Carlow Camogie supporters also deserve a word of thanks for their unwavering support and who showed great loyalty to this team in 2023. A word of thanks to our main sponsor Sean Swan of Swans Electrical who once again is a huge promoter of Carlow Camogie and indeed all other sponsors throughout the year".
"Lastly, I would like to thank the fantastic group of players that showed huge commitment, a positive attitude and displayed tremendous loyalty and respect, which makes this decision to step down a difficult one. I am delighted we were able to win the National League and secure promotion to Division 2. Contesting a Leinster final was also a special day albeit the result didn't go our way, and maintaining our intermediate status when all odds were stacked against us was a huge achievement".
"It is without doubt that between Management, County Board and Players I have made friends for life. With that, I would like to wish the Carlow Players, the Carlow Camogie Board, and my Successor the very best of luck in 2024".