Pre-fight, Kilkenny's Myles Price was looking to show more of his true self in the PFL SmartCage, and if the finish wasn't going to be there, he was hoping for "three fives and a cracking fight".
In the end, both were delivered.
Taking to the cage just after 3.10am Irish time, Price was in Atlanta to take on Jeremy Stephens, veteran of 34 fights in the UFC of his near 50-fight pro career, with 10 'fight of the night' bonuses in his back pocket too for the time spent with his former promotion.
Just as he did against Anthony Pettis, Myles went for a low takedown almost straight off the bell, Stephens able to counter early to leave 'Magic' on his back. Body shots from 'Lil Heathen' were finding a home midway through the opening round with both fighters working off the fence in the hope of an early finish to aid their play-off chances.
While Stephens came off the better fighter in the first, Price would find his groove in the second with some good work in the clinch and using his reach advantage to keep his opponent at bay, ultimately a razor-close and likely deciding round.
Again Price would shoot for the takedown straight from the bell, his fourth or fifth attempt of the night after ten minutes. While the takedown didn't land, Stephens ended up in Myles' closed guard, the Team Ryano Kilkenny head coach turning on his ground game and looking for a leg before both men are back on their feet with four minutes to go.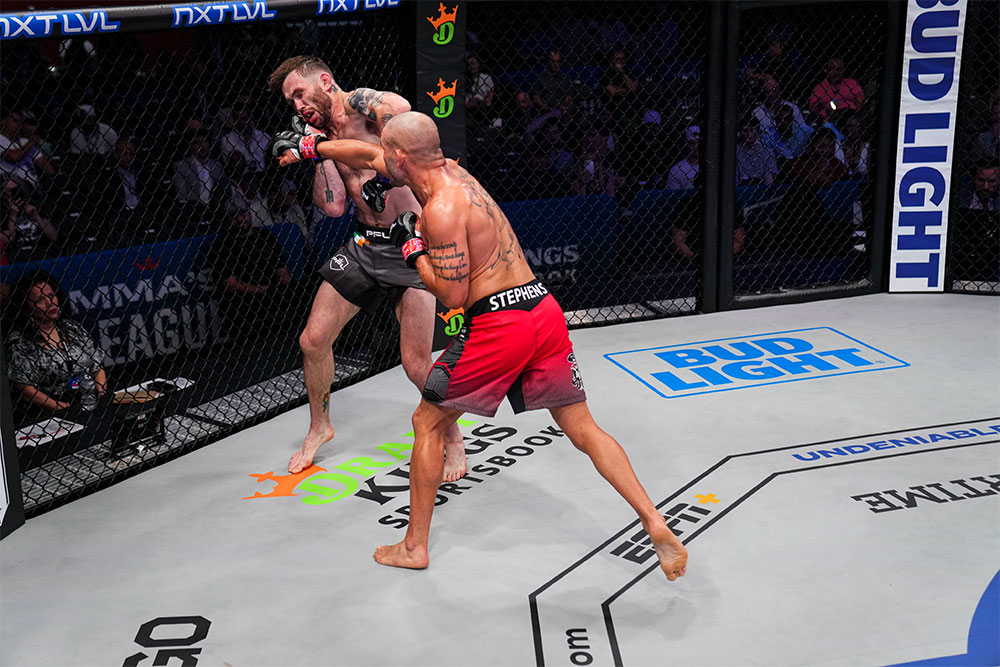 With a result not of much consequence of this stage for either man (where a finish would land four points under the PFL's scoring system, as opposed to six in the first round), it was one-way traffic from here for the Kilkenny native.
Price landed a double-leg takedown against the cage, transitioning to half mount with three minutes remaining, using great head control and posture to keep Stephens flat to the mat. While the position wouldn't advance much beyond the half, the retention and control of same assured would guarantee the round for the Kilkenny man and send the result to the judges' scorecard.
In the wind-up, cage-side judges scored the fight 29-28, 28-29 and 29-28 for a Jeremy Stephens split-decision victory and while the result will be disappointing, the performance will certainly show PFL that there's value to be had in the two-season four-fight deal for one of the OG's of the Irish fight game.
The victory also hands Stephens his first win in eight fights, his last coming against Josh Emmet in February 2018 and his first under the PFL banner.