PFL London has come and gone and with it and on Saturday night we got to see Kilkenny's Myles Price in action once more, intent on making a statement ahead of his return to PFL for the 2023 regular season.
Having been out of competitive action for over three years in the run-in to his PFL debut in May, it was understandable that there would be some element of ring-rust before his first test in the lightweight division.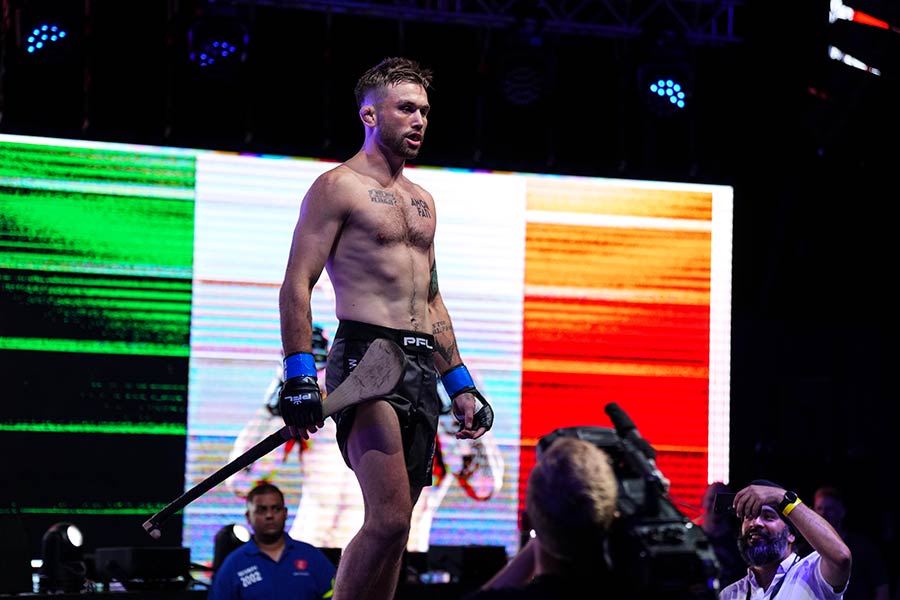 Signing a four-fight two-year deal, that first test would come in the guise of former UFC lightweight championship turned PFL contender, Anthony 'Showtime' Pettis. This one saw a first-round finish for Pettis, locking in a triangle choke at the 4:17 mark. In conversations following, Price admitted his decision-making was off, but it was on to the next bout.
Jeremy Stephens, a veteran of almost 50 professional fights and another former UFC contender at lightweight and featherweight was next, just over one month later.
This time, ring-rust washed away, we saw a much more rounded version of Myles Price. Cool and collected in the first round, despite Stephens edging it, it was all systems go in the second with the Kilkenny man pushing all the way to the bell in the third. While fight fans had Price up on the cards, the judges saw it another way, serving Stephens a contentious split-decision victory.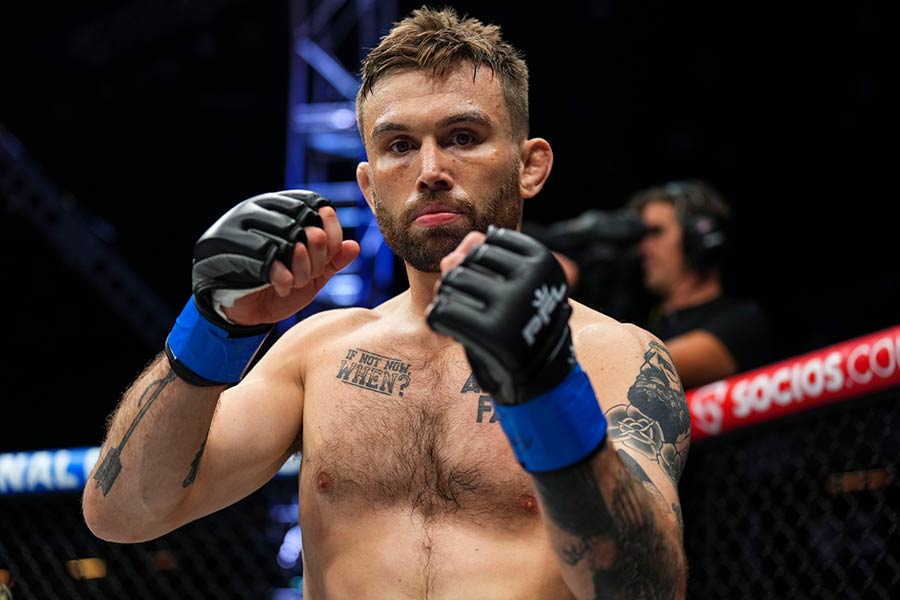 Out of the running for the regular season, PFL announced there would be two UK dates in August with a stop in Cardiff on Saturday 13 and London this past weekend as a way of introducing PFL to the UK and European markets and market the start of the PFL Europe league for the 2023 season.
With the likes of Bubba Jenkins, Brendan Loughnane and Kayla Harrisson contesting their play-off semi-finals on UK soil, Price topped the late-night card with a 'lightweight showcase' bout against another former UFC prospect, Poland's Marcin Held (28-9).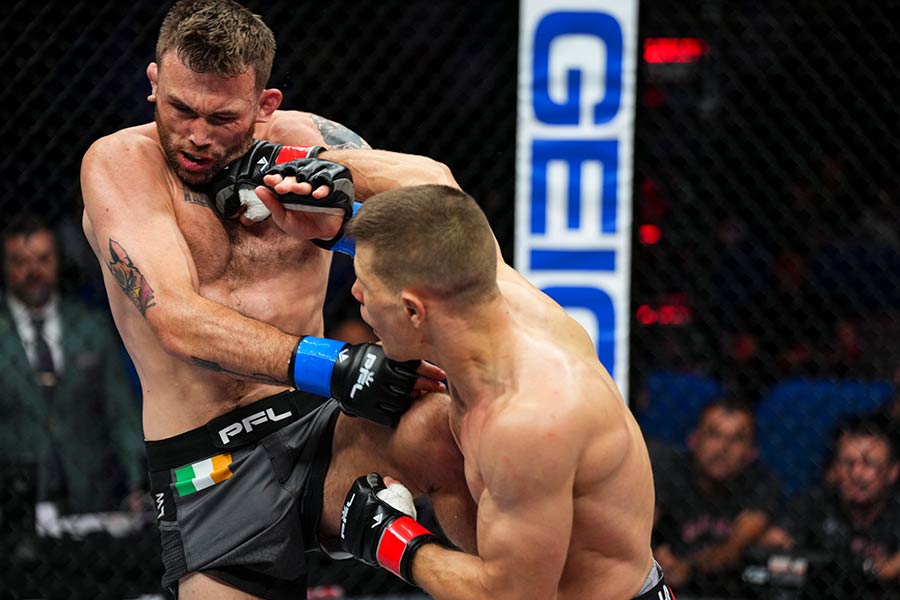 All credit to the Kilkenny native, when he stepped in the cage on Saturday night, he looked like a man ready, willing and able to go – even buzzing.
The start of the fight saw a more measured opening from Price, avoiding the shoot start used against Pettis and Stephens. Held, on the other hand, came out swinging despite thoughts that the fight would go to the ground early on.
A left hook dropped 'Thundercat' to the ground with just a minute gone, Price doing well to get back to his feet, eating a few knees in the process, scoring an uppercut on his way out with three minutes left in the first round.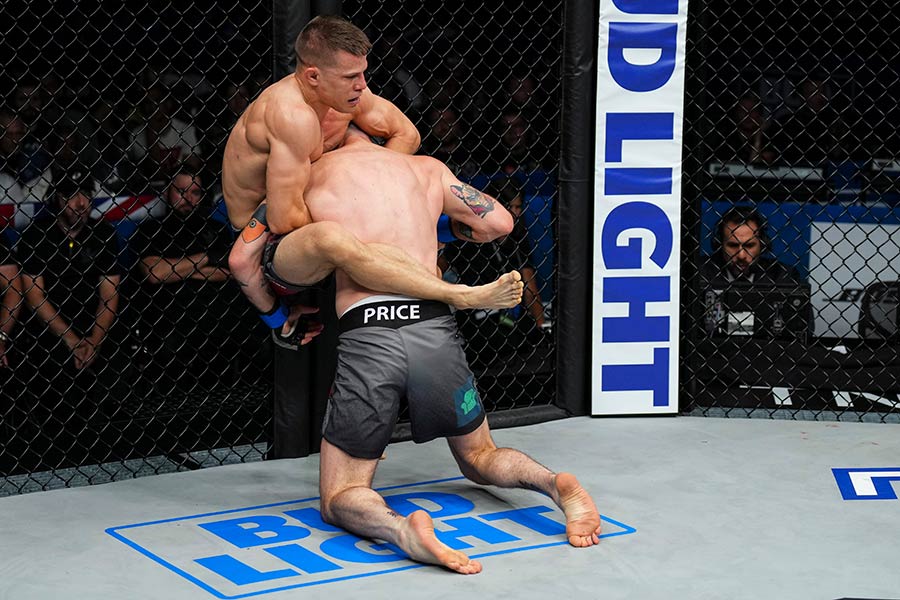 The latter part of the first half showed how technical both fighters could be, with some solid takedown defence by Price against the cage but the judges' scorecards would have no trouble awarding the first round to Held 10-9.
The second round started much like the first finished, Held driving Price to the cage with the Team Ryano Kilkenny head coach unlucky not to lock in a high elbow guillotine attempt of his own.
14 of Held's finishes have come by submission and with the fight staying on the ground, Held showed exactly why he's a serious threat on the mat, Price (now 11-10) doing well to escape one submission attempt only to roll into a tight guillotine and bow out midway through round two.
Hit play below to watch the fight from the first round or skip to 4:46:55
Elsewhere on the card
In the night's main event, Kayla Harrison wasted little time advancing to her third straight PFL World Championship with a 1st round submission victory over Martina Jindrova. Harrison made her triumphant return to London, the site of her first Olympic gold medal win, and remained undefeated at 15-0, with 12 wins having come by way of stoppage. She now sets her sights on Larissa Pacheco and her third Women's Lightweight championship.
In the evening's co-main event, Brendan Loughnane and Chris Wade took their bad blood into the SmartCage, in one of the night's most eagerly anticipated matchups. Loughnane took the fight to Wade with a consistent jab, and earned his spot in the 2022 PFL World Championship via unanimous decision. Loughnane, a native from Manchester, England, did not disappoint his countrymen, and now faces Bubba Jenkins in a championship fight for the $1 million purse.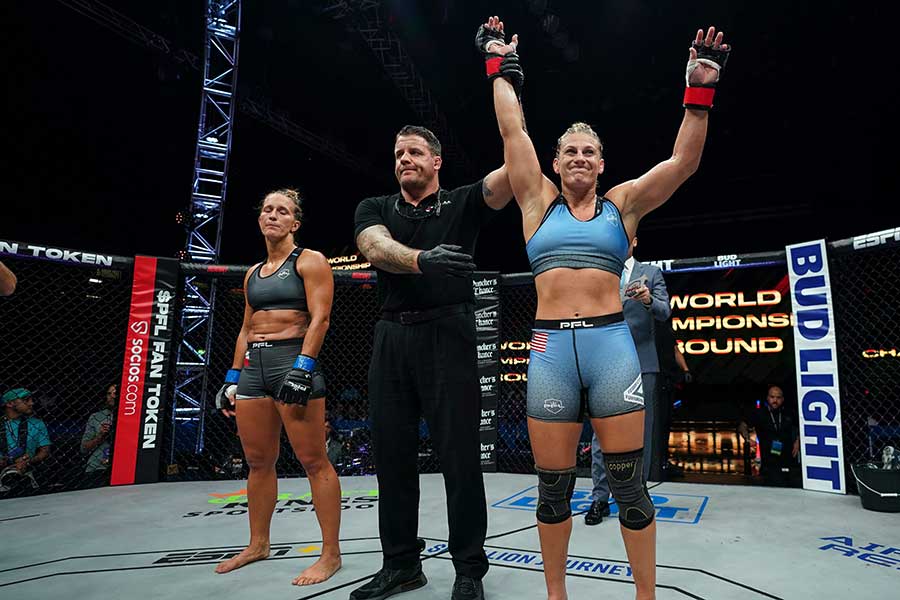 Top seeded Women's Lightweight Larissa Pacheco dominated her way to a second trip to the PFL World Championship, defeating Olena Kolesnyk by 1st round TKO. Pacheco's fifth straight 1st round knockout earned her a highly anticipated rematch against Kayla Harrison for the PFL world title. Pacheco's career record now stands at 18-4, with 9 victories coming by way of knockout.
The 2022 PFL Playoffs continued in the Featherweight division, where Bubba Jenkins faced off against Ryoji Kudo, with a trip to the PFL World Championship on the line. Jenkins put on a masterful display defeating Kudo via 1st round submission. Jenkins advanced to his first PFL World Championship in his second PFL season and will now face Brendan Loughnane in the 2022 championship matchup. Jenkins, an NCAA Champion wrestler, boosted his career record to 19-5-0 with the victory.
PFL London Results
ESPN Card
Kayla Harrison def. Martina Jindrova by 1st round submission (arm triangle choke – 3:17)
Brendan Loughnane def. Chris Wade via unanimous decision (30-27, 30-27, 30-27)
Larissa Pacheco def. Olena Kolesnyk by 1st round TKO (referee stoppage -2:09)
Bubba Jenkins def. Ryoji Kudo by 1st round submission (rear-naked choke – 1:49)
Dakota Ditcheva def. Hassna Jaber by 1st round TKO (referee stoppage – 0:58)
Simeon Powell def. Joao Paulo Fagundes by 2nd round TKO (calf Kicks 1:56)
ESPN+ Card
2023 PFL EUROPE QUALIFIERS
Abraham Bably defeats Louie Sutherland by unanimous decision
Magnus Iversen def. Tayo Odunjo by 1st round TKO (4:36)
Ali Taleb def. Darius Mafi by 2nd round submission (guillotine choke – 1:58)
SHOWCASE BOUTS
Marcin Held def. Myles Price via 2nd round submission (Guillotine choke – 2:37)
Stuart Austin def. Sofiane Boukichou by split decision (30-27, 29-28, 28-29)
Alex Chizov def. Omar Hussein by 2nd round submission (rear-naked choke – 4:12)
Zebenzui Ruiz def. Raphael Uchegbu by unanimous decision (29-28, 29-28, 29-27)