After closing out Friday at Mount Juliet just three shots off the lead, Seamus Power's chances of claiming this year's Horizon Irish Open were effectively ended on Saturday with the Waterford native shooting a 77 on a tough day in Thomastown.
Power's challenge began to fade as early as the third with a water-filled bogey on the par 3, the first of four he would hit for the round before adding a double-bogey on the 15th despite having managed to claw back a shot with a birdie on the par 4 13th.
"I've no excuses", said Power straight after Saturday's round.
"It was one of those days where everything was poor. I had a couple of good holes to start then loose shots all over the place. I've no real excuse for them so it's disappointing. I'll get some rest, get out tomorrow and see what happens."
While Power's odds of winning will certainly have ballooned, Poland's Adrian Meronk will certainly find his slashed after another solid performance from the DP World Tour's 12th-ranked golfer.
After shooting back-to-back 67s on Thursday and Friday, Meronk carded seven birdies on Saturday including three straight on 15 through 17 to finish on 68 for the day. That scoring could have been better again but for bogeys on 2, 10 and 14 after finding the back bunker off the tee.
While he'll take a one-shot lead going into Sunday's final day of golf on -14, there are 13 other golfers within four shots of the lead including 2020 winner John Catlin (-12) and 2021 winner Lucas Herbert (-11).
"I'm just happy with my score", Meronk told reporters after a round that left him with a solo lead by a single shot on Saturday.
"I played really solid again today and I can't wait for tomorrow [Sunday] for sure. I'll just stay patient, try not to get ahead of myself, play my strategy, focus on my targets and I hope that will be enough. I'll stick to my routine, focus on breathing."
"I've been working on my commitment before every shot for the last couple of weeks and it seems like it's working pretty well this week so I'll keep doing that."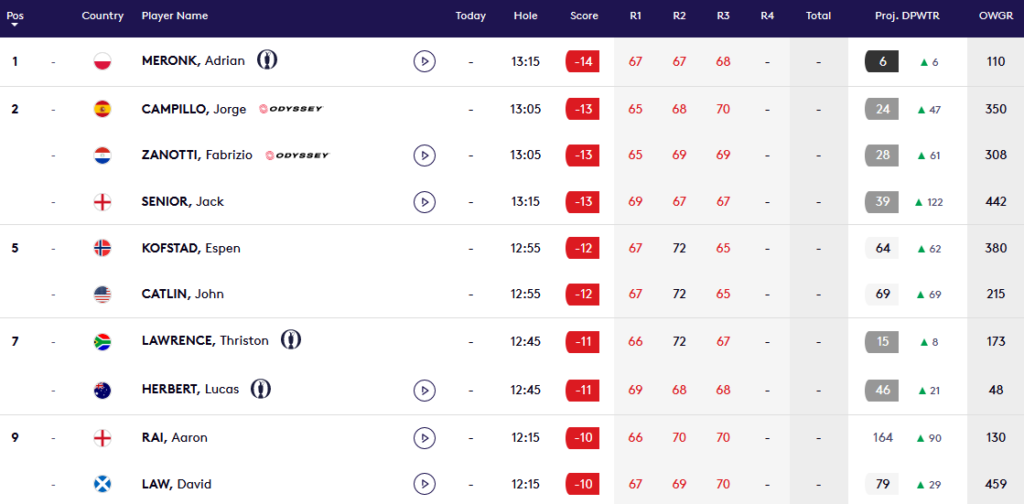 Check the full leaderboard here
Of the other Irish interest, Shane Lowry is best-placed in a tie for 19th on -7. A second consecutive 71 has Padraig Harrington in 45th on -4 while Niall Kearney sits on -2 for the weekend in a share of 64th.
Horizon Irish Open 2022: Sunday tee times
Seamus Power and Niall Kearney will be joining forces for the final pairings on Sunday as they tee off from the first at 7.53am.
Padraig Harrington will join Sweden's Joakim Lagergren on the first tee at 9.01am while Shane Lowry gets the late start and partners Edoardo Molinari, setting off at 11.40am.
Those at the top of the leaderboard are away last with Jack Senior (-13) and Adrian Meronk (-14) off at 1.15pm.