Carlow's Joe McDonagh Cup run is over despite a 0-22 to 0-17 defeat of Offaly in O'Connor Park on Saturday afternoon.
See : Victory against Offaly not enough for Carlow as Kerry defeat Antrim to deny Barrowsiders first final appearance in four years
The Barrowsiders needed Antrim to defeat Kerry to advance to the decider following their win in Tullamore but the Kingdom booked their place in the final with Antrim following a win in Corrigan Park.
Speaking after the game, Carlow hurler Paul Coady said despite focusing on the game, the wholesale changes Darren Gleeson made to his Antrim squad ahead of the Kerry game;
"I do not know whether to laugh or cry. Bittersweet. Kerry won and I am just trying to wrap my head around it. All we could do was take care of our house. I did not even put the scenario of Antrim not beating Keery into my head, as I did not want to ease up."
"I seen the Antrim team coming up on the bus, they made around 10 changes, so I did fear the worst."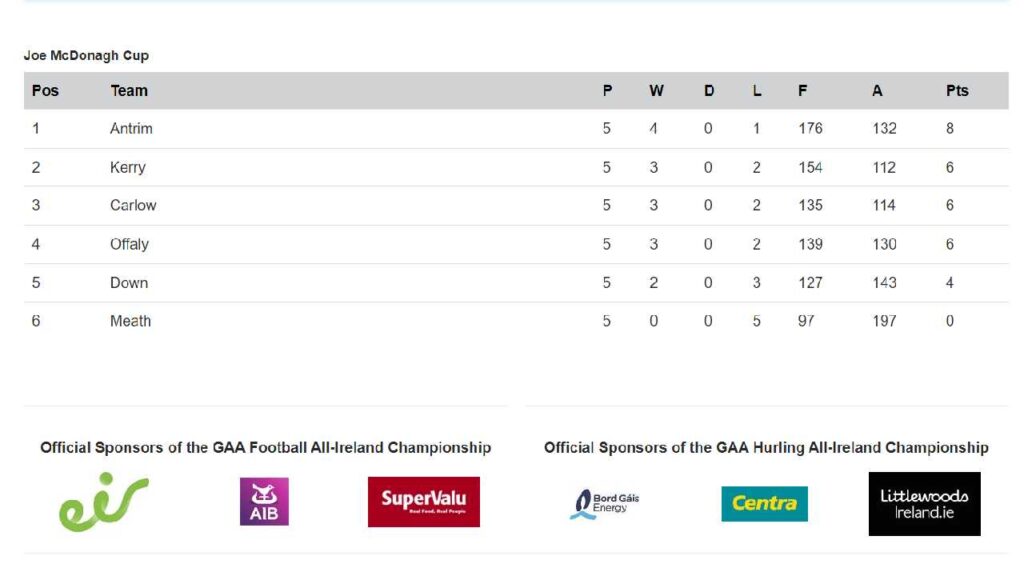 Carlow started the Joe McDonagh with lots of hope but ultimately ended up in third place after those losses to Kerry and Antrim. Still despite the third-place finish, there is still a lot of hope. Especially with the likes of Conor Keogh and Fiachra Fitzpatrick shining in the Carlow jersey recently. Since the heavy 3-21 to 0-15 loss to Kerry, the Barrowsiders have come out fighting, with some of the younger members of the squad showing what they can offer, a fact which has not gone unnoticed by Paul ;
"I am hugely proud, we had a bad performance against Kerry and our backs were to the wall. We put in a good performance against Antrim which is a difficult place to go, and we had another very good performance last week and an excellent performance against Offaly."
"We showed real character last three or four weeks. Pride in the jersey and pride in Carlow hurling. I am obviously just disappointed we are not in the Joe McDonagh Final."
"It is a learning curve, there are a lot of young lads there, a huge turnover. We have 8 or 9 new lads that came in and have done fantastic, every game they went strength to strength. I could be handing them over the jersey soon and watching from the stands."
"Our pick is very small, we know that. We are punching above our weight, It is phenomenal what we are doing with so few clubs. No one else in Ireland is doing what we are doing per population. We need help, we need clubs to come together, we need help outside of Carlow, or else we will always be here. We cannot push onto the next level unless our playing population gets higher."
One man that has seen it all in the Carlow jersey is Richie Coady. Richie equaled his brother Edwards's appearance record for Carlow in the victory against Offaly. This outing was the 164th time he's lined out in the red, yellow, and green for the county. is was not lost on his brother Paul, what a tremendous achievement it was.
See : Keeping it in the family: Richie Coady equals brother Eddie's record for inter-county appearances
"It was a great day for the family. If it was in any other county, it would be talked about the length and breadth of the country. In Carlow that will not happen. It is amazing, it is very easy to play for your county when you are contesting All Irelands every year but when you get no publicity or limelight. it is not a simple thing to do."
Listen back to the full interview, along with thoughts of Tom Mullaly & Marty Kavanagh on Scoreline Extra below :