Rás na mBan 2022 is done and dusted and hopefully all those involved are home and warm after a wet week on the roads.
With Kilkenny under torrential downpours on Sunday, Scotland's Kate Richardson was able to dig deep in the morning time trial to claw back a five-second deficit in the overall classifications from her nearest rival Lieke van Zeelst of the Netherlands – by just 0.13 of a second.
That difference, coupled with Richardson's ninth-placed finish compared to van Zeelst's tenth in the criterium closing stage saw the Scottish cyclist crowned overall winner of this year's international event.
Racing across the week started on Wednesday and mixed heavy rains, mist, fog and more over the five days and six stages to Sunday's criterium in Kilkenny city centre.
"Conditions were tough, there's no doubt about it", race promoter Declan Quigley told Scoreline after Sunday's final stage.
"A lot of riders were off their bikes this week. Eve McCrystal of Team Ireland crashed twice, the first time she got back up and managed to get back in having clearly damaged her hand but she wasn't going to let that stop her. The second time she came down with Lara Gillespie. Gillespie had won two stages this week (including the opening day's finish in Callan) with Team Ireland and was clearly the go-to rider for the finishing sprint. Eve McCrystal came down with her, then got on the front, powered up to Kelly Murphy, got Lara up to Kelly, Kelly got her back in and eventually Lara Gillespie finished fourth on the day (Sunday) and eleventh (overall) and indeed best of the Irish."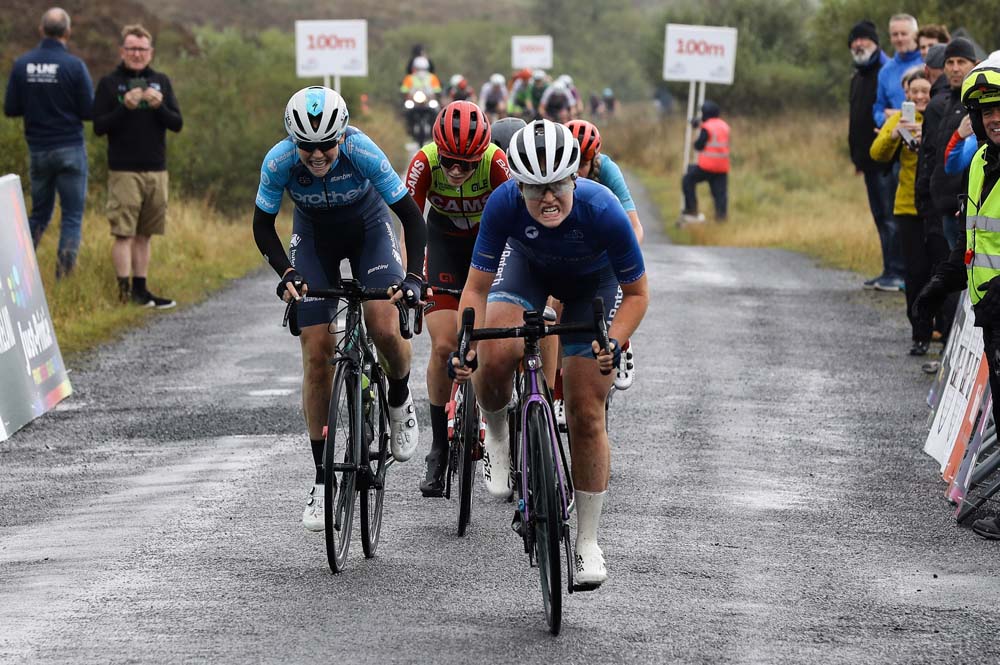 "There was amazing resilience shown by so many riders. None of them would have voted for the bad weather but every one of them has a really cool story to tell afterwards."
While Ulster Cycling took the best overall team award and it was an Alba Development Road Team rider on the top of the podium, what of Team Ireland with Gillespie, McCrystal, Murphy and more over the week?
"It was an all-round team performance", says Quigley.
"We haven't had a stage win in eight years, let's put this into perspective. It's the foreign teams who have really ruled the roost and it's been a really long victory drought. So to get two stage wins over the week (is great)."
"I think next year the itch to scratch is to go for the overall success but a lot of teams weren't able to get in the mix for stage honours. The collective connection that they had in those leadouts was very impressive. There's much for Team Ireland to take from this and indeed they've got track racing, the track worlds coming up later in the year in France, and the Irish team pursuit squad – of whom there were three in that five-rider lineup for Rás na mBan will take great encouragement from that (performance)."