Before I start, let me be clear, this is not an ad, I got this as a Christmas present from my daughter.
I'm a motor racing fan, Formula One primarily and single-seaters and of course I'm into rally too.
So if you want to satisfy that craving, where do you go? Mondello Park in Kildare of course which is only 40 mins away from where I live.
Off to Mondello Park
So, on Sunday the 13th of July, I went to Mondello Park in Kildare to do their Motor Racing Experience.
It involves 6 laps driving a race-prepared Mazda saloon car with a professional instructor and 10 timed laps driving a Formula Sheane single-seater race car.
We arrived at the track around 1 o clock as we had to go and sign on and get a temperature scan and all the usual covid stuff, that took place in the Martin Birrane Museum which is at the back of the grandstand there on the left as you go in. In there, it features a collection of some iconic and rare machinery from the worlds of saloon and sports car racing and of course Formula One.
It houses the Benetton B186 that won the team their first Grand Prix victory in Mexico in 1986.
It has IndyCars, sportscars, NASCARs, and the one that took my and my dad's fancy was the Jordan 194 driven by Eddie Irvine.
Also in there is the BMW M1 Pro Car with which Martin Birrane took class victory in the Le Man's 24-hour race of 1985.
Race Experience
Once we had a look around, we got back in the car and headed over for the race experience which is done on part of the international circuit, there's a separate layout for the normal races that take place there.
While we were there, there were rounds of the 2021 Digital Motorsports Irish Championship Circuit Racing taking place, while I enjoy all of the motor racing, it's the single-seaters that I'm interested in most and it was great to watch them and the Gerard O'Connell Dallara screaming around Mondello with the Red Bull livery.
Once we got up to the car park, we walked over to the offices and sign on area of the motor racing experience, in there you get your helmet, hair net, gloves, and most importantly, your race suit. It was a proper race suit too. When I did the experience back in 2007, we had red overalls so things have got a bit fancier.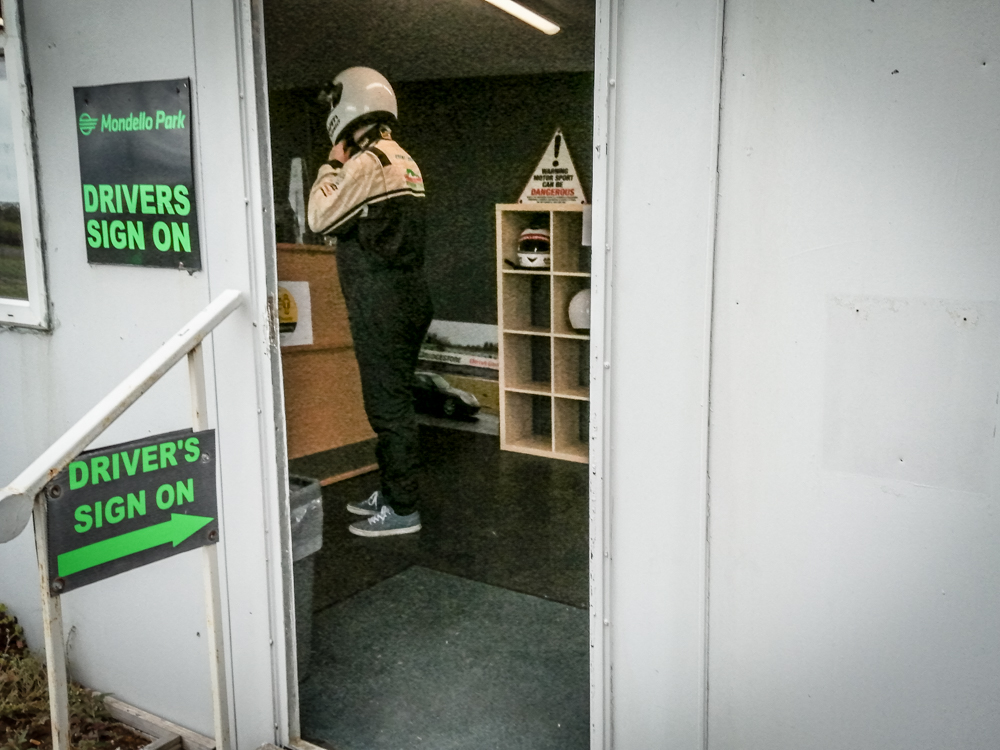 Some of the other people involved in our 2 o clock session started to arrive too with families, friends, and all who can watch the action from the viewing platform there. That's where Dad and I went to watch the group do their single-seater stuff.
It was an eventful one as well, there were multiple spins, a broken nose cone from going into the grass, and more, lots of eager drivers pushing the car beyond its limits, it's hard not to do that in fairness.
Our turn at the wheel
So when the group before us is finished, we head out through the fence to the area with the cars, a fella called Kevin introduced himself to me and we headed over for our Mazda saloon car with the number 7. There, I sit into the car and he assesses everything to make sure I'm comfortable in the seat, that my seat is back or forward enough and all is good, he then puts the hardness on and bolts me into place.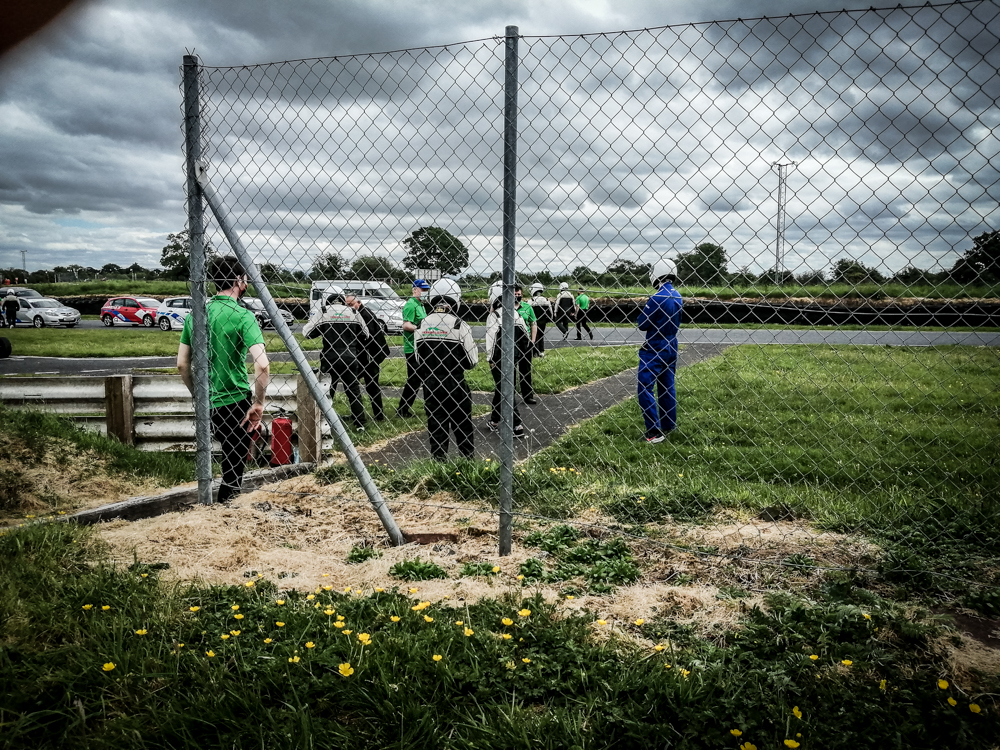 He does a quick briefing with me then and then the cars all roll out slowly and drive in a convoy around the track. Here, he goes through what gears you need for each corner, where to brake, where to turn in and a few do's and dont's, basically, the main advice is to start slow and built it up, getting used to the car.
After a few laps then I'm pushing the car through the corners and the adrenaline is really up, firing the car into corners and accelerating hard out of them and getting as fast in and out of them as possible. This really helps settle you into the whole thing too.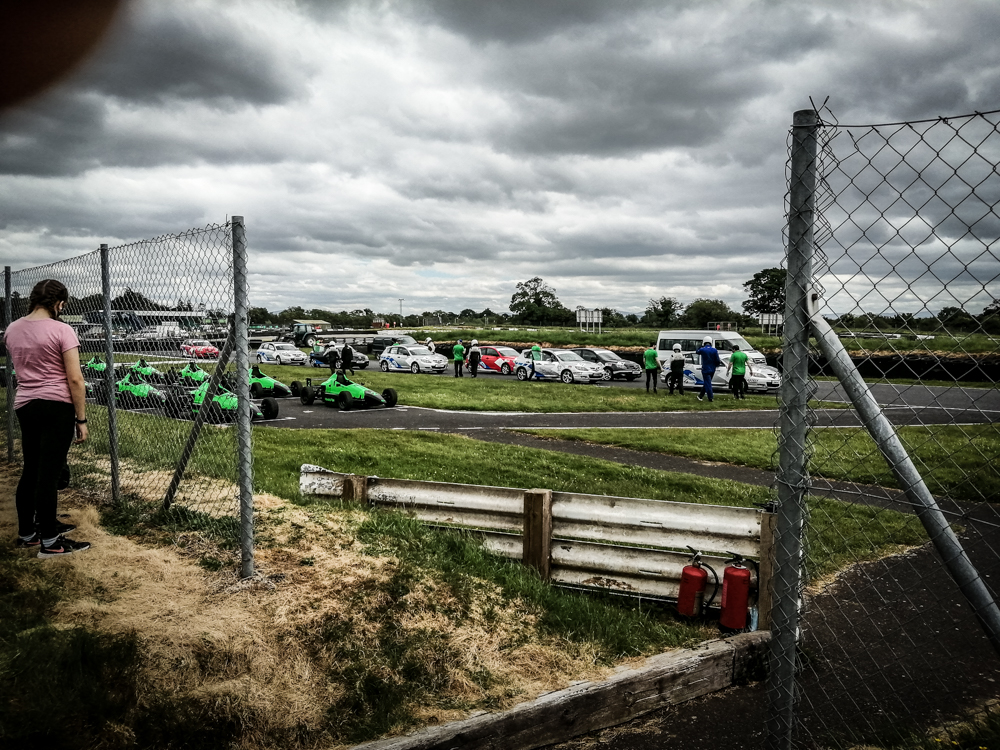 Back to the pits we went, it was also 25 degrees that day, and it was roasting in the car, when I opened the door the cold breeze was very welcome.
Single Seaters
We then walked over to the single-seaters, while walking over, Kevin was assessing my height and trying to pick a suitable car, they're all set up for different sized people, he picked number 8, grand job, and into the car I climbed. As you can imagine it's quite small and tight in the cockpit of the single-seater, and it was.
You're sitting at an angle where you're leaning back but it's very comfortable. Kevin then starts to buckle me in, this is a five-point harness so there are straps at all angles and of course it's to keep you safe in these cars that offer very little protection.
If you've never seen these cars up close, it's a metal frame with plastic or fiberglass fairings around it. Once strapped in, the belts were pulled as tight as they could be and checked again. Kevin does a safety briefing with me then checking do I understand the flags and what they mean, gears for each corner, and what to do in the event of a spin, fire, damage to the car, and all that.
The main thing he says is to build up the speed and get used to the car a bit first before you start tearing around.
We fired up the cars then which is done with a push button, and were beckoned out from the pits one at a time and then followed a safety car for two laps to acclimatise ourselves to the car and that. They then line you up, and one by one you're released where you start your ten times laps.
I started fairly quickly, threw the boot down on the straights, and then cruised through the corners to see how the car felt going through them as they can get a bit twitchy if you go in too hard or brake late and all that. A car spun on the fourth corner which is a right/left chicane of sorts and I got a bit of a fright as it happened right in front of me so had to brake hard and go around him, and of course, the last thing you want to do is crash into them and hurt anyone or damage the cars.
Red Flag (Not mine)
I got confident then and drive the car as fast as I possibly could then clocking up a 58-second lap on the fourth one which was my fastest but then as I was driving down the back straight the marshall had a red flag out. I don't know how common a red flag is for these things but you always get a bit concerned as it takes a big crash or shunt to bring them out.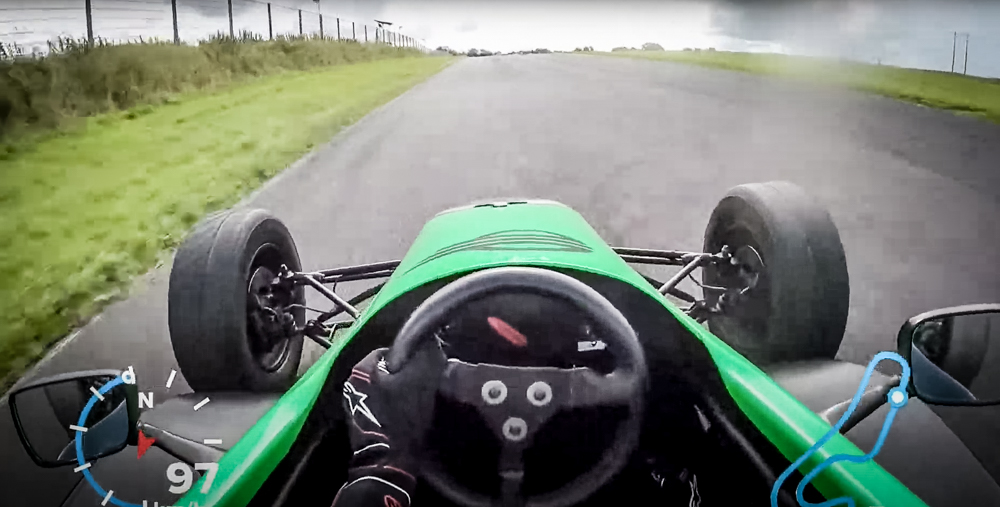 I slowed down of course and it was only when I got back around to the cabins that I saw the convoy of cars stopped and parked up. I switched off the car and up ahead I could see that two cars had come together as the back wing on one of them was hanging down from it. I later heard that they had touched wheels and one car basically mounted the other (these types of things are very rare). The lads involved were not hurt and they walked back to the pits and as far as I understand, got into two spare cars and continued their experience.
Spin
We got going again and were let out one after the other, I, of course, put the boot down to try and pick up where I left off, and coming out of the double right-hander at the bottom of the hill I touched the kerb and it unsettled the car a bit and I had a small wobble, all good and kept going. It was on the next lap then that I did the same but the car spun around and I ended up facing backwards.
Luckily there was no one travelling behind me at the time so I reversed the car (yes they have reverse), let a car go past, and on I went. You're only really getting into it and getting comfortable with the car when all of a sudden you see the chequered flag and it's time to turn left and into the pits. You park up the car then and climb out of it which is awkward and chat to some of the other fellas there about what they thought of it.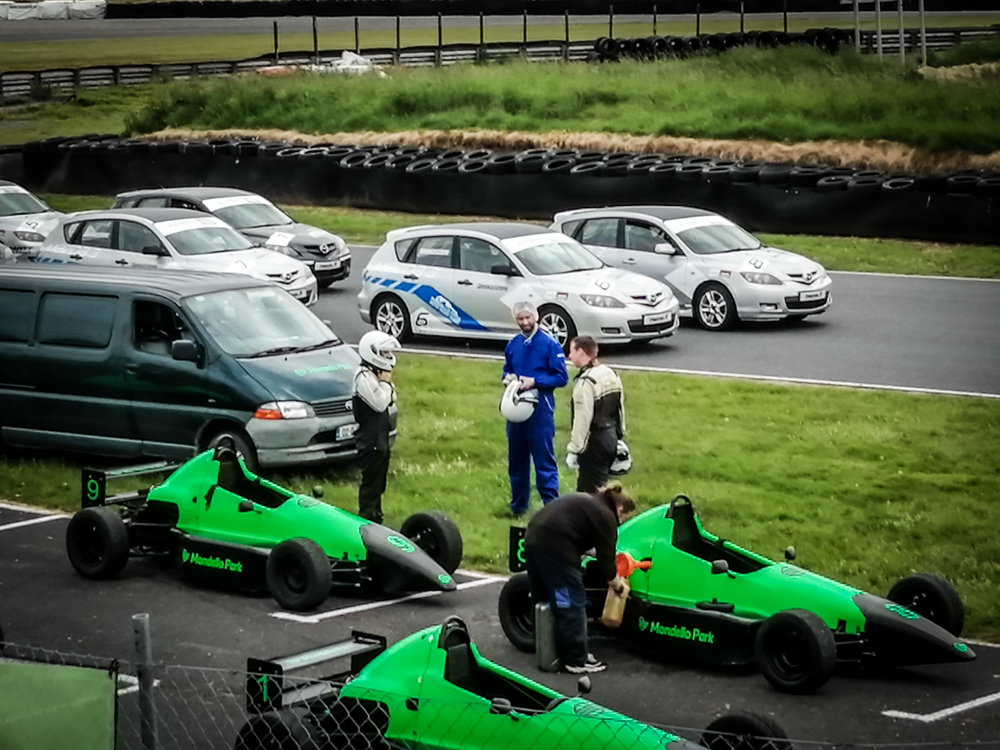 We walked back to the cabins then and Kevin came over where he handed me a certificate with the lap times on it and we had a quick chat about them, he copped that I had spun off on one of the laps based on the time. That was it then, the next crew of people had arrived in and were getting ready to do it for themselves, so off comes the race suit, helmet, and all and back into the lady in the cabin.
You're buzzing from the adrenaline still and I said to myself, I'm not waiting that long again to do that, it was great craic.
The real racers
There was racing going on on the main track so myself and dad watched some of that from behind the wire fence and then said we'd drive down to the main car park and watch the action for the rest of the afternoon. We wanted to see the single-seaters and they were the last race on so we stayed for that. There's a cafe on the pit side so you can go across a bridge over the track and down and grab a coffee, food or whatever, obviously in covid times you get your stuff in a takeaway box and eat it outside.
It was an absolute scorcher of a day and we stood out watching the racing on the pit side through the wire fence but headed across to the stand then for shelter from the sun and listened to the screaming single-seaters fight their way around in the first weekend back of the season.
If you've only even a passing interest in motorsport, you'll love the motor racing experience, better still, make a day out of it and watch some top-class Irish circuit racing and re-ignite your interest in it.