The companies have been sponsoring the black and amber jerseys since 1994, making it one of the oldest sponsorship deals in the Country
Tirlán and Glanbia over the weekend announced a new three-year partnership deal with Kilkenny GAA and Kilkenny Camogie. Glanbia Ireland, the dairy brand company owned by the Glanbia Co-operative Society, rebranded to Tirlán last year. In the new deal, Kilkenny GAA will retain the Avonmore logo while Kilkenny Camogie will sport the Glanbia Logo.
In line with the structural changes in the Glanbia organisation, the sponsorship relationship with Kilkenny GAA will now transition to Tirlán Co-operative, a 100% farmer-owned Co-operative based in Kilkenny City.  Tirlán is Ireland's largest milk and grain processor, with 2,300 employees and revenues of €3 billion.  The partnership will see all Kilkenny GAA jerseys carry the Avonmore brand and leisurewear carry the Tirlán brand.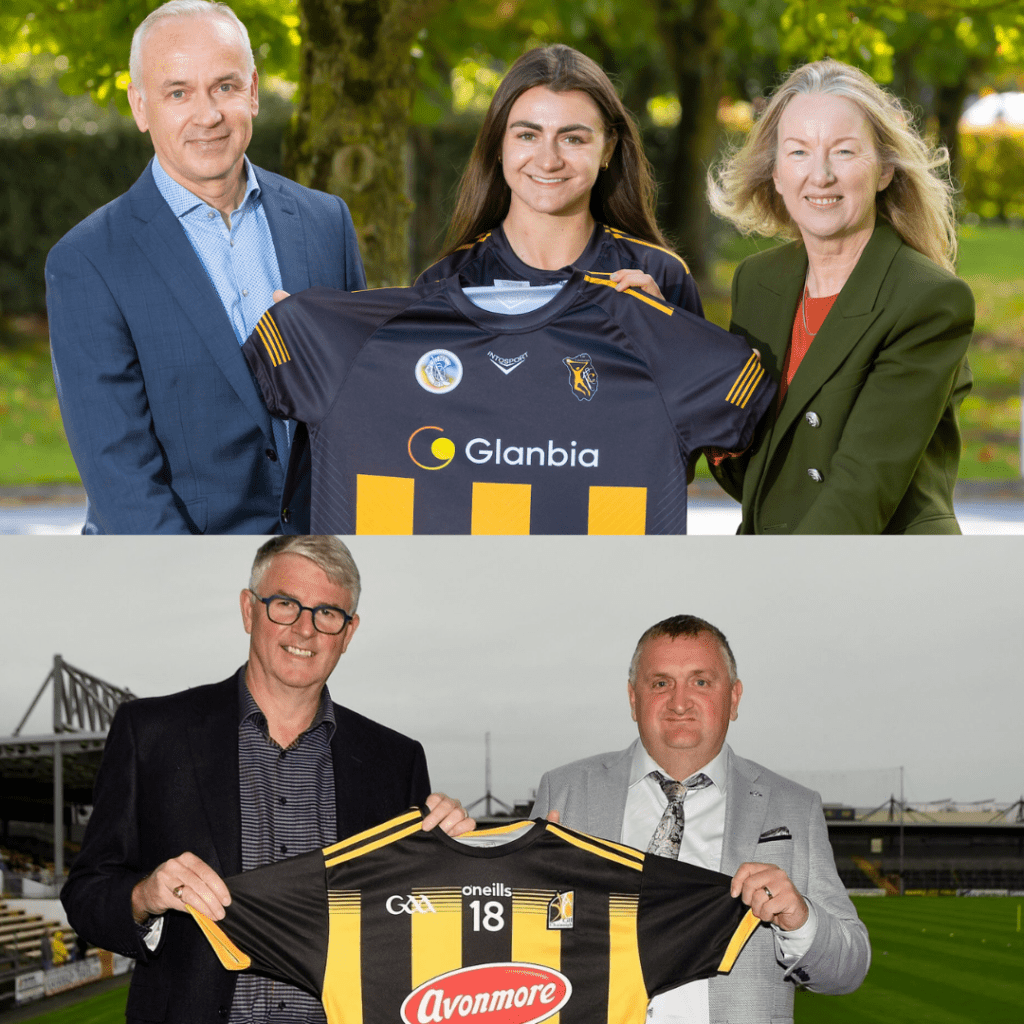 The chairman of Kilkenny GAA, PJ Kenny, said that he was delighted to see the relationship transition to Tirlán.  "I want to pay tribute and offer my sincere gratitude to all the team in Glanbia plc for their superb support of Kilkenny GAA for many years.  We are delighted to seamlessly transition to Tirlán and retain the association with an organisation that makes a huge contribution to the southeast of the country."
Jim Bergin, Chief Executive of Tirlán said: "As a Co-operative based in Kilkenny, we are immensely proud of our hugely successful association between the number one dairy brand with one of Ireland's most successful GAA teams of all time.  The commitment, dedication and pursuit of excellence exhibited by the Kilkenny inter-county teams fits really well with the values that we pursue in Tirlán Co-operative, which is 100% owned by farmers in the south and east of Ireland.
Speaking about the new partnership Theresa Aylward, Chairperson of Kilkenny Camogie said: "We are thrilled to extend our partnership with Glanbia through this new sponsorship. This is a game-changing investment in Kilkenny Camogie and we know that with the backing of a sponsor like Glanbia, we can better support our players to bring their best game every time they play. This support can only help to inspire our younger teams as they come up through the club scene at grassroots level, which is where it all begins."
Commenting, Martha Kavanagh, Corporate Affairs Director at Glanbia said: "Glanbia has been a committed supporter of Kilkenny's hurling and camogie teams over many years. We are delighted to enter a new phase of this partnership for the upcoming season, as official sponsor of Kilkenny Camogie. As a better nutrition company, Glanbia's products fuel and support recovery for female athletes in many different sports globally. Kilkenny Camogie is synonymous with excellence – these players are not only talented and accomplished in their chosen sport, but they also serve as powerful role models within their communities and for young, aspiring female players everywhere. We are proud to support this sporting story."
Glanbia has been a proud sponsor of Kilkenny GAA for the past 29 years through the Avonmore brand, which is now owned by Tirlán. For the 2024 season onwards, Avonmore, through Tirlán, will continue to sponsor Kilkenny's hurling teams while Glanbia will partner with the Kilkenny camogie teams.
Through the new camogie partnership, Glanbia will provide its high-quality performance nutrition products to Kilkenny's senior camogie teams, supporting nutrition and recovery throughout the season.
Earlier this year, Glanbia's Optimum Nutrition®, the world's number 1 sports nutrition brand1 was unveiled as the official Performance Nutrition Partner of the Gaelic Players Association (GPA), providing its Elite Series product range to adult players and counties nationwide.