PFL, the Professional Fighters League, is in the UK for a fortnight and we'll be keeping a keen on this evening's fight card.
Last weekend served up some surprise results in Cardiff while tonight, the Copper Box Arena in London welcome's the US-based mixed martial arts promotion for their second outing beyond American shores.
Among those competing tonight will be Kilkenny's Myles Price with 'Magic' opting for a Kilkenny-influenced nickname change ahead of his showdown with Poland's Marcin Held.
Having made something of a fashion statement in recent years by donning a pair of Kilkenny GAA shorts in the cage and spurred on by recent performances on the Kilkenny hurling and camogie front, the BJJ brown belt should be walking to the PFL SmartCage as Myles 'Thundercat' Price later this evening.
While the media and fans may dwell on nicknames, it's all business for the Kilkenny man who's intent on making a big statement tonight as he fights for the third time in four months, his most active stint in the fight game in years.
Price came up short on his regular season debut in May against former UFC lightweight champion Anthony 'Showtime' Pettis, falling to a first-round submission defeat. His second fight weight the distance, dropping a contentious split-decision loss to another face familiar to UFC fight fans over the past ten years, Jeremy Stephens.
Tonight he'll take on Polish 30-year-old lightweight Marcin Held (27-9) in a 'lightweight showcase bout'. Held competed under the Bellator banner from 2011 through 2016 before making his UFC debut that November, finishing out with a 1-3 record before returning to winning ways with ACB. He made his PFL debut in April last year, going the distance against Natan Schulte for the win, losing the rematch this past June with a defeat to Olivier Aubin-Mercier sandwiched in between.
PFL's stint in the UK marks the introduction of a number of European fighters as the promotion get ready for a PFL European league in 2023.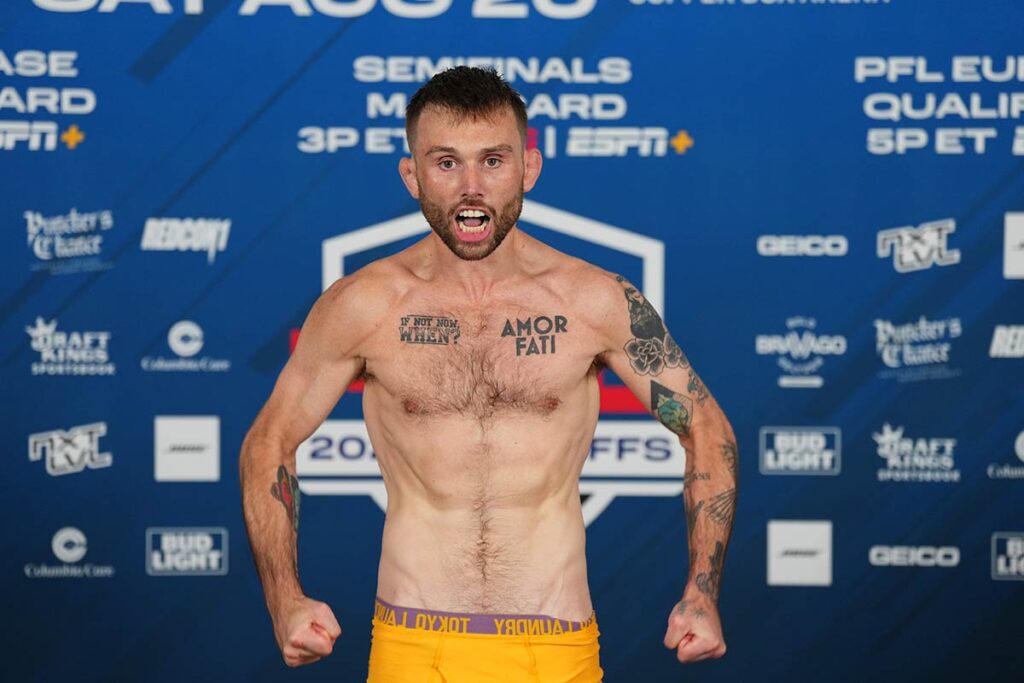 Elsewhere on the card
Tonight's card features must-see semi-final bouts in the featherweight and women's lightweight divisions. The main event will see undefeated American Kayla Harrison take on Martina Jindrova of the Czech Republic in a women's lightweight semi-finals bout. 
Harrison, who weighed in at 155lbs, is seeking a historic third PFL world championship. She finished the regular season as the number two seed, with victories over Marina Mokhnatkina and Kaitlin Young. Jinrdova, meanwhile, weighed in at 154lbs as she tries to end Harrison's undefeated streak. Jindrova finished the regular season as the number three seed, with wins over Vanessa Melo and Zamzagul Fayzallanova. 
In the co-main event, Chris 'The Long Island Killer' Wade of the United States faces London's own Brendan Loughnane in a semi-final bout in the featherweight division. 
Wade came in at 145lbs as he looks for a return trip to the finals. The 2021 featherweight runner-up clinched the division's top seed with wins over former two-time champion Lance Palmer and Kyle Bochniack. Loughnane, on the other hand, weighed in at 145lbs for his return to the PFL Playoffs. The London native finished the season as the fourth-seeded featherweight, with wins over Ryoji Kudo and Ago Huskic. 
PFL London Fight Card & Weigh-in Results
Late Card (ESPN+)
Bantamweight Swing Bout: Zebenzui Ruiz (136 lbs) vs. Raphael Uchegbu (135 lbs) 
Lightweight Showcase Bout: Marcin Held (155 lbs) vs. Myles Price (155 lbs) 
2023 PFL Europe Qualifiers – Heavyweight Louie Sutherland (243 lbs) vs. Abraham Bably (237 lbs)
2023 PFL Europe Qualifiers – Welterweight Tayo Odunjo (169 lbs) vs. Magnus Iversen (168 lbs) 
2023 PFL Europe Qualifiers – Bantamweight Ali Taleb (135 lbs) vs. Darius Mafi (134 lbs) 
Semifinals Main Card (ESPN)
2022 Women's Lightweight Semifinal:  #2 Kayla Harrison (155 lbs) vs. #3 Martina Jindrova (154 lbs) 
2022 Featherweight Semifinal: #1 Chris Wade (145 lbs) vs. #4 Brendan Loughnane (145 lbs) 
2022 Women's Lightweight Semifinal:  #1 Larissa Pacheco (155 lbs) vs. #4 Olena Kolesnyk (156 lbs) 
2022 Featherweight Semifinal: #2 Ryoji Kudo (145 lbs) vs. #3 Bubba Jenkins (146 lbs) 
2023 PFL Europe Qualifiers – Women's Flyweight Dakota Ditcheva (126 lbs) vs. Hassna Jaber (125 lbs)
Light Heavyweight Showcase Bout Simeon Powell (205 lbs) vs. Joao Paulo Fagundes (204 lbs)
Early Card (ESPN+)
Lightweight Showcase Bout: Omar Hussein (156 lbs) vs. Alex Chizov (155 lbs) 
Heavyweight Showcase Bout: Stuart Austin (246 lbs) vs. Sofiane Boukichou (239 lbs) 
Watch PFL London