Carlow come away with an impressive thirteen-point win over Down to keep Joe McDonagh Cup final appearance alive
Carlow traveled to Ballycran yesterday to take on Down in round four of the Joe McDonagh Cup, the Barrowsiders went into the game unbeaten and the team came away with an awe-inspiring victory. Carlow have struggled against Down in the past but the victory over the weekend keeps their aspirations of Joe McDonagh cup glory alive.
Carlow scored six goals in the game to claim the win and set up a vital game against Offaly this weekend. With the top two teams playing in this year's Joe McDonagh Cup final Carlow will need to get a result against the table leaders and this year's National League winners to secure that final place.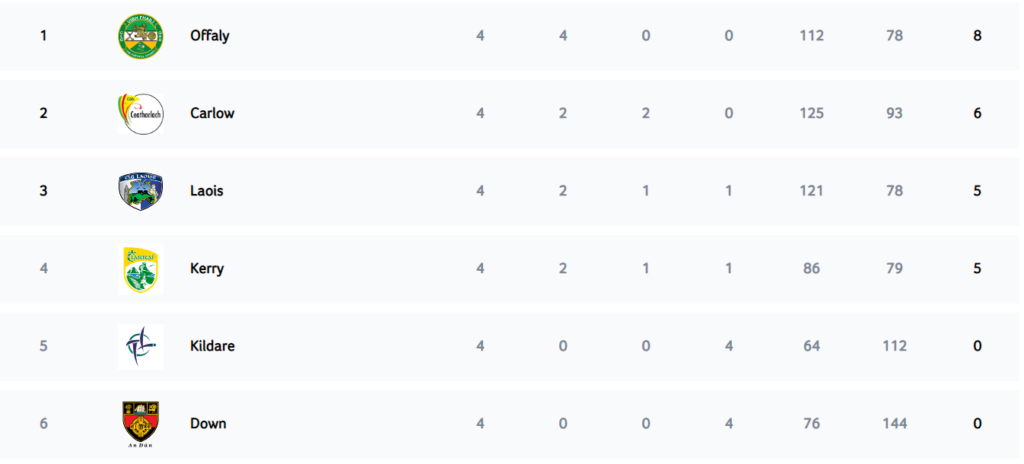 Speaking to KCLR's Brendan Hennessy after the game, Carlow manager Tom Mullaly said-
"It's a good win, Brendan, obviously it's an important win for us to keep the momentum going, I think the attitude and the application were good and we worked hard to the result, and ultimately the hard work and execution paid off"
"Goals are always the icing on the cake, I think the win was important whether we came away two points to one or the way it finished up today with plenty of goals, it was secondary to the result for us but I think our attitude was very good today and as I said earlier or application was very good also"
"Absolutely delighted, it puts it down to the last game and that's all we've asked, there is plenty of leaders in the group and the leaders are leading us the right way which is excellent the way they are stepping up if you're disciplined you've got some up but if you lack it you've got no hope whatsoever so thankfully the lads have responded well to that and have brought it onto the pitch with them"
When put to Mullally that Down got 28 points and they were a nice team was a nice, he said "Everyone who played today and against Laois they created plenty of opportunities in the first thirty-five minutes but the execution and conversion rate left them down a little bit, we found it hard up here last two years and this is the first time in a few years that we're coming away with a result, there's no question about them being a good hurling team and that's where we have to give huge credit to our own players getting the result here, they've obviously learned the lessons of the last couple of years, the free's and conversion rate was all well controlled today which is a real credit to our players"
"Well it's the place we want to be, we'll be playing the form team they're the league champions they got a good result in Kerry today which is excellent for them, but we have to concentrate on ourselves, and make sure we can bring our best game to the game next Saturday, the result is gonna happen, it'll be hard for us up to the final whistle to have some say in that and it's up to us to get ourselves right to have a go at it and see where it puts us when the final whistle goes"
A must-win game for Carlow at the weekend against Offaly, Mullally says he wants to be there-
"This is where we want to be it's not pressure when it's a position you want to be in, we want to be there next Saturday, we wanted to be there in the last game last year against Offaly as well and that didn't go right for us at the end of the day because of scoring difference, we are there now and we are looking forward to the game on Saturday. Next Saturday would be of no good to us if we didn't get the result here today, credit to the players where it's due, they've applied themselves hard here today and the reward for that hard work is two points here in Ballycran and next Saturday will require the same, we're not gonna get out of Dr Cullen with two points without bringing our best game to it and that's the challenge for us, as it is every game we play we're evolving and we're growing and were getting stronger so hopefully that will materialize for us next weekend"