In 24-degree temperatures on a Monday night in August, Kilkenny's senior camogie team got to do what they couldn't in 2020 – celebrate an All-Ireland final win with friends, family and thousands of fans in attendance.
An open-top bus departed John Street just after half past six on Monday evening, taking in Rose Inn Street and High Street, led by pipers and upwards of 70 members of the county's underage development squads before arriving to Kilkenny Courthouse and a sea of black and amber.
The most important guest on board, the Sean O'Duffy Cup, making a return to the Marble City for the 15th time, the second under manager Brian Dowling's three-year tenure and the third since 2016 under then-manager Ann Downey.
Speaking live on KCLR at the homecoming, county captain Aoife Prendergast hailed a special evening.
"It's unbelievable, it's so special", said the Dicksboro clubwoman having let the O'Duffy Cup out of her grasp for few minutes.
"We thought it was special an hour ago, but ye've made it even more special. Thanks to everyone who has turned out today. We knew we had great support from the Kilkenny people but we didn't expect this. Driving down, we've goosebumps, Grace Walsh in tears. That's what it's all about, these moments, to celebrate it with ye, it's very special."
Overwhelmed
Clara's Theresa Aylward is in her first year as chair of the Kilkenny Camogie board and spoke to Scoreline after Monday's civic reception.
"We're overwhelmed with the support. We actually couldn't see up and down the street with the amount of people that were here. But the girls thoroughly deserve this. The support for the last few weeks, not just today, has been fantastic."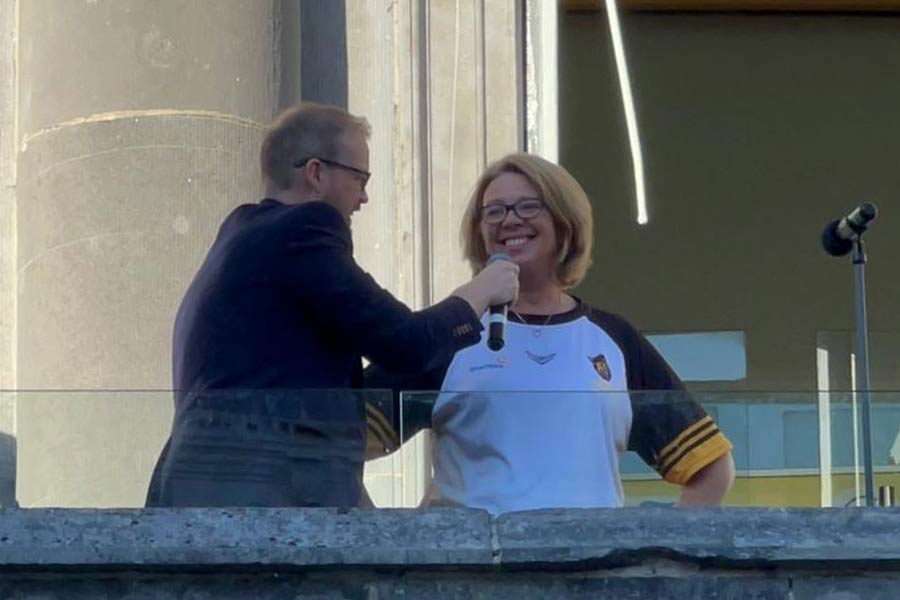 "Online, the fundraisers, the messages, emails, texts, the media have been absolutely super. The girls worked so hard for this", Aylward told KCLR after the team presentation."
"We are absolutely thrilled. Definitely, there was more of an interest in this game, more than usual, and in our players. But the media helps, the GAA help, our hurlers, the hurling All-Ireland. People were heartbroken for the lads and I think that drove on the county to get behind the girls and give them the same support the lads got. It means to much to have everyone here today."
You can hear more reaction from the homecoming on the latest edition of the Full Time podcast, out now.