During the month of February thousands of people have taken to the roads to raise money for the Mater Foundation.
As we are all aware charities have been hit hard with the ongoing pandemic, so any fundraising effort are very welcome. With this in mind and current guidelines in place a challenge was laid down for people by the Mater Foundation. The challenge itself is to run or walk 100 miles or 161km during the whole month of February.
It was a test that this particular writer felt like he could take on. While it raises some much needed funds for the cause, the knock on effect is physical and mental well being. A sedentary lifestyle has been an unwelcome component of the current restrictions, and many a time people like myself can fall into unhealthy habits. As someone that always struggled with his weight, my time away from the gym was seeing my body turn into something I was extremely un-happy with.
I have falling into these traps before, at the age of 20 I had ballooned to 20 stone. Alcohol and making the wrong choices with my food resulted in me not being able to walk comfortably. Within two years I had dropped down to 13 and a half stone thru equally unhealthy methods, taking shortcuts such as fat burners and fasting. That lifestyle was not sustainable and within time the weight managed to creap back on.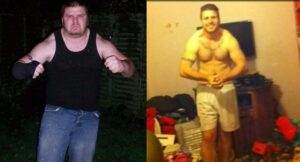 Every now and again I would make a conscious effort to drop weight combining a healthy balance between cardio and lifting weights. Unfortunately five years ago I had an accident in soccer and I never managed to properly return to the sport I love. A clash of heads had made me apprehensive about my defensive role and despite many comebacks attempts, I never kept at it. Without my cardio and no weekend match to play I swapped playing football to watching football….in a pub. Naturally the weight piled back on over a numbers of years reaching 18 stone three years ago.
It was at this stage I decided to make a change once again, without my football I had to find a different way to burn calories. The gym membership was re-started and I decided to compliment that with some cardio. Hitting the roads is a completely different animal to something I ever experienced before, and it took its toll on the body. Stretching became something I hated doing, still do to this day. Cramps, knee pain and blisters, jaysus the blisters all became the norm.
After time my legs became used to the impact and adjusted ,with the help of some good running shoes. The hills became easier and the time improved. I registered for a few 5km runs and was impressed with my times, nothing world beating but I felt accomplished. It was between that and the gym I had an outlet for stress. After leaving my job in finance I decided to take a chance on myself and pursue a career in media, working two separate jobs. The fitness was one outlet, unfortunately for me so was pints. It's not that I have a problem with alcohol, it was just counter active to all the training I was doing. A pint of Heineken has 130 calories and I shudder to think how many calories I would have in a week despite burning up huge amounts in training.
When the first lockdown happened and our gyms closed I had an effort to run 5km everyday and 100 pressups everyday for the month of April. I had never done anything like that before and I found waking up every morning with a purpose outside of working to be very rewarding. I kept running and sprinkling it with some home workouts, I even went back to soccer this time in a management capacity. Things seemed to be going well until disaster occurred and I needed minor surgery to rectify my situation.
This cost me three months of practically no training and I found trying to get back into the grove of things hard. It almost felt like starting again and by Christmas my bad habits and less then ideal diet had come back. I had just reached the 17 stone mark and hit a low point mentally with myself. I almost took the N from my name and replaced it with M, " Hi I'm Shame O'Keeffe, and you are listening to Scoreline". I recognized I needed to alter something again, I needed a purpose.
Scrolling through facebook I came across The Mater Foundation challenge, and I knew that was something I could contribute to. I would be lying if I said this was just for the cause, this was something for me to commit to. That's the great thing about this fundraiser it gives something back to the people involved. I signed up knowing that this was going to take a big effort on my part, but it was something I knew could be accomplished with that big effort. The effort included watching my diet and going alcohol free for the month. Dry febuary is a thing right?
I with so many others are trudging away thru it, some are faster then others, but that does not matter. It's about getting out, getting healthy, keeping positive all in the name of a wonderful cause. The Mater Foundation is set up to help the Mater Public Hospital, so that it can continue to provide world-class patient care. Hopefully we never have to use their services but there are people out there that desperately do need them. It's a long road, but we will get there.
If you would like to donate you can so here. 
Here is an interview with the Head of Fundraising and Communications Tom Hickey conducted on Scoreline , our weekend show on KCLR.
Every cent counts, as does every mile.