If you are a wrestling fan since the '90s, you have experienced many highs and lows over the years. WWE's monopolization of the industry since 2001 has resulted in a stale, creatively inept product, that barely passes as the art form you grew up loving. False dawns on a new era of wrestling would come forth every now and again, but the result has always been the same, the corporate monster has always won its wars.
If the company has been that bad, why did I continue to watch? I suppose the easier way to answer that is accessibility and familiarity. I supported WWE because realistically it was the only show in town for the longest time. Then I discovered a whole world of wrestling, through the introduction of The Wrestling Channel on Sky Digital. Channel 437 gave glimpses into a vast array of wrestling I had never experienced before. Combat Zone Wrestling, Ring of Honour, New Japan Pro Wrestling, and even Irish Whip Wrestling. A whole industry outside of the mainstream, I was enthralled. I consumed everything I could because I was so broken down by the complete ambivalence Vince McMahon showed towards his product. He openly would say he doesn't produce wrestling, that is a dirty word, he produces sports entertainment instead.
Embed from Getty Images
I was into wrestling though, a form of entertainment that was hard-hitting and had logical storylines. Over the years I quickly latched onto any type of company that would veer from the sports entertainment juggernaut style. Total Nonstop Action looked promising in the mid-2000s before fizzling out, and then there was nothing. Promising stories in WWE would just always, ALWAYS, lead to disappointment. Interesting ideas like the NEXUS invasion or the Summer of Punk were callously cast aside. For a company to continually not give fans what they crave and just shovel sh*t down your throat instead, was incredibly hard to take. Every now and again you get a lifeline when you were calling it quits, such as the advent of NXT. The Triple H led development brand of WWE brought with it a more traditional philosophy, good old-school 'rasslin.
We had amazing matches, great storylines, and characters that just were not just forgotten about one week. There was care and pride put into that product. However due to the nature of the brand being a development system, when the workers got promoted to the main roster, more often not it became a death sentence. The problem is Vince McMahon did not really have any affection to what was happening in developmental so the guys that came up rarely received a curated storyline. Old returning part-time stars obtained more spotlight than just about everyone on the roster. Why would anyone care about NXT wrestlers, when they were treated with such disdain once they entered the fray on RAW or Smackdown.
Enter Tony Khan & AEW
A once-off wrestling show paved the way for the multi-billionaire, Khan, to realize there was a huge appetite for people to just watch a good, logical, coherent wrestling show. It also helped the man has a love for wrestling, he is a fan of wrestling folks! Not "sports entertainment" just good old-school 'rasslin. Bolstered by the signing of contracts of some of the worlds leading independent stars like Kenny Omega, The Young Bucks, Hangman Adam Page, and Cody Rhodes, All Elite Wrestling was born.
From the first show, this new company felt different than any other fledging company before. The production value was on par with the competition, the talent seemed hungry, and the wrestling was far away from the 3-minute matches we see in the PG era of WWE. They secured a contract with the channel that the last major promotion to rival WWE aired on. The stars were aligning, and in a literal sense also. Chris Jericho was the first major name to agree to a deal with Khan, which at the time was a major coup. He had been a Vince McMahon guy for nearly two decades, and now he was putting his trust somewhere else. This is one of the most creative guys in the industry, who provided me with hundreds of hours of entertainment, and here he was waving the flag of this upstart company. For me that was huge.
On May 25th 2019 the landscape of professional wrestling would change forever. The first-ever PayPerView show, Double or Nothing, would air. I was hooked as I watched with a dodgy wifi connection in a house in Schull, Cork. Yeah, I was interested in the product as a whole, but I was dying to see one match. Cody Rhodes versus his brother Dustin….more commonly referred to as Goldust. Goldust versus Cody Rhodes you say, what could be in any way interesting about that. you would be forgiven for thinking that if you were a WWE fan. These two had long stints in the other company, but despite a few glimmers of hope, they never received a chance to show what they were capable of. No serious storylines, on tv one week, gone the next, treated as essentially nobody of significant interest. The war that ensued transported me back to being that wide-eyed kid watching Bret Hart in the early '90s. I gasped, I cheered….feck it I will say it, I cried at the story being told in the ring. It was a middle finger to their previous company who did not believe in them, it was setting a standard for what their new company will be. Simply is was wrestling folks, good, no wait, great old-school 'rasslin.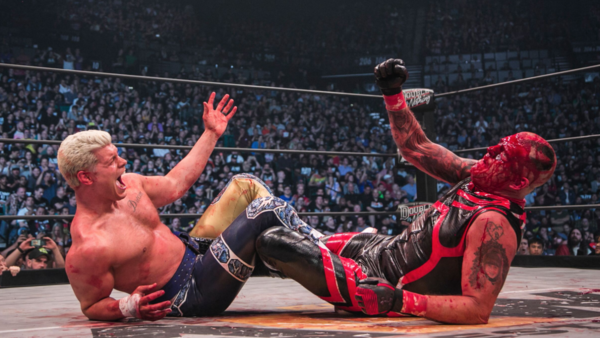 Great old-school 'rasslin
Just one small example of a time AEW got something right. While WWE was insulting people's intelligence with zombies, bin squids, apparitions, and other fantastical nonsense, AEW told a compelling two-year storyline about a man struggling with living up to expectations, having an alcohol problem, and facing his demons. A generation who grew up on long-term storytelling with the likes of Sopranos, Breaking Bad, and now interconnected cinema experiences enjoy being rewarded for their attention. AEW does that in spades, occasionally they get it wrong, but they seem to want to learn from their mistakes, and that is appreciated.
Characters are treated with care and consideration. Orange Cassidy is a guy who wrestles with his hands in his pockets. It shouldn't work, but they tweaked it for the masses and now it just makes sense. Real-life dynamics are at play, good guys don't automatically like good guys and all bad guys are not just friends with all bad guys, it is nuanced. History does not suddenly become forgotten for the sake of it, character relationships are at the forefront and can be witnessed in their Tag Team division or various factions. Up and down the card you will see this playout. It is not so meticulous and strict that improvisation is not possible, but angles are examined before going in any direction. That does not seem to be the chance with Vinnie Mac and his gang of cohorts.
Take new acquisition Bryan Danielson's, formerly Daniel Bryan, and his quest for the AEW championship. He went after the champion's friends and proceeded to kick their heads in, individually in front of each respective opponent's hometown each week. To plan something like that with a company that tours the United States is not only impressive but just super diligent. The show is littered with little nuggets like this to help you feel a certain way.
Wins and losses actually mattered, this ethos reverberates around the company. It affects the match interest of the viewer, the intensity of the workers, makes their titles seem prestigious while it also adds another dynamic to their stories. Losses can feel devastating or elation can be felt as someone climbs the literal ranks. It is just common sense.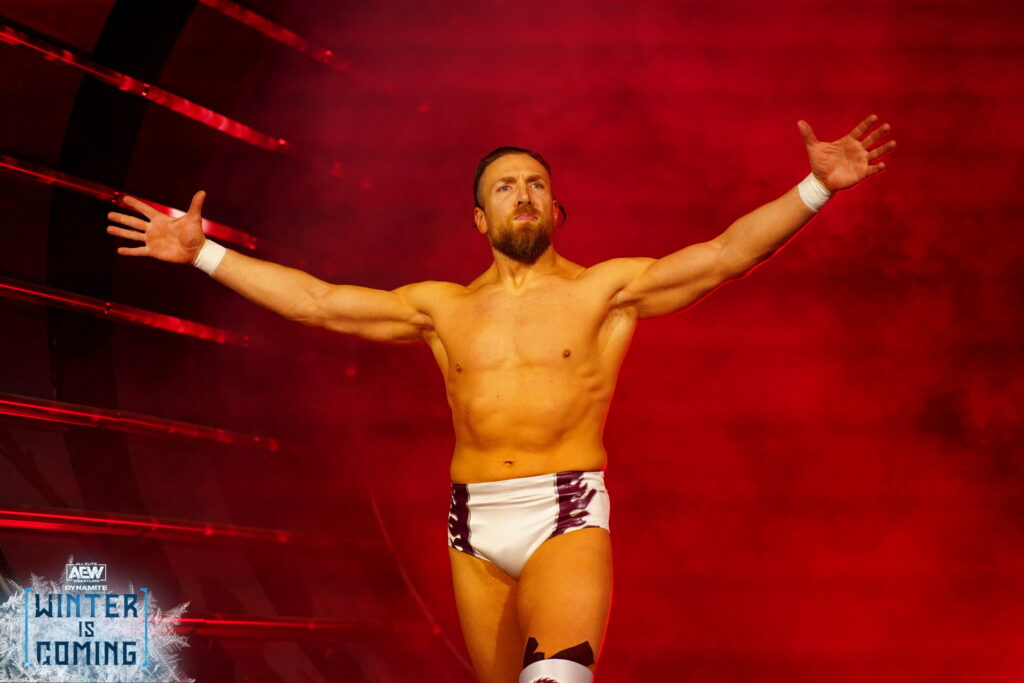 It seems like only a matter of time before there is a legitimate polar shift between the two companies, in honestly it was probably somewhat curtailed by the pandemic. Traction is gaining once again though AEW are attracting legends such as Sting & CM Punk, while granting opportunities to young upstarts such as MJF and Darby Allin. It is the place were the best in the world want to be. In fact recently if you have liked someone in WWE that just disappeared off the program, the good ones have probably ended up in AEW. The roster is well and truly stacked, check it out here.
WWE has a lot more problems than just their onscreen representation, it's genuinely hard to actually like that company anymore the more you hear about the behind-the-scenes stuff. They seem to be in the business now of content creation, just for the sake of content to sell. It just does not seem to matter what's put on the screen there will be an audience for it….for a time at least until diehards like me eventually pack it in.
I lost my love for wrestling through WWE and they nearly made me lose respect for the art form, AEW restored that with some simple old-school 'rasslin