As PFL get ready for a European expansion, Kilkenny's Myles Price is staying active.
The Team Ryano Kilkenny head coach returned to the professional ranks in May for the 2022 PFL (Professional Fighters League) regular season, having penned a two-season four-fight deal.
A first-round defeat to former UFC lightweight champion Anthony 'Showtime' Pettis was followed up by a contentious split-decision loss to another former UFC lightweight contender in Jeremy Stephens.
As previously discussed on Scoreline.ie's All Things MMA podcast, Price had been hoping to stay active this year and exercise the additional fights on his contract and it looks like he's had his way.
With results against Pettis and Stephens putting Price out of the running for the 2022 Playoffs, Price will now meet another former UFC fighter in Poland's Marcin Held in what's being billed as a lightweight showcase bout. The Playoffs themselves are being staged outside of the US for the first time this August with a stop at the Motorpoint Arena Cardiff (13 August) before hitting the Copperbox Arena in London on 20 August.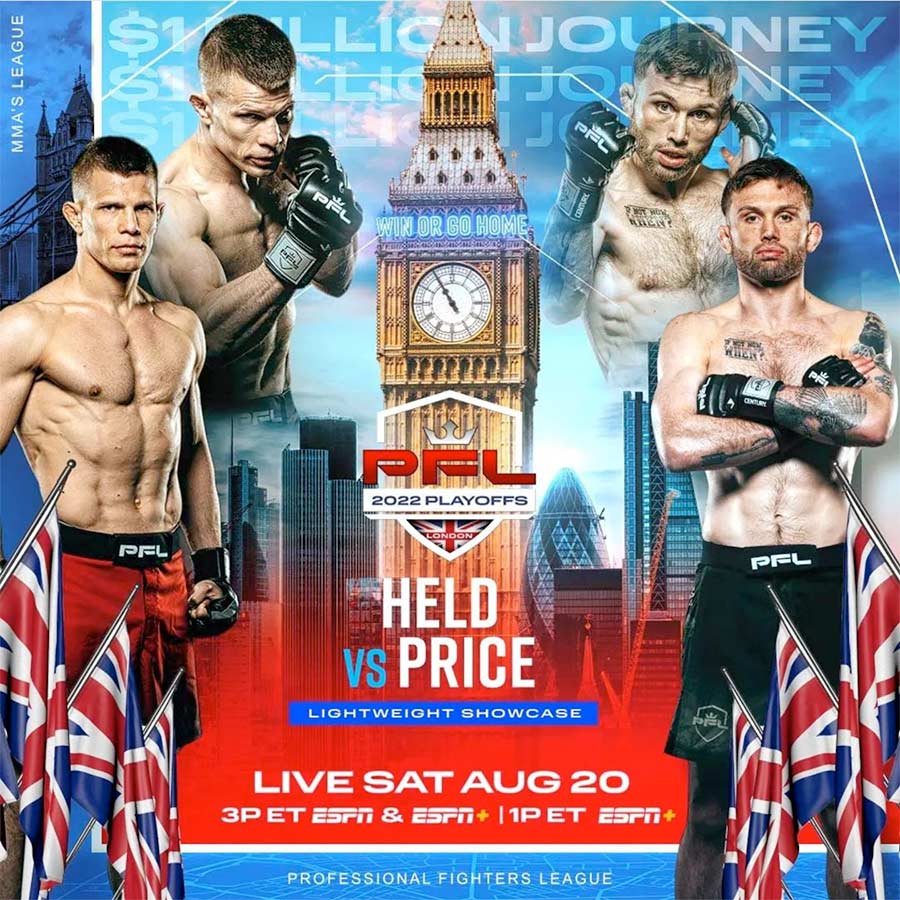 "Heading to London is huge for the expansion of the League," said PFL president of fighter operations Ray Sefo. "We are bringing our brand of MMA to the UK and I'm sure they are going to be as excited as I am to see elite fighters like Kayla Harrison, Chris Wade and Brendan Loughnane compete with so much on the line."
Who else is fighting at PFL London?
The "Baddest Woman on the Planet" Kayla Harrison will return to the city where she won her first of two Olympic gold medals as she looks to add another piece of precious metal to her trophy case. Harrison has won PFL World titles in each of her two seasons in the league and she'll put her perfect record on the line when she takes on Czech Republic's Martina Jindrova in the main event.
Jindrova has had quite a run in 2022. It started with a contract-winning performance in the Challenger Series and continued with a pair of wins during her first PFL Regular Season.
Chris Wade may have been overlooked after making the drop down to the featherweight division ahead of the 2021 Season but the Long Islander opened  everyone's eyes when he made a spectacular run to the Finals in his first year at 145-pounds. He's looked even better in 2022.
After outpointing two-time PFL champ Lance Palmer, he made short work of the gritty Kyle Bochniak to secure the top-seed. He's had his eye on Brendan Loughnane for some time and there is no love lost between these two competitors. The fiery Brit has verbally sparred with Wade over the course of the year and now the two will have their chance to settle it in the cage.
Loughnane is especially excited to be returning to the UK after nearly four years of fighting abroad.
There has been a lot of talk about Harrison after her back-to-back PFL titles, but Larissa Pacheco has been nearly as impressive over her three seasons in the league. She has rattled off two first round stoppages to run her streak to four straight first round victories since losing to Harrison in the 2019 finals.
While her ultimate goal is to avenge her two losses to Harrison, Pacheco will have to get past Olena Kolesnyk in the semifinal first. The two women fought in the 2021 Season where Pacheco knocked Kolesnyk out. The Ukrainian will seek to avenge that loss and earn her first PFL finals berth.
PFL London Fight Card
ESPN+ (English and Spanish)
Dakota Ditcheva vs. Hassna Gaber
Louie Sutherland vs. Abraham Bably
Tayo Odunjo vs. Magnus Onyeka
Ali Taleb vs. Kenji Bortoluzzi
ESPN, ESPN+ and ESPN Deportes Card
Kayla Harrison vs. Martina Jindrova
Chris Wade vs. Brendan Loughnane
Larisa Pacheco vs. Olena Kolesnyk
Ryoji Kudo vs. Bubba Jenkins
ESPN+ (English and Spanish)
Simeon Powell vs. Nemanja Uveric
Stuart Austin vs. Sofiane Boukichou
Marcin Held vs. Myles Price
Aleksandrs Chizovs vs. TBA
A running order and times will be confirmed closer to fight night. For Irish fight fans, PFL is available via agreement with Channel 4 both on air and online (Channel 4 Sport on YouTube).